Editor's Note: Mary Stokke, one of the very talented student teachers who worked with me last year, agreed to teach summer school to our ELL Beginners.  We were able to recruit an exceptional group of former newcomers who are now Advanced ELLs (all of whom are taking some International Baccalaureate classes) to be peer tutors for several hours each day this month.
I asked them to write about what they did as a peer tutor, what they liked about it, what they learned, what they thought they could do better, and what better ways we as teachers could work with them.  
Here are their responses:
This summer we have a chance to be the peer tutors in Ms. Stokke's ELD class.  During the period of being the peer tutors, we have learned how to teach other people.
TAM
At first, we introduced our name in front of the class so that all the student can know who we are. Every day, Ms. Stokke has a plan for us about the lesson that we will teach the student. We divide in small group and work because the student have a different level. If the student have a high level, they will have more difficult lesson than other student. During the class, we also ask them what they feel about the lesson and how much they understand what we teach them. After class, we have a meeting with Ms. Stokke to know what we did good or bad, give some new ideas for the class and improve the way how to teach them ( more fun, more activity and more effective ).
In my opinion, I like about being a peer tutor because i have a chance to teach other people. look at the way how I teach them ( is it good or bad, did they understand what i said), improve my speaking skills or any English skills, meet my friends everyday and have fun with them during the class. I wish our class have more student come, i know it is summer time but summer school still good for them, they have no pressure about grade, they can enjoy English in a comfortable way and they can improve their English skills faster. From my view, i think our class is good because Ms. Stokke respect our ideas about class and she put in practice immediately, so that our class become more active and professional every time.
During the class, we teach the student almost four skills of english: listening, writing, speaking, reading in fun ways and the best comfortable way we have. I think we did good enough to help students learn english because this is the first time we did as a peer tutor, we try our our best and improve the way of teaching every time. We also let them use computer program in the internet to help them learn English ( razkid, english central, brainpop and etc ). I think we could use more game for them to learn english, not only do work on the paper, let them do what they want to learn english, ask them how we can teach them and be more creative because we get used to english in the most comfortable way and no pressure environment.

SALINA
As a peer tutor, firstable, everyone has their own students to work with and help when their students needed. We, the peer tutors, introduced ourself to all of students, talked about how the days were and tried to make students be more self-confidence because some students really nervous and do not like to show their expressions. Everyday, Ms.Stokke made the plans for us to teach our own students and after the class ended, we stayed a few minute to discussing what went well or not well and what gonna be the best for the students. Of course, every student has different levels, so, Ms. Stokke divided students into small groups to work on different things such as work on reading, Razkid, Brainpop, poster, conversation sheet and worksheet.
I, myself, worked with the girl, who completely can't understand English at all, so, my group has to use lots of ways to teach them by using the board to drawing, acting out and translating the words. For what I had experience, what I liked being a peer tutor is I have a chance to teach other people, to help them when they needed and to help improve myself on my English skills. The thing I liked the most from this summer class was I learned how to be more patient, to be good example for my students and to get used with the new people in class. However, there are the things that I think I could and should do better such as to trying to make my student be more comfortable to work with other people or any peer tutors, not just only work with my group and also, to make myself to be more confident when I have to work to other student that I'm not used to work with. So far, I have gained a lot of experiences through this summer program, it helped me to become more confident, more patience and more self-control. After all, I think I can use this kind of knowledge or experience to help me to be a better peer tutor in the future.
SALINE
As volunteering to be a peer tutor during this summer school, I've got  many opportunities to experience a lot of things, one of them was to be able to become a teacher. Everyday when I came to school, Ms. Stokke told us the plan she's got for us the peer tutors to do, ask us some ideas of what we should do to make our students learn best and then opinions from what we did after the class ended. Each day she divided us in small group to work on posters, worksheets, readings, presentations and practice conversations with our students. And because of our students have different level of English skills, they sometimes were having different lessons to learn based on their rates.
I, most of the time, was assigned to work with some students that can't understand English at all, I had to put a lot of efforts and patiences to be helpful and a good teacher for my students. I've tried very hard to make my students learn best, the ways I helped myself to make them understanding were to use Google translate, the sign language and illustrations. Sometimes we were not just learning in class, we also went to work on computer lab to do Raz kids, USA learns, Brainpop, Quizizz, Lyrics Trainings, English Cental (Student's choices or Ms.Stokke's assigned) and went to the ceramic class to learn about the art stuffs with the help of Mr. Smith. There was one day when Ms. Brandon came to teach us the Origami too. I was having a lot of fun participating in this program and gained many experiences from it.
As far I've taught my students, I've also improved my English skills and  learned how to get used to talk and work with other people. I felt like I have more patience and self-control. One thing I could do better is having more confident to be used to work with other people I'm not closed or feel uncomfortable with, I just don't feel like I can show my best working with these people. Anyway, I've tried my best already and I could use these knowledges from what I've got so far during these programs to help me be a better peer tutor in the next school year.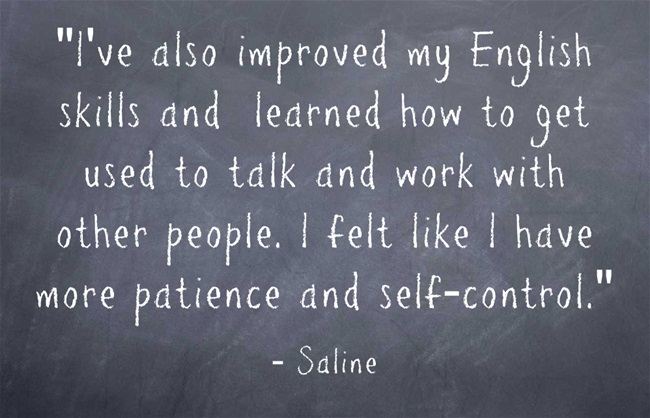 WENDY
As a peer tutor, I helped Ms. Stokke with helping the students to understand the lesson. The first thing we do every day was the Round Robin. It was one way to give students more chance to practice speaking and listening. Then, we would divide into small groups of different levels. Most of the time we would practice reading by doing Raz Kids or read printed books. Sometimes after we had some activities, we would let the students make posters and present to the class. That helped them to be more confident and use logical thinking. For the beginner students, it was harder for them, so we had to use a lot of different ways to help them to understand what they were reading such as drawing, acting the words out or translating. One of the most important things we needed to remember while being a peer tutor was patient. Not that all of the students would understand the lesson at the same rate, so we had to be more patient with the beginners.
While being a peer tutor, I can improve my English skills, especially my speaking skill. I also learned how to work with different people using different methods. It pushed our imagination and creative ability in order to teach the students. I have gained a lot of experiences from Ms. Stokke and other peer tutors as well. I have been more patient and found out some other fun and active ways to get someone to understand something. I could use those new things in the future when I be the peer tutor for my Math teacher.
I think I can be more confident and active during the course. When we had a presentation, I should share my idea with the class more in order to help the students understand what they needed to do.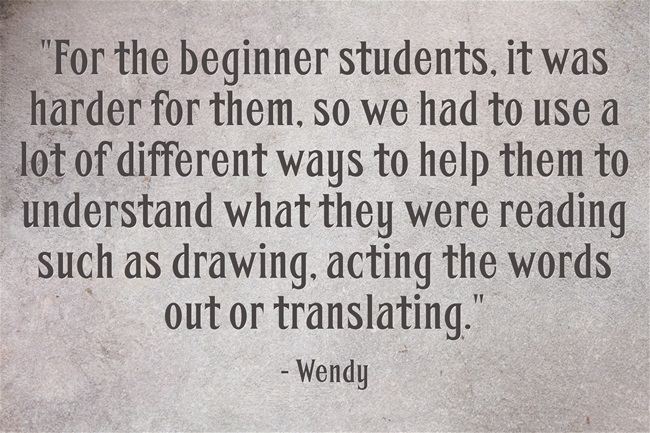 LI
The first thing we did everyday was called Round Robin,  some students are very shy and don't like to talk to other students, it gave everyone a chance to speak. We were also did some presentation, like share our poster, it also helps student practice their ability to speak. Is hard to teach if students don't understand English that much, what we did were try our best to help them. I can see a shadow from them as me when I was don't understand English that much.
As a peer tutor, we must be a good example for the students. As a peer tutor, we must continue to learn in order to improve our self-cultivation. improve the level of personal expertise, strengthen our own moral construction, to let our own personality charm to influence students. For being the peer tutors, we are playing the role of teacher, but we are not just teach something to the students, we are learn something from our students also.
ANDRES
The first thing we did as a peer tutor  was to introduce ourselves, Then Ms Stokke had the work for the day ready so she explain to us what would we been doing in the class with the beginers., one of the things that i like of being  a peer tutor is to help them because i remember when i did not speak any English so that's one of my motivations to help them because i know the struggle to learn English so that's why i like to help them during summer school.
As a peer tutor we will  be the example and we have to be very responsible with the students so that way they can learn from us and from our experiences that we had as a beginners, and we can also learn from them. something i think we could do better would be to work we differents students so that way we can work with all them and learn more from each person and get different experiences from the different people.