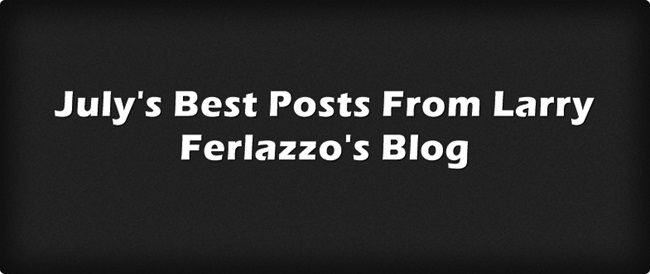 I regularly highlight my picks for the most useful posts for each month — not including "The Best…" lists. I also use some of them in a more extensive monthly newsletter I send-out. You can see older Best Posts of the Month at Websites Of The Month (more recent lists can be found here).
You can also see my all-time favorites here. I've also been doing "A Look Back" series in recognition of this blog's tenth anniversary this past February.
Here are some of the posts I personally think are the best, and most helpful, ones I've written during this past month (not in any order of preference). There are a lot of them this month:
Using "Wrote My Way Out" From Hamilton With Students (Including Writing Prompt)
Guest Post: Advanced ELLs Write About Their Summer School Experience Tutoring Newcomers
Our Next Book On Teaching ELLs Is Almost Two-Thirds Done!
Wonderful Animal Video For ELLs & Everybody Else
Collections Of Academic Sentence Starters
Podcast: Interview With…Me On Parent Engagement
Bingo! There Are Issues With This Study On Grit & ELLs, But I Am Sure Going To Use It With My Students
Amazon Makes Its Teacher Resource-Sharing Site Public Today
"Q & A Collections: Race & Gender Challenges"
Focusing On The Impact Classroom Disruptions Have On Others, Not On The Students Doing The Disrupting
New Study Finds Students Less Motivated In School The More They Think Wealth & Income Inequality Is Stacked Against Them
Privilege & Chief Justice Roberts' Commencement Speech
Easily Create Vocabulary Quizzes With "Wordsmyth"
New Study Finds That Punishment May Encourage The Behavior Being Targeted
Change "Employees" To "Students" & This Article Has Good Research & Advice On Building Trust
New Geography Game: "Can You Draw The States?"
"'Double Flip' Your Classroom"
Study's Conclusion Is Not As Useless As It Sounds: Low-Income Adolescents Are Less Likely To Attend College
Wrong-Headed Criticism Of Medicaid Mirrors Wrong-Headed Criticism Of Schools
"Factitious" Is An Online Game To Teach About Fake News
Every Teacher With An ELL Student In Their Class Can Benefit From Watching This Video!
Popular "Book Creator" App Can Now Be Used On The Web
Great Strategy For Interacting With Art!
"Quiz Game Master" Is A Nice Tool For Creating Online Learning Games
"Leaders can Support Innovation By 'Listening More & Speaking Less'"
I've Found These Decent Online Exercises To Teach Paraphrasing – Can You Suggest More?