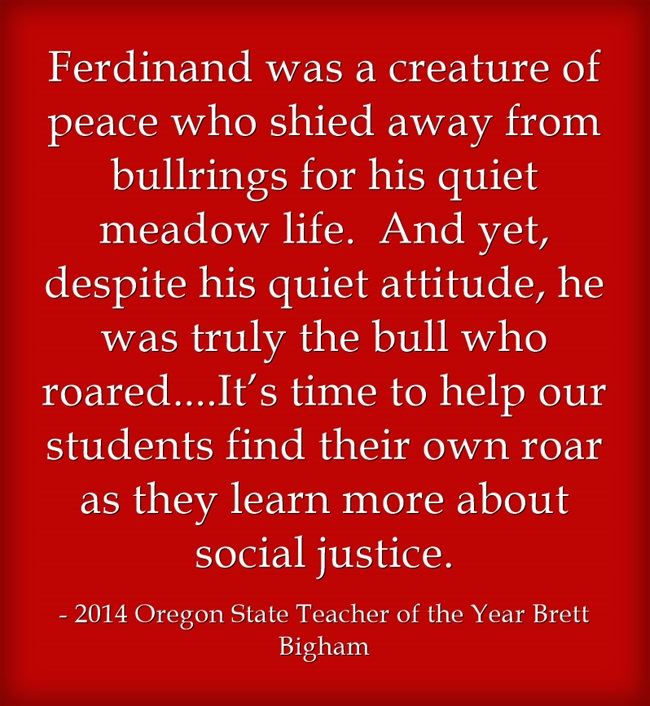 Editor's Note: Thanks to Megan M. Allen for facilitating this guest post by Brett Bigham. I'm adding it to The Best Teacher Resource Sites For Social Justice Issues.
Brett Bigham is the 2014 Oregon State Teacher of the Year and a recipient of the NEA National Award for Excellence in Education. In 2015 he was given the Teacher Role Model of the Year Award by the NEA LGBT Caucus and is an NEA Global Fellow for both 2015 and 2018. He creates "Ability Guidebooks" to assist people with autism to get out into the world. Follow him @2014ORToy.
How can a children's picture book from 1936 be included in one of the most socially progressive booklists of modern times?
Easily. Let me explain.
I'm talking about The Story of Ferdinand (and the fact you know who he is shows why this book deserves it's spot on the NNSTOYSocial Justice Booklist).
Ferdinand was a creature of peace who shied away from bullrings for his quiet meadow life.  And yet, despite his quiet attitude, he was truly the bull who roared. In 1938, two years after its publication, it outsold Gone With the Wind as the top-selling book. Ferdinand has remained popular ever since and has become a shared cultural experience for generation after generation of Americans.
That's why I say he is the bull who roared. Everyone has heard his message.
Ferdinand has also become a staple for educators teaching social justice. He speaks up through the decades to that common thread running through most social justice books. We all are different. We have the right to be unique. Teachers spend great time and effort to make sure students learn these valuable lessons.
This week the National Network of State Teachers of the Year (NNSTOY) stepped up with a roar of its own, with the support of the University of Phoenix. The NNSTOY Social Justice Booklist, edited by NNSTOY President and CEO Katherine Basset, NNSTOY Director of Communication Laurie Calvert, and myself, has brought together State Teachers of the Year and State Teacher of the Year Finalists from all over the country who are sharing their tried and true go-to texts for opening up student conversations about social justice. This list was created by some of our country's most award-winning teachers to share their best practice with other teachers, parents, and anyone who cares about social justice.
There are books new and old. You will recognize many of the titles on the list, having flashbacks to your own school experiences. You will also be slightly surprised to realize that so many of these titles hold cherished and important moments in your childhood. How many of us learned the cruelty of man from Anne Frank? How many generations have grown from Hamlet's tragedies?
The Booklist brings together those classics with some of modern literature's most captivating and forward-thinking role models. These are books that our modern students will relate to as peers and learn from as cultural icons. Dr. Martin Luther King is still giving his "I Have A Dream Speech" and Ruby Bridges is still climbing those stairs for the first time in their biographies. But
Malala Yousafzai is a peer of your students and her journey is playing out live. This Booklist brings together the past and present of real people along with the vast imaginings of amazing authors and illustrators.
It is my hope that every teacher in the country keeps a copy of this list in their classroom. And NNSTOY and the University of Phoenix have made this possible, offering it free online.
Check it out now. It's time to help our students find their own roar as they learn more about social justice.