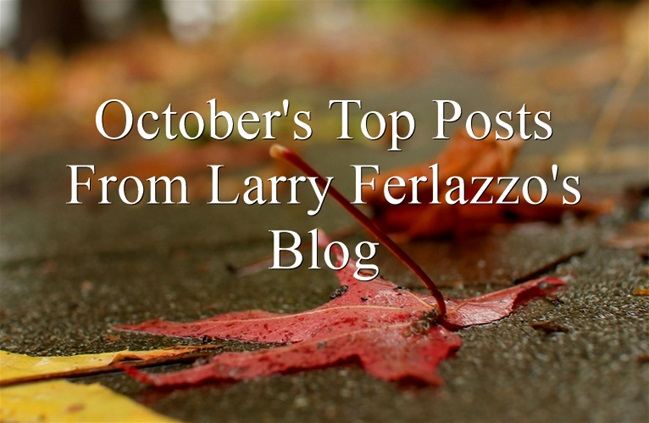 I regularly highlight my picks for the most useful posts for each month — not including "The Best…" lists. I also use some of them in a more extensive monthly newsletter I send-out. You can see older Best Posts of the Month at Websites Of The Month (more recent lists can be found here).
You can also see my all-time favorites here. I've also been doing "A Look Back" series in recognition of this blog's tenth anniversary this past February.
Here are some of the posts I personally think are the best, and most helpful, ones I've written during this past month (not in any order of preference). There are a lot of them this month:
You Can Now Pre-Order Our New ELL Book On Amazon!
"ActiveLit" Lets Students Play & Create Choose Your Own Adventure Games In Virtual Classrooms
New Metacognition Study & How I'm Thinking Of Applying It In My Classes – Feedback Welcome!
"ESSA & English Language Learners"
Video: Anti-Bullying Ad From Burger King
Uh Oh – Bill Gates Has A New Big Ed Idea
What Do You Know About "Differentiated Grading" For ELLs?
I Knew Encouraging Oral Reading Fluency Was Important, But I Didn't Realize It Was This Important….
Study Questions Whether Standardized Tests Assess Learning Or Engagement
My New British Council Post Shares Four Ways To Give ELLs Feedback On Their Writing
Everything You Wanted To Know About Performance Assessment, But Were Afraid To Ask
New Study Finds Advantages To Reading Print On Paper Over Reading On A Screen
Teacher Tells Students To "Speak American" – Walkout Follows
"Simple History" Is A Decent Free Alternative To Brainpop
Time To Start Working On My Fourth Student Motivation Book!
'Writing in Math Class is a win-win for Students & Teachers'
"Empatico" Is A New Site For Connecting Online With Other Classes
My New BAM! Radio Show Is About ESSA's Impact on English Language Learners
Google Publishes Series Of Video Instructions About Creating Online "Choose Your Own Adventure" Stories
Harvard Business Review Publishes Yet Another Excellent Guide To Classroom Management
What Would Your Ideal Classroom For English Language Learners Look Like?
"We Need to let Students 'Read, Read, Read'"
Here's A Reflection Exercise I Did With My Student Teacher
Here's The Thematic Schedule I'm Using In My ELL Beginner's Class
Al Jazeera Has Great Audio Reading Of Text Feature On Its News Site
This Is Interesting: All Smarter Balanced State English Test Scores Went Down & Most PARCC States Went Up
"Commaful" Looks Like An (Almost) Perfect Place For Students To Write Online
"Define American" Invites Immigrants To Tell Their Story
Google Unveils New Ear Buds That Automatically Translate 40 Languages
iSLCollective's Video Lessons Are A Huge Asset For Any ELL Teacher
Perfect Critical Thinking Article For TOK Classes Published Today – Here Is How I'm Going To Use It
"Mistakes Teachers Make in Reading Instruction"
Bilingual "NASA Space Place" Looks Like A Good & Accessible Science Site
"ReadWorks" Adds Highlighting & Text Annotation
Useful Recommendations For Reducing Drop-Out Rates
"Payback" Is A "Choose Your Own Adventure" Tool To Help Students Envision College Costs