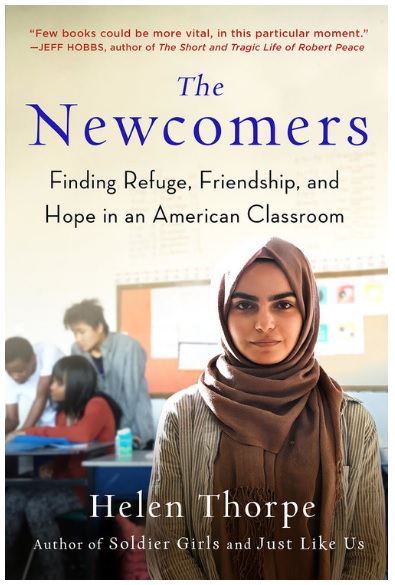 Thanks to Alexander Russo, I just learned about a brand-new book titled The Newcomers, and it looks phenomenal.
I'm trying to arrange an interview with both the author, Helen Thorpe, and the teacher of the class she observed, Eddie Williams.
Here's how the publisher describes the book, and it's followed by several links to book excerpts. If you're an ELL teacher – trust me, you'll want to read those excerpts:
The Newcomers follows the lives of twenty-two teenagers throughout the course of the 2015-2016 school year as they land at South High School in Denver, Colorado, in a beginner level English Language Acquisition class. Speaking no English, unfamiliar with American culture, the students face the enormous challenge of adapting. The newcomers are between fourteen and nineteen years old, and they come from nations convulsed by drought, famine, or war. Many arrive directly from refugee camps. Some enter the U.S. alone, having left or lost every other member of their original family.
At the center of The Newcomers is Mr. Williams, the dedicated and endlessly resourceful teacher of South's beginner English Language Acquisition class. If he does his job right, the newcomers will leave his class at the end of the year with basic English skills and new confidence, their foundation for becoming Americans and finding a place in their new home. As the students blossom in his care, the book becomes funny, poignant, and uplifting. The story shows us the refugee crisis as a whole, but it is more importantly a galvanizing example of how to respond in a moral fashion to a troubled world by doing good at human scale, one family at a time.
With the US at a political crossroads around questions of immigration, multiculturalism, and America's role on the global stage, The Newcomers presents a transformative take on these timely, important issues. Readers are changed and see the world through different eyes after experiencing this book.
A Denver Classroom Helps Refugees Navigate A New Language And A New Culture is from Colorado Public Radio.
How one word bound together a classroom of Denver high school students learning a new language — and a new country appeared in Chalkbeat.
The True Story of Refugees in an American High School appeared in Long Reads.