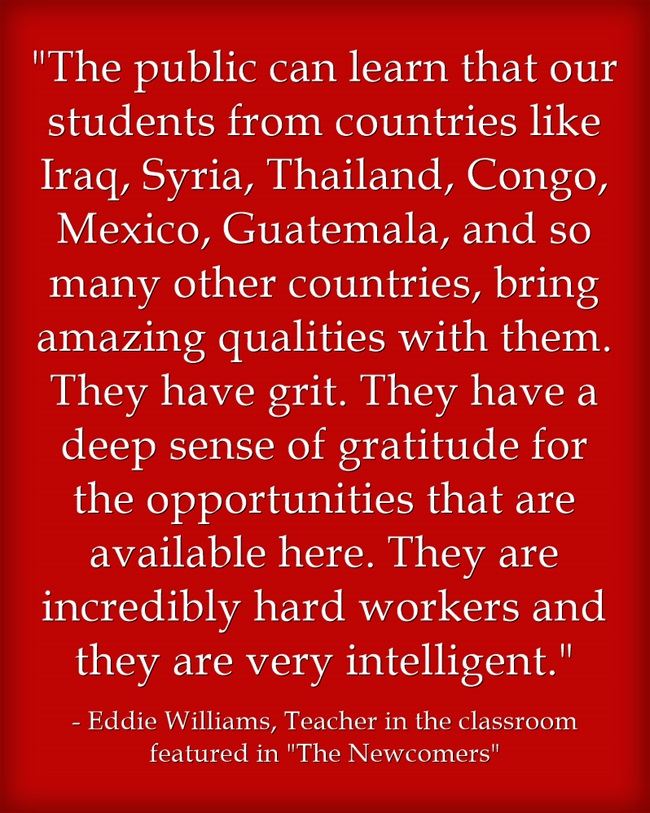 Helen Thorpe agreed to answer a few questions about her new book, The Newcomers: Finding Refuge, Friendship, and Hope In an American Classroom over at my Education Week Teacher column last week.
Helen observed a newcomer class in Denver for a year-and-a-half, and documented her experience in the book.
Eddie Williams, the teacher of that class and a central figure in the book, agreed to answer a few of my questions.
LF: First, can you share a little about yourself – how long you've been teaching, why you became a teacher, and, in particular, what drew you to teaching English Language Learners?
Eddie Williams:
This is my 14th  year as a teacher. I went to Cal State San Bernardino to attend school and play college soccer. I coached a JV soccer team at a local High School while I was in my junior year and I realized how much I liked working with young people. So, I decided to go into teaching after trying out the business world for a couple of years and not feeling as fulfilled as I wanted.
LF: How did having Helen in your classroom affect your teaching during that year-and-a-half – if it did – and how do you think it affected your students? Were there any moments you had second thoughts?
Eddie Williams:
It was really helpful. Helen would get to know many of the students on a deeper level than I could since she was visiting their homes and often using an interpreter to go in-depth with her conversations with the students or their family members. She would frequently share what she learned about students and their struggles. This helped me get to know my students even better.
LF: What do you think of the finished book?
Eddie Williams:
I really agree with what I interpret the mission of the book to be. I feel this book gives readers some insight into the worlds of amazing young people who happen to be refugees or immigrants. Readers can get a sense for how our students make our community and our world a much better place.
LF: What would you hope the general public learns from the book?  What do you think teachers of English Language Learners can gain from reading it?  Are there two-or-three examples portrayed in the book of particularly good teaching for ELLs?  
Eddie Williams:
The public can learn that our students from countries like Iraq, Syria, Thailand, Congo, Mexico, Guatemala, and so many other countries, bring amazing qualities with them. They have grit. They have a deep sense of gratitude for the opportunities that are available here. They are incredibly hard workers and they are very intelligent. Working with these wonderful young people for 5 years has been one of the greatest gifts I've ever received. I don't think I'll realize how important this experience has been until much later in life because it will take a while to sink in. Most teachers have stories like this to share, I think, whether they work with refugees, immigrants, English Learners, or native English-Speakers. It's very rewarding work. I also hope the book can help the general public to celebrate the work of so many teachers that have the privilege of working with our young people. 
LF: What other books about teaching in general and/or teaching English Language Learners would you recommend people read and why?
Eddie Williams:
I remember reading The First Days of School by Harry Wong in my first year as a teacher. It was really helpful. A lot of my reading about education is via blogs. Recently, I've been reading about different math intervention approaches since that's what I'm teaching now.
LF: What are you doing now and what do you hope to do in the future?
Eddie Williams:
I'm teaching Math Intervention at a middle school in the Denver Public Schools. I've had some interest in teaching math for a while to stay challenged and refreshed. Also, teaching math has much greater job security than English or ELD. I also teach courses in DPS for new teachers on teaching methods for English Learners. During the summer, I usually support an elementary school with curriculum for English Learners and I coach new teachers. So, I'm staying really busy!
LF: Is there anything I haven't asked you that you'd like to share?
Eddie Williams:
I'd share my concern in our schools regarding an overemphasis on data, record keeping, and standardized test scores.  All of these issues are very controversial, I know. I guess I'd just ask our parents and community to stay informed and involved to make sure that our young people and our schools get what they need to be successful.
LF: Thanks, Eddie!