There is no shortage of "holier than thou" patronizing critiques of what they imagine the lifestyles of low-income people to be – with implementing work requirements for Medicaid just being the latest result (The Best Articles Questioning The View That Single Parents Are A Problem is another).
A lack of self-control is often one of the charges leveled at low-income adults and kids, despite overwhelming research finding that poverty causes (not the other way around) what some would consider self-control issues but, which, might in fact be logical choices (see The Best Resources Showing Social Emotional Learning Isn't Enough).
Now, an L.A. Times piece shares a fascinating study that finds low-income parents are so frustrated at having to say "no" to their children so often because of economic hardship, that they feel saying "yes" to junk food is an affordable way of making a loving gesture.
Here's an excerpt from Why do poor Americans eat so unhealthfully? Because junk food is the only indulgence they can afford: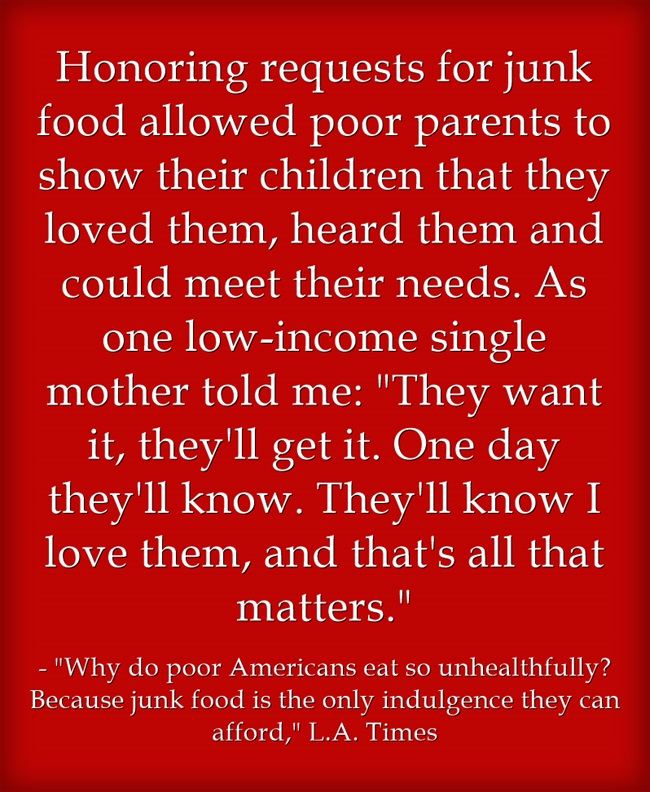 Perhaps those who stand in judgment should remember the line:
"There but for fortune, go you or I…"