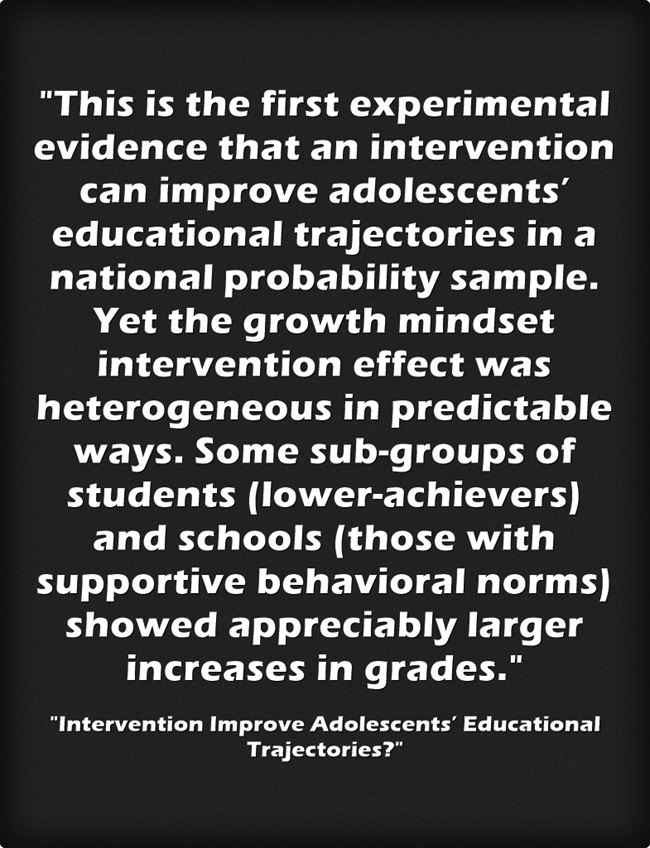 Thanks to Benjamin Riley, this morning I learned about the results of a big new growth mindset study that was released yesterday, Where and For Whom Can a Brief, Scalable Mindset Intervention Improve Adolescents' Educational Trajectories? (happily, not behind a paywall).
It's written by a zillion of the biggest names in Social Emotional Learning Research (David Yeager, Paul Hanselman, David Paunesku, Christopher Hulleman, Carol Dweck, Chandra Muller, Robert Crosnoe, Gregory Walton, Elizabeth Tipton, Angela Duckworth).
Using a representative sample of U.S. schools and their students, they found that students doing two twenty-five minute online lessons about a growth mindset resulted in a small but important academic gain (measured by GPA's), with larger improvements found among students who had a track record of experiencing academic and socio/economic challenges.
They also found greater gains in schools they say "support greater challenge-seeking or academic effort." That makes sense to me, though their measurement of that climate seems a little odd (if students chose to do more challenging math problems on a test).
Though they don't really describe the content of the online lessons in detail, they fortunately point to a previous paper that does – Using Design Thinking to Improve Psychological Interventions: The Case of the Growth Mindset During the Transition to High School (and that paper also is not behind a paywall!). The content is pretty well described there between pages 377-379).
I'm going to review that paper and the most recent version of the growth mindset lesson I teach (My Growth Mindset Lessons Usually Go Well, But What I Did Today Was The Best Yet (Student Hand-Outs Included)) to see what, if any changes, I might want to make to it.
I suspect that most teachers and schools teaching about the growth mindset don't need a study to know that it's effective, but it's really nice to know that to-notch research like this paper supports our beliefs.  And, with luck, it will bring even more people on-board….
I'm adding this info to The Best Resources On Helping Our Students Develop A "Growth Mindset."