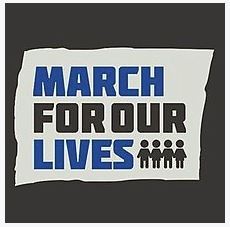 Survivors of the Parkland shooting and students from around the country are organizing The March For Our Lives on March 24th in Washington,D.C. and in other areas to protest against gun violence.
You might also be interested in:
The Best Articles & Videos Showing How Parkland's Teens Are Responding To Tragedy.
A Compilation Of Resources To Support Student Organizing
The Best Resources For Learning About The National Student Walkout On March 14th
Here is a beginning list to learn about the March – I'll be adding more in the future:
The March For Our Lives official site.
March for Our Lives: Everything you need to know about the #NeverAgain event is from ABC News.
Dear National Rifle Association: We Won't Let You Win. From, Teenagers. appeared in The NY Times.
Parkland rally for students attending national marches held against chilling backdrop https://t.co/Q8SerjqQ9C

— Kyra Gurney (@KyraGurney) March 21, 2018
March for Our Lives falls on 20th anniversary of deadly Jonesboro school shooting is from ABC News.
Sensing their moment, Florida students balance school and activism planning the March for Our Lives is from The LA Times.
This Columbine survivor is now a mom, teacher. Here's why she's headed to March for Our Lives. is from ABC News.
'The march is just the start': Parkland students and lawmakers speak out about gun violence is from The Washington Post.
"We, the youth of the United States, have built a new movement to denounce gun violence and call for safety in all of our communities. This is only the beginning." @Emma4Change pens a searing op-ed on this generation's plans to make change: https://t.co/MV34GJgrdI #NeverAgain pic.twitter.com/FWTpOD1WKL

— Teen Vogue (@TeenVogue) March 23, 2018
Students hope the March for Our Lives sends a message that their generation has arrived: "It's going to look scary to politicians" https://t.co/Z25bf3PNnK

— The New York Times (@nytimes) March 23, 2018
The March For Our Lives is Saturday. Here's what you need to know. https://t.co/S7YiZylYEa

— Post Local (@postlocal) March 22, 2018
TIME's new cover: The school shooting generation has had enough https://t.co/4YI173gqTx pic.twitter.com/7yFEXuVjyb

— TIME (@TIME) March 22, 2018
Students are gearing up for the nationwide March for Our Lives on March 24. "Our parents and grandparents did not succeed in ensuring our safety at school. So we must do it ourselves," write three organizers of New Jersey's march. https://t.co/Gw6uWCeFD4

— NYT Opinion (@nytopinion) March 22, 2018
Perspective | Our kids were murdered at Sandy Hook. We're marching for them this weekend. https://t.co/OPskyQZXX4

— Alan Richard (@educationalan) March 21, 2018
Latino students, families mobilize for the 'March for our Lives' is from NBC News.
THE BRIEF: DOWNLOAD THESE POSTERS FOR MARCH FOR OUR LIVES is from Ad Age.
You'll be able to watch it live on this NBC feed:
Here's the Washington Post feed from the March:
'When you march this weekend, don't forget the teens who face gun violence every day.' via @seventeen #MarchForOurLives https://t.co/ZTf7QWmcWf pic.twitter.com/bsSCs8JYJh

— Moms Demand Action (@MomsDemand) March 23, 2018
"I am here to acknowledge and represent the African American girls whose stories don't make the front page" –Naomi Wadler, 11-years-old pic.twitter.com/SMDgcPHHtg

— March For Our Lives (@AMarch4OurLives) March 24, 2018
Photos from the #MarchForOurLives protests around the world https://t.co/FlH4sFfhhY pic.twitter.com/wOnW0db6Ql

— The New York Times (@nytimes) March 24, 2018
Here's just part of @Emma4Change's minutes-long silence on stage. It was a stunningly powerful moment. Haunting. pic.twitter.com/CdOu4iAagS

— David Mack (@davidmackau) March 24, 2018
March for Our Lives's Edna Chavez speaks for the kind of gun violence that doesn't make front pages https://t.co/Y7UNsLPsST

— Vox (@voxdotcom) March 24, 2018
Aerial footage shows the turnout at various March for Our Lives events across the US today https://t.co/K4g34viFVh pic.twitter.com/Iu8266uwGi

— CNN Breaking News (@cnnbrk) March 24, 2018
"Never give up. Never give in. Keep your faith and you're going to have a victory." Rep. John Lewis who marched with MLK, speaking at #MarchForOurLives rally in Atlanta pic.twitter.com/AcBKXzixr8

— Scott Dworkin (@funder) March 24, 2018
"I am here to acknowledge & represent the African-American girls whose stories don't make the front page of every national newspaper, whose stories don't lead on the evening news," says Naomi Wadler, an 11-year-old from Alexandria, Va. https://t.co/jujbxM0M4i #MarchForOurLives pic.twitter.com/3lLhpHhDby

— CBS News (@CBSNews) March 24, 2018
The 6 most memorable speeches at the March for Our Lives in D.C. https://t.co/fMIfkbaV2o @MrSmall215 That little gal's speech is on here.

— DayCM (@DayCatherineM) March 24, 2018
VIDEO: PARKLAND STUDENTS UNVEIL NEW AD – "OUR POWER: NEXT TIME"