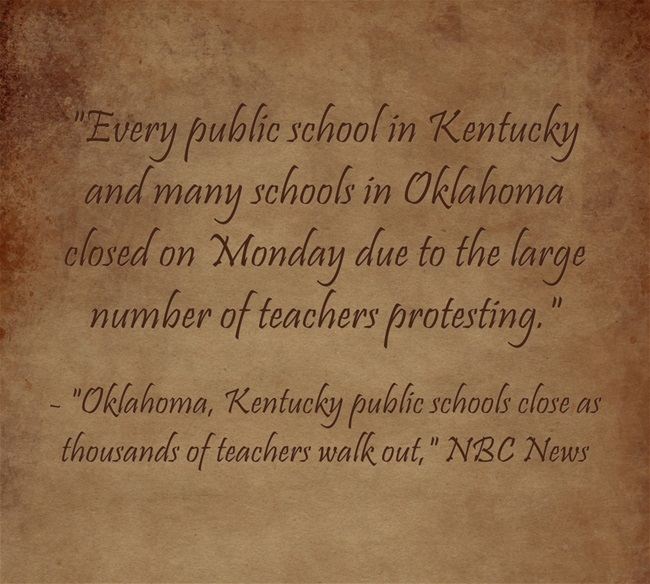 What a day in Kentucky and Oklahoma as teachers band together and fight for their schools, students and their families.
Here are some of the most up-to-date reports on their efforts (you might also be interested in The Best Resources For Learning About – & Supporting – The West Virginia Teachers):
Oklahoma, Kentucky public schools close as thousands of teachers walk out is from NBC News.
Katrina Ruff, a local teacher in Oklahoma City, carried a sign that read, "Thanks to West Virginia."

"They gave us the guts to stand up for ourselves," she said. https://t.co/Z0aUgaOZpa

— The New York Times (@nytimes) April 2, 2018
Deeper context: well-educated metropolitan areas are attracting knowledge-based industry, leading to more highly educated workers moving there, reinforcing their advantage. And what are left-behind states doing? Crippling education https://t.co/Ob4pGHut6H

— Paul Krugman (@paulkrugman) April 2, 2018
Oklahoma, Kentucky, Arizona: The latest on the teachers in multiple states who have walked off the job or are making plans to do so https://t.co/jVLuZQsrBf

— The New York Times (@nytimes) April 4, 2018
Oklahoma governor compares striking teachers to a 'a teenage kid that wants a better car' is from The Washington Post.
Also, a new poll is out today of 1,000 Oklahoma voters, finding 72 percent support the teacher walkout. https://t.co/XyuIJdpgZ1

— Dana Goldstein (@DanaGoldstein) April 6, 2018
Oklahoma students did have class this week…at the Capitol.

PBS @NewsHour's first Teachers' Lounge post written by a teacher AND a student together @EMHSgoppel @notgabbydavis of Edmond, OK

Story: https://t.co/zi1ZJL8hd4 #StuVoice #oklaed #OklahomaTeachers #OKteacherwalkout pic.twitter.com/7MKaIEO6gS

— PBS NewsHour Extra (@NewsHourExtra) April 7, 2018
Oklahoma Teachers End Walkout After Winning Raises and Additional Funding is from The NY Times.
Kentucky Is Learning That You Can't Have School Without Teachers is from The Huff Post.
Teachers Are Going on Strike in Trump's America is from Politico.
Behind Oklahoma's teacher strike: Years of tax cuts and an energy slump is from The Washington Post.
Walkouts And Teacher Pay: How Did We Get Here? is from NPR.
Teacher Walkouts Threaten Republican Grip on Conservative States is from The NY Times.
The Oklahoma Teacher Strike Has Ended – Here's What They Got. And What They Didn't is from TIME.
Which states might experience the next wave of teacher strikes? is from Brookings.
The Kentucky governor implied that teacher protests are to blame for child abuse pic.twitter.com/ni8txwdzfo

— NowThis (@nowthisnews) April 14, 2018
Another Victory: With hundreds of teachers chanting, Kentucky lawmakers overturned a GOP governor's veto on Friday to increase spending on public education https://t.co/q5ykJNvbTG #Recharge /2 pic.twitter.com/2CrHRhin9O

— David Beard (@dabeard) April 14, 2018
Arizona's governor promises to give teachers a pay raise in effort to avert a strike is from Vox.
And, in another state:
Arizona Governor Agrees To 20 Percent Raise For Protesting Teachers is from NPR.
Arizona Teachers Vote for the First-Ever Statewide Walkout to Demand Increased Funding is from TIME.
Kentucky Governor Apologizes For Comments On Teachers' Strike is from NPR.
25-Year-Old Textbooks and Holes in the Ceiling: Inside America's Public Schools is from The NY Times.
Teachers' strikes: meet the leaders of the movement marching across America is from The Guardian.
Arizona teachers want more than a raise. They want public schools funded again. is from Vox.
#BREAKING: Arizona's #RedForEd walkout is likely to be nation's largest in recent history, with school closures affecting 820,000 out of the state's 1,1 million students. Read The Arizona Republic's analysis here: https://t.co/Bl9nLCmZyL via @azcentral

— Ricardo Cano (@Ricardo_Cano1) April 25, 2018
As 10,000 teachers plan to descend on Colorado capitol, lawmakers propose jailing them if they go on strike. https://t.co/4f02tjQIls pic.twitter.com/sWtk1oD5Ap

— ABC News (@ABC) April 24, 2018