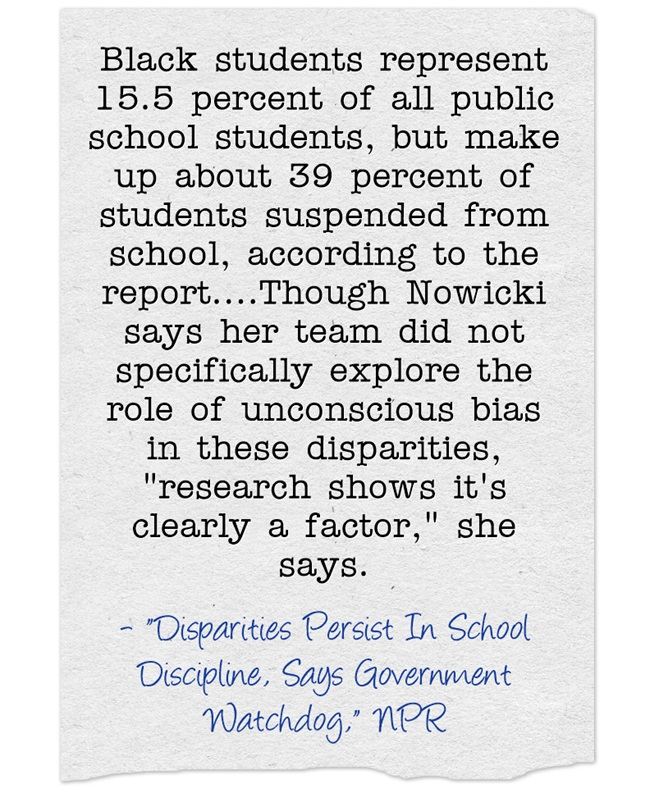 In a surprise to few teachers, the Government Accountability Office issued a report today finding that racial disparities are evident in school discipline and that they exist at every income level.
You can read more about the report at:
Disparities Persist In School Discipline, Says Government Watchdog is from NPR.
Government Watchdog Finds Racial Bias in School Discipline is from The NY Times.
Black kids are way more likely to be punished in school than white kids, study finds is from Vox.
Implicit racial bias causes black boys to be disciplined at school more than whites, federal report finds is from The Washington Post.
BLACK STUDENTS ARE DISPROPORTIONATELY DISCIPLINED IN PUBLIC SCHOOLS is from the Pacific Standard.
You can find a lot of info on teacher implicit bias at my previous post, We Should Be Obsessed With Racial Equity.
I'm adding this post to New & Revised: Resources To Help Us Predominantly White Teachers To Reflect On How Race Influences Our Work.