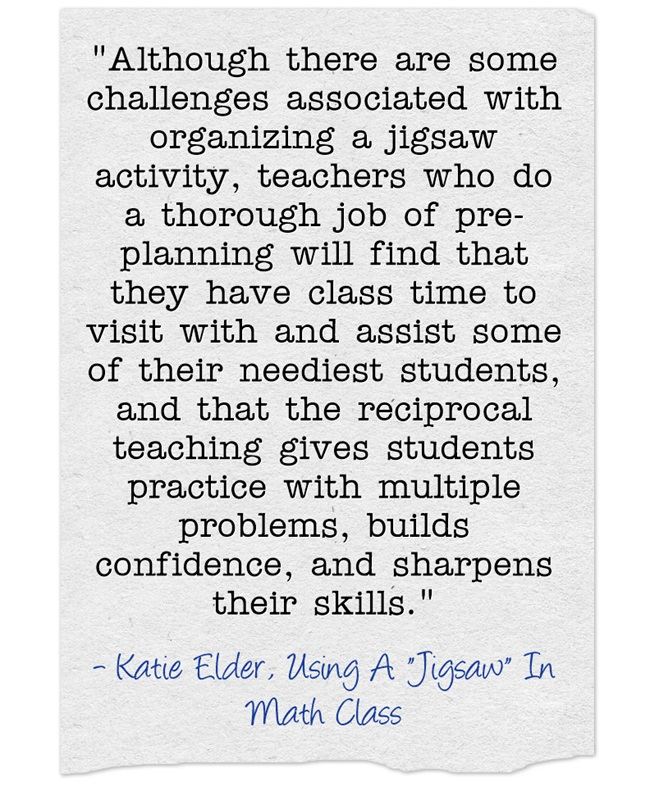 Editor's Note: I'm a big fan of using the Jigsaw instructional strategy (see This Is Interesting: Hattie Says Jigsaw Strategy Hits a Homerun and Two Useful TOK Class Resources: Jigsaw Instructions & Allegory Of The Cave Videos/Evaluation Forms).I saw a tweet from Katie Elder about a math jigsaw she recently did, and invited her to write this guest post about it. I'm adding this post to The Best Posts On Helping Students Teach Their Classmates — Help Me Find More.
Katie Elder has been an instructional coach for Rowland Unified School District for six years. She also teaches one period of 11th grade English and reads everything she can get her hands on.
Jigsaws in Algebra II
When my partner, Lily Thio, and I were assigned as instructional coaches to one of our district's comprehensive high schools, we had some trouble getting into classrooms. Teachers were filled with hesitance, for varied reasons, at the suggestion that they work with a coach. In order to be useful (as well as ornamental) on campus, Lily and I devised many avenues through which we might reach teachers. One of those structures is our Prep Period PD, held once a month on a different topic, and for which teachers come to our classroom during their prep period for some informal learning, discussion, and strategy sharing. Our first was on checking for understanding, and next we addressed differentiation. These topics were derived from a staff survey that we had shared with teachers earlier in the year.
For our third Prep Period PD, we decided to tackle flexible grouping. Our teachers have been operating under the assumption that changing the seating chart every grading period, or putting students into trios or groups once in a while, fit the bill. Some even practiced intentional grouping based on their general impression of their students as middle, high, or low, and they created mixed groups, sprinkling in their English Learners and RSP students. However, we didn't feel that our teachers had a solid understanding of how to use data to inform grouping decisions, nor how to use this data and these groups to provide truly differentiated instruction. As Lily and I talked about what this workshop might look like, we decided that a unique approach was called for. After looking over our master schedule, we determined that, in working with two of our Algebra II teachers, we could offer our Prep Period PD on one date, every period, in a math class with actual students. Talking about intentional grouping, and many other issues in education, is much more effective in practice than in theory.
After discussing our idea with the teachers, Mr. Dawdy and Mr. Wong, Lily worked with them to develop a formative assessment that the teachers would give to their students as an exit ticket at the end of the period, the day before our lesson. Because two of the class periods were honors-level Algebra II, Lily created two different assessments, each aligned to that teacher's pacing and taking into consideration the teachers' goals for the period. Our Algebra II classes were reviewing for a chapter test on rational functions, and the Algebra II Honors students were beginning to learn how to graph sine and cosine. We were interested to see if our flexible grouping strategy worked better for one lesson or the other–at the beginning of a unit or at the end. Spoiler alert: it worked well for both!
The next step was to score the assessments in a way that grouped students based on their readiness with the topic. In some classes, there were four clear levels, and in others, only three. As the math expert of our coaching team, Lily sat with each teacher and talked carefully through what each level of student should be able to do, and once they had begun, the sorting went quickly. Then prep began for the next day. Lily grouped the students into both "home" and "expert" groups. Each home group had at least one student of each level, and each expert group contained students of homogeneous readiness. Lily then determined which math problems each expert group would tackle together.
On the day of the lesson, with a few teachers observing in each period, Lily discussed with students the learning objective and reviewed the academic vocabulary they would need to have their group discussions. She then passed out to each student their own organizer with one problem on it, the one that their homogeneous group would become "experts" at solving. The students worked silently and independently on their problems and then met together in their pre-assigned expert groups. Together, the students discussed the problem, shared their answers, and looked for errors in their work, making sure that by the end of the assigned time (about five minutes), each student felt sure that they could explain to their home groups the procedure for solving the problem. Lily walked from group to group, paying special attention to the groups who had received the lowest-level problem, but answering questions and guiding all students toward correct solutions.
When students moved again, this time into home groups, each student took a turn using a small white board to write out their problem, wait while the other students copied it onto their organizer, and then "work the problem" on the board, discussing each step. To lower anxiety and increase confidence, the students considered low in their groups went first (we grouped students into X, Y, and Z expert groups, so these were our X students). Then our Y students taught their problem, and then our Z students. Again Lily visited each table, listening to explanations, offering suggestions, and answering questions.
At this point in the lesson, I went into an adjoining empty classroom with the visiting teachers to discuss the lesson objectives and the lesson's effectiveness, focusing primarily on the flexible grouping strategy to differentiate content based on readiness level. Teachers had many questions about how the formative assessment was developed, how the students were grouped, and how to structure the activity to ensure students equitable talk time and smooth transitioning between groups.
The lesson went well. Students responded positively, and there was 100% engagement in each of the classes. Although we have not had time to check in with the teachers to look at test score data, the math teachers whose classes we worked with both commented on how glad they were to see some of their low students speak with added confidence and some of their quiet students speak at all! One teacher even commented on how a student who perpetually "checks out" was working well beyond his normal contribution.
As an added bonus, Lily and I actually got to do real coaching with two unsuspecting math teachers who thought they were helping us out!
Was it perfect? No, of course not. What lesson is the first time through? Here are a few thoughts on what we will do differently next time:
The Algebra II Honors students received parts of one problem: identifying the characteristics (amplitude, period, and transformations), creating a coordinate table, and graphing the function. Next time, we will have all students do the problem up to and including their own assigned part. As it turned out, graphing a function from a completed table was not challenging enough for our "Z" groups.

We found that many students teach like their teachers! They write the problem on the board, complete it, and then look for confirmation, all without saying a word! The students definitely needed guidance in how to explain. Next time we will give home group students sentence frames that demonstrate how to use required academic vocabulary as a tool to aid in their scripting of the explanation that expert group members will use once back in their home groups.

Finally, we found out that the members of some of our "X" groups were able to come up with the same wrong answer, or that they could persuade less strong students to believe their incorrect answer. For this reason, next time we might try an "ambassador" structure, in which expert groups swap members in order to review their work and practice their scripts for explaining.
Although there are some challenges associated with organizing a jigsaw activity, teachers who do a thorough job of pre-planning will find that they have class time to visit with and assist some of their neediest students, and that the reciprocal teaching gives students practice with multiple problems, builds confidence, and sharpens their skills.