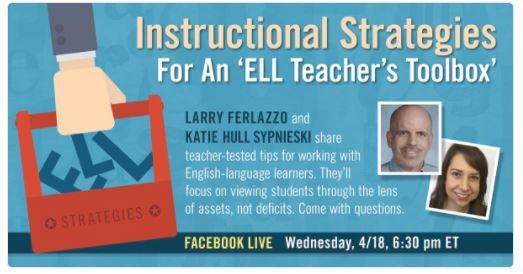 On Wednesday, Katie Hull Sypnieski and I will be doing a Facebook Live event For Education Week Teacher at 3:30 PM Pacific Time:
What are the instructional strategies every #ELL teacher needs in her toolbox? @Larryferlazzo and @KHullSyp will share their #ELLTeachersToolbox tips tomorrow night on Facebook Live. Tune in! https://t.co/cIQfS6WFxQ pic.twitter.com/7rDF34hdUy

— EdWeek Teacher (@EdWeekTeacher) April 17, 2018
Here are some resources that you might want to look at before, during or after the event – whether you join us or not:
Here is a link to a number of online resources we'll be talking about….
And here are links to videos of our English Language Learner students sharing what helps – and what doesn't help – them learn at school:
Three Videos Of English Language Learners Giving Advice To Teachers
New Video: English Language Learners Share What Helps Them Learn