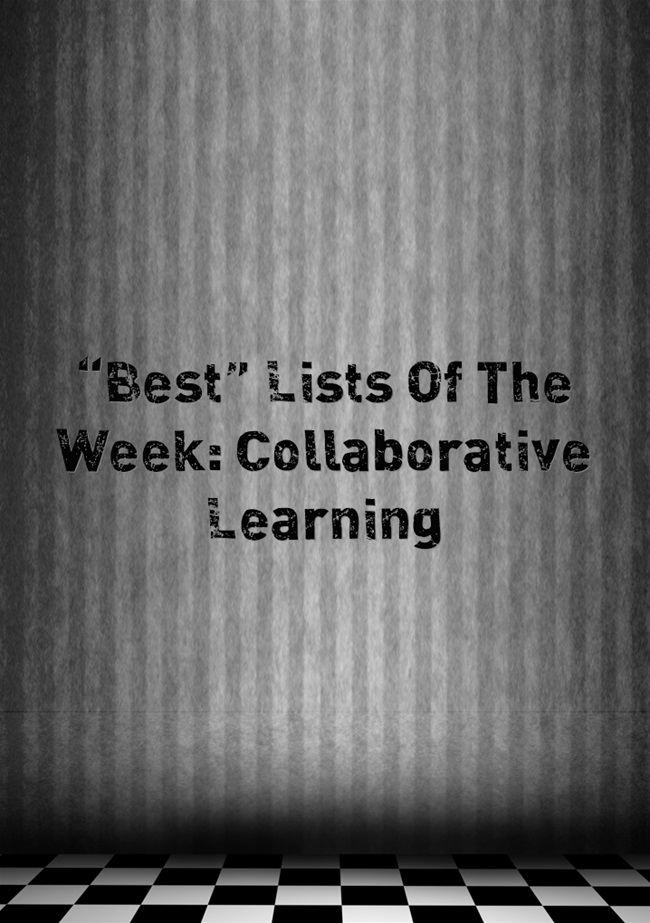 This is the twenty-fourth post in a series I'm creating that will highlight the Best "Best" lists in a particular topic I have posted over the years.
You can see all those lists at the bottom of this post.
These are lists I've also recently reviewed and revised,  so they are up-to-date.
You can find all my nearly 2,000 continually updated "Best" lists here.
Here are the lists I've revised and updated related to Collaborative Learning:
The Best Sites For Cooperative Learning Ideas
The Best Online Tools For Real-Time Collaboration
The Best Online Tools For Collaboration — NOT In Real Time
The Best Sites For Collaborative Storytelling
The Best Ways To Find Other Classes For Joint Online Projects
THE BEST ONLINE TOOLS STUDENTS CAN USE COLLABORATIVELY TO CREATE PROJECTS – PLEASE, PLEASE, PLEASE ADD YOUR FAVORITES!
A BEGINNING LIST OF THE BEST RESOURCES FOR USING GOOGLE JAMBOARDS WITH ENGLISH LANGUAGE LEARNERS – PLEASE ADD YOUR OWN!
The previous posts in this series have been:
"Best" Lists Of The Week: Tools For Learning About Art & Creating It
"Best" Lists Of The Week: Tools For Teaching About Economics & Jobs
"Best" Lists Of The Week: Resources For Teaching About Health
"Best" Lists Of The Week: Useful Multilingual Resources
"Best" Lists Of The Week: Online Learning Games
"Best" Lists Of The Week: Resources For Writing Instruction
"Best" Lists Of The Week: Resources For Reading Instruction
"Best" Lists Of The Week: Resources For Teaching & Learning About Race & Racism
"Best" Lists Of The Week: Resources On The Environment
"Best" Lists Of The Week: Resources For Vocabulary Instruction
"Best" Lists Of The Week: Math Resources
"Best" Lists Of The Week: Social Emotional Learning Resources
"Best" Lists Of The Week: Planets & Space
"Best" Lists Of The Week: Natural Disasters
Not Very "Best" Lists Of The Week: Gun Violence
"Best" Lists Of The Week: Education Research
"Best" Lists Of The Week: Thematic Lists For Beginner ELLs
"Best" Lists Of The Week: Active Citizenship
"Best" Lists Of The Week: Teaching With Movies
"Best" Lists Of The Week: Responding To Student Trauma
"Best" Lists Of The Week: Holidays, Anniversaries & Special Days
"Best" Lists Of The Week: Special Months