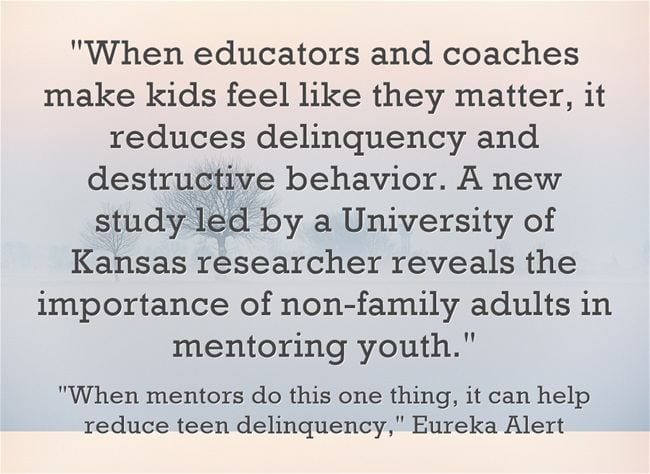 In a Eureka Alert summary of a new study (When mentors do this one thing, it can help reduce teen delinquency), researchers report that young people with mentors have improved behavior if they "feel like they matter."
What does this actually mean?
Here's a quote directly from the study:
The presence of a natural mentor may provide a positive model for young people. However, one question remains: how do young people move from seeing positive behavior and receiving support and encouragement to exhibiting positive behavior? We propose it is "mattering," coming to feel important and connected to others. Informed by the model of mentoring that Rhodes proposed, and the research on identity development, has supported (Rhodes, 2005), we find that one believing that he or she is a significant part in the lives of others is a key element of what people need to learn to be integrated into society with strong social bonds. Even if our findings are not from ideal statistical relationships, we do have a noteworthy outcome: if as an adult one has maintained a close relationship with an important natural mentor, this strong bond likely increased mattering while also decreasing delinquency.
I'm adding this info to The Best Resources On The Importance Of Building Positive Relationships With Students.