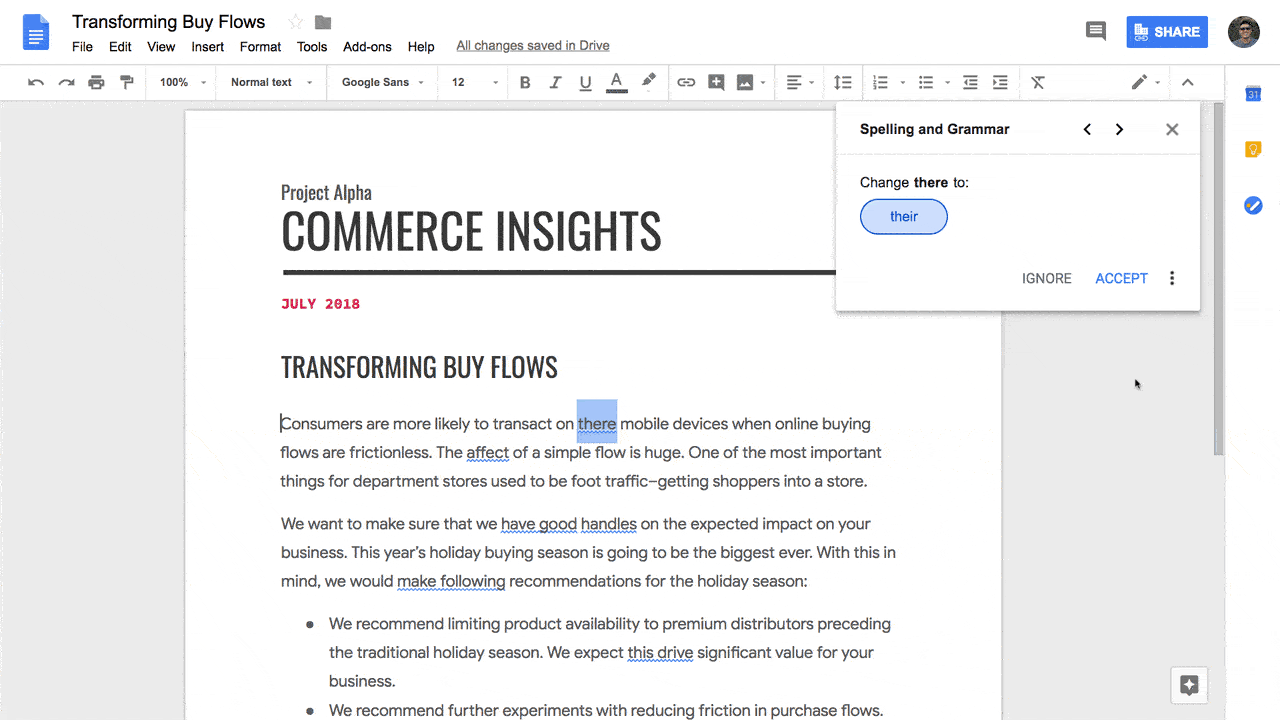 Google today announced that they would soon be adding a grammar-checker powered by "machine-learning."
I've embedded their demonstration GIF at the top of this post. Here's their announcement:
We're also using AI to help people write more clearly and effectively. It can be tricky at times to catch things like spelling and grammatical errors that inadvertently change the meaning of a sentence. That's why we're introducing grammar suggestions in Docs. To solve grammar corrections, we use a unique machine translation-based approach to recognize errors and suggest corrections on the fly. Our AI can catch several different types of corrections, from simple grammatical rules like how to use articles in a sentence (like "a" versus "an"), to more complicated grammatical concepts such as how to use subordinate clauses correctly. Machine learning will help improve this capability over time to detect trickier grammar issues. And because it's built natively in Docs, it's highly secure and reliable. Grammar suggestions in Docs is available today in our Early Adopter Program.
Note that it has not been rolled out yet.
These kinds of automatic-checking tools are great teaching and learning tools for English Language Learners!
Google Docs appears to be leaving Microsoft Word in the dust.  I previously posted about another great addition they made and how it helps ELLs: Google Docs Expands Voice-Typing Ability Expanding Language-Learning Possibilities. In addition to assisting ELLs, it has been a Godsend to some of my students who have injured shoulders or arms when playing football.
I'm adding this info to The Best Resources For Learning How To Use Google Docs/Google Drive.