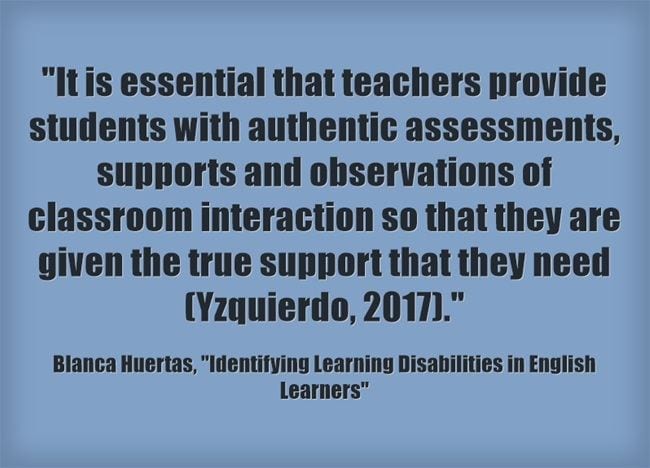 Editor's Note: I recently completed publishing a series of guest posts on the topic of teaching Math to English Language Learners. I thought it would be helpful to me – and to all ELL educators – to do a similar series on English Language Learner students who might, or might not, have additional learning challengers, and how we can best approach handling that kind of situation (see ARE YOU AN ELL EDUCATOR & HAVE INTEREST IN WRITING A GUEST POST ABOUT ELLS WITH SPECIAL NEEDS?). I'll be adding these posts to The Best Resources On Assisting ELLs With Special Needs – Help Me Find More.
The first post in the series was written by Carly Spina:  GUEST POST: IS IT LANGUAGE, OR IS IT A LEARNING CHALLENGE?
The second was authored by Michelle McCann: GUEST POST: ELLS & SPECIAL NEEDS – A VIEW FROM CANADA
Today's post is from Blanca Huertas.
Blanca Huertas is a teacher at Kranz Jr High in Dickinson, Tx. This is her fourth year working at Dickinson ISD with ELL's. She previously worked as an ESL teacher in Puerto Rico for eight years. She enjoys working with English learners and helping them be successful!
When considering that an English learner might have a learning disability, I would recommend for a teacher to first evaluate the previous formal education completed by the student. For example, a student that just arrived at your school from another country but hasn't gone to school for 2-3 years cannot function at the same level of a student, from his same country, that has had formal education. Students that have had interrupted formal education are identified as SIFE or SLIFE (Students with Limited or Interrupted Formal Education). Many of these students lack certain skills, not because they can't but because they haven't had opportunities to be successful. SLIFE students are not only students that come from other countries but can also be students that have been in the U.S for quite some time, but parents are constantly moving around, which does not permit a student to stay consistently in one place and receive consistent instruction.
If the student has had formal schooling in his or her country in the language they speak and has not been successful, this can be the first alert for a teacher to start considering a learning disability. Yzquierdo (2017), mentions that if a student struggles with the ability to communicate academic concepts even in his L1  then this is an alert for teachers that the student might have something more than a language proficiency limitation. For example, a student who can acquire language through speaking and listening in both his or her L1 and L2 but struggles with communicating comprehension of readings done in his or her L1 can have a learning disability.  In cases like this, I would give the student a Developmental Reading Assessment (DRA) in his language, if it is available. Last year, I had a similar experience, so I requested the help from our district to train ESL teachers in the secondary level to DRA students in Spanish.
Another route that I have used to acquire information is to interview parents. Parents can give you information about developmental issues that have occurred with the student. This interview can help you make connections to specific behaviors already seen in the student during classroom interactions. You can also conference with your student and discuss what difficulties they are having either with the new language or a specific content. An interview with the student can help you visualize the struggles that the student is going through and determine the appropriate interventions that can help him or her.
Sometime districts are not very receptive of testing newcomer language learners. Exhaust all your resources before you refer a student.  It is essential that teachers provide students with authentic assessments, supports and observations of classroom interaction so that they are given the true support that they need (Yzquierdo, 2017). When we provide our students with all the opportunities for them to be successful, we can use these interventions as evidence that can support your claim of a learning disability if a student has not been successful. Evidence is essential to sustain your claim and get a process started for your student. Regardless of what can happen in the process, I urge you to continue to work so that your student can acquire language and academic success. This process might be long, but it is a necessary route to take when it is an essential need of our student.
 References:
Yzquierdo,M.L.(2017) Pathways to greatness for ELL newcomers: A comprehensive guide for schools and teachers. San Antonio,TX:Canter Press.