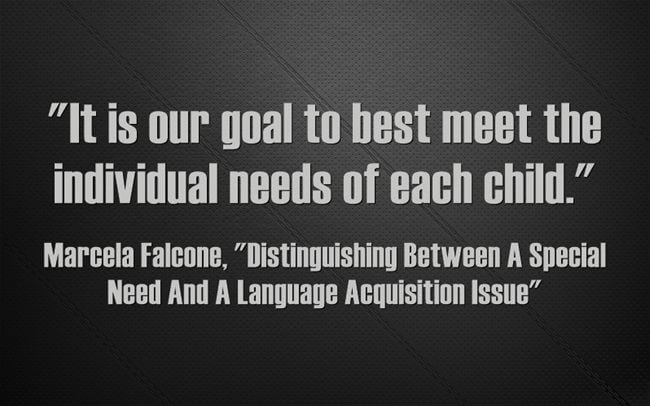 Editor's Note: I recently completed publishing a series of guest posts on the topic of teaching Math to English Language Learners. I thought it would be helpful to me – and to all ELL educators – to do a similar series on English Language Learner students who might, or might not, have additional learning challengers, and how we can best approach handling that kind of situation (see ARE YOU AN ELL EDUCATOR & HAVE INTEREST IN WRITING A GUEST POST ABOUT ELLS WITH SPECIAL NEEDS?). I'll be adding these posts to The Best Resources On Assisting ELLs With Special Needs – Help Me Find More.
The first post in the series was written by Carly Spina:  GUEST POST: IS IT LANGUAGE, OR IS IT A LEARNING CHALLENGE?
The second was authored by Michelle McCann: GUEST POST: ELLS & SPECIAL NEEDS – A VIEW FROM CANADA
The third was from Blanca Huertas: GUEST POST: IDENTIFYING LEARNING DISABILITIES IN ENGLISH LEARNERS
The fourth was by Jessica Bell: Twice Exceptional
Today's post is by Marcela Falcone.
Marcela Falcone is in her 18th year as a 3rd Grade Bilingual Teacher in the Brentwood School District on Long Island, New York.  She previously taught PreK, 1st Grade, and 2nd Grade.  Follow her on Twitter @marcela_falcone.
"We can't help him until he learns English," explained my colleague.  As I began to set-up for the next day in my third grade bilingual classroom, something didn't sit right.  I responded, "But he is struggling with decoding in BOTH languages!"
It was at this exact moment that I realized the importance of distinguishing between a special need and a language acquisition issue.  At the same time, I also created a plan to understand the difference between the two possibilities.
The first step of the plan centers on assessing the child's ability in his or her native language.  If the student is having the same difficulty in similar skill areas in both languages, it can indicate a learning challenge.  Please keep in mind that factors such as schooling in the student's home country can play a role.
Next, it is important to take a close look at how long the student has been in the country and reasonable expectations of language acquisition.  How long has the child received direct instruction in English immersion? Is he or she receiving support at home?
The third step revolves around teacher intuition.  This will be different for veterans in the field compared to new teachers.  But we are all in our profession for a reason. It is our goal to best meet the individual needs of each child.  If you are differentiating your instruction and not seeing adequate growth, it is crucial to reflect on the possibility of a special need being present.
Once you follow these steps, a member of the special education department can help with observations, allowing for a second opinion on the situation.  The educators should observe together, with each using specific expertise. After collaborating together, the next step is to approach the multidisciplinary team that works within the special education department.
If for any reason, there is pushback, it is important to use more formal assessments.  When you show evidence of learning issues in a child's native language through data, it can be helpful to other educators.