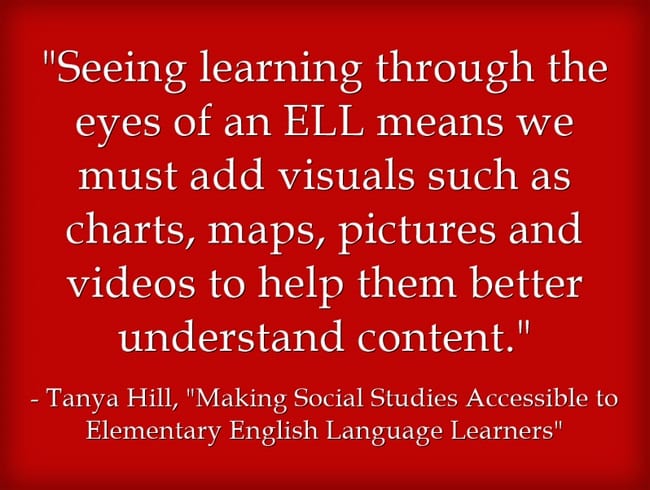 Over the past few months, I've published several series of guest posts from teachers of English Language Learners: one on teaching math, another on ELLs and Special Needs, and the most recent one on teaching Science to ELLs. I also published a mini-series on evaluating foreign transcripts.
Now, it's time to talk about teaching Social Studies to ELLs.
The first post in this series was by Kayla VanLeuvan:  GUEST POST: TEACHING SOCIAL STUDIES TO ELLS
The second post was by Tina Beene: GUEST POST: SOCIAL STUDIES, ELLS & "ENGAGEMENT"
The third was by Kenna Maughan Troup: GUEST POST: HOW A SOCIAL STUDIES TEACHER CAN RECOGNIZE THE "LIVING HISTORY" ELLS BRING WITH THEM
The fourth was by Mary-Owen Holmes: GUEST POST: PRACTICAL TIPS FOR WORKING WITH ELL STUDENTS IN THE SOCIAL STUDIES CLASSROOM
Today's post is by Tanya Hill…
The next series on this blog will be on teaching writing to ELLs.
Tanya Hill (@TeachLikeALady on Twitter) is a National Board Certified Reading and Language Specialist and a strong advocate for Teacher Leadership. She is an ESL teacher at Kate Bond Elementary in Memphis, TN.
Social Studies is an underappreciated subject. Students are exposed to many facets of history, civics, cultural and geographical aspects of our country. This plethora of information can be exciting yet daunting to someone who is learning English as a 2nd Language (ESL). With the increase of English Language Learners (ELLs) entering today's public schools, there is a great need to make content accessible to this population of students. As an ESL teacher to 3rd and 4th graders, I am regularly asked how to modify assignments for to accommodate ELLs. Before I offer suggestions, let's understand how acquiring a second language works.
Learning is Trifold
Many ELLs may appear to be comfortable speaking English; however, this does not equate to grade level reading and writing abilities. Typically listening comprehension precedes speaking, reading, and writing fluency (Krashen, 1983).
When ELLs are in the classroom, they are learning social language, academic language and content simultaneously. Native speakers are solely learning content.
Academic State Standards are written for native speaking children without regard for linguistic diversity. This is why modifications must be made to make academic content accessible to ELLs. Here are four ways this can be accomplished.
Use Scaffolding
Scaffolding refers to a variety of instructional techniques used to move students progressively toward stronger understanding and, ultimately, greater independence in the learning process. Using the gradual release of responsibility (I do, We do, You do) during lessons can accomplish this. Teacher modeling of objective mastery is a great asset to all students including ELLs. Another great way to scaffold assignments is to pre-teach important vocabulary that will aid in reading comprehension of Social Studies materials.
Change the Classroom Environment
Student grouping is an effective way to aid ELLs in making Social Studies content easier to understand. Use pairs, triads and groups of four to foster collaborative learning. Pair stronger bilingual students with beginning ELLs. Don't be afraid to change up your student groups periodically. This flexibility stimulates a greater interest in the assignments.
Make Learning Visible
According to John Hattie, visible learning involves teachers seeing learning through the eyes of students; and students seeing teaching as the key to their ongoing learning. Seeing learning through the eyes of an ELL means we must add visuals such as charts, maps, pictures and videos to help them better understand content.
Use a translation app
There are many translations apps that are available for your Smartphone. Google translate allows you to copy and paste articles for translations into its platform. This is great for students new to the country. Other apps allow you to talk into your phone in English, then produce what you say in another language. These apps typically have many language such as Spanish, Arabic, Vietnamese and French to choose from. Some apps are free but others apps such as ITranslateVoice charge a small fee.
ELLs bring a wealth of knowledge and experience to our classrooms. As teachers, it is our duty to accommodate this language barrier by differentiating and modifying assignments for them so that they can experience success in all of our classrooms.