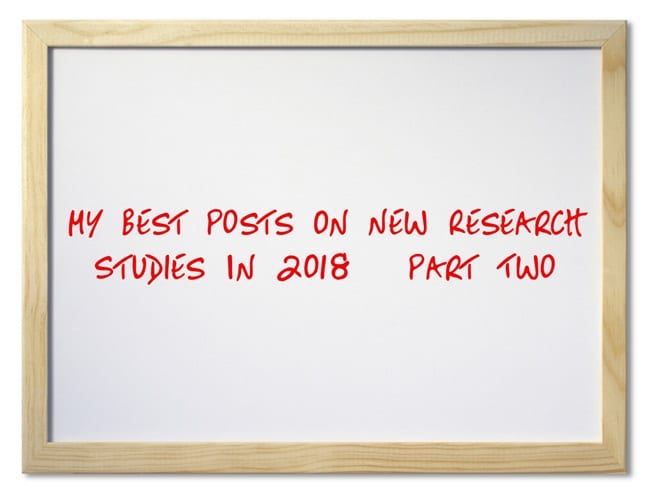 I'm continuing with year-end "Best" lists.
I'll be adding this post to ALL MY END-OF-YEAR "BEST" LISTS FOR 2018 IN ONE PLACE!
You can see all previous editions of this list, as well as all my ed research related "best" lists, here.
Here are my choices for the past six months:
INTRIGUING IDEA TO PROMOTE SELF-CONTROL MAY HAVE POTENTIAL, BUT MUST BE USED WITH CARE
NO SURPRISE TO TEACHERS: STUDY FINDS FEAR OF DEPORTATION AFFECTS STUDENT ATTENDANCE
THE BEST RESEARCH ABOUT THE BEST AGES FOR ELLS TO LEARN ENGLISH
STATISTIC OF THE DAY: THE IMPORTANCE OF TEACHER DIVERSITY
"FIXED-FIGHTS," SELF-EFFICACY & STUDENT MOTIVATION
THE "KINDNESS CONTAGION" & THE CLASSROOM
ANOTHER STUDY FINDS WHAT EVERY ELL TEACHER KNOWS – HAVING STUDENTS DRAW PICTURES HELPS THEM LEARN VOCABULARY
NEW REPORT SAYS CORPORAL PUNISHMENT DOESN'T WORK
NEW STUDY SHOWS THAT RESEARCHERS DON'T ALWAYS THINK THROUGH HOW THEIR STUDIES CAN BE MISUSED
NEW STUDY SUGGESTS THAT A TEACHER'S IMPACT ON STUDENT BEHAVIOR MORE IMPORTANT THAN TEST SCORES
NEW REPORT FROM THE UCHICAGO CONSORTIUM IS THE BEST SYNOPSIS OF USEFUL EDUCATION RESEARCH THAT I'VE SEEN IN A LONG TIME
THE BEST RESOURCES FOR LEARNING ABOUT ADHD
USING "COMMON PLANNING TIME" EFFECTIVELY IN SCHOOLS
NEW RESEARCH REINFORCES WHAT WE KNEW: BEING HELD BACK A GRADE DOESN'T HELP KIDS
NATIONAL ACADEMIES PUBLISHES MASSIVE TOME ON "HOW PEOPLE LEARN"
NEW TED TALK VIDEO: "WHY BEING NICE TO YOUR COWORKERS IS GOOD FOR BUSINESS" (& THE CLASSROOM)
NEW STUDY ON MULTIPLE CHOICE TESTS
STUDY FINDS POSITIVE STUDENT CLASSROOM BEHAVIOR CAN HAVE POWERFUL IMPACT ON PEERS
RESEARCH FINDS THAT ENCOURAGING A GROWTH MINDSET & AGENCY CAN HELP STUDENTS WITH TRAUMA
NEW "OPPORTUNITY ATLAS" PROVIDES INTERESTING DETAILS, BUT I DON'T THINK IT TELLS US ANYTHING WE DON'T ALREADY KNOW
IMPORTANT RESEARCH REVIEW FINDS THAT – SURPRISE – OUTSIDE OF SCHOOL FACTORS IMPACT STUDENT ACADEMIC ACHIEVEMENT
STUDY FINDS ASKING QUESTIONS LEADS TO MORE SECOND DATES – PERFECT RESEARCH TO PROMOTE THE ART OF…ASKING QUESTIONS
VIDEO: PBS NEWSHOUR DOES WELL-DONE REVIEW OF WALTER MISCHEL'S WORK – "THIS RESEARCHER TAUGHT US HOW TO RESIST TEMPTATION"
STATISTIC OF THE DAY: STUDENTS LOST 11 MILLION INSTRUCTIONAL DAYS IN ONE YEAR DUE TO SUSPENSIONS
NEW STUDY FINDS LEARNING OUTCOMES ARE BETTER READING PRINT THAN READING DIGITALLY
NEW RESEARCH FINDS THAT SIMPLE WRITING EXERCISE ABOUT PERSONAL VALUES CAN HAVE A BIG IMPACT
STATISTIC OF THE DAY: LOTS OF STUDENTS ARE CHRONICALLY ABSENT
SELF-CONTROL IS CRITICAL QUALITY FOR SUCCESS, SAYS A NEW STUDY – BUT IT HAS A HUGE UNHELPFUL HOLE IN ITS METHODS
YOU'RE UNLIKELY TO FIND MORE USEFUL ARTICLES TO HELP WITH STUDENT MOTIVATION THAN THESE TWO…
NEW STUDIES CONFIRM PREVIOUS ONES – ABILITY GROUPING CAN HURT, NOT HELP
GREAT REBUKE TO "THOSE WHO CAN, DO; THOSE WHO CAN'T, TEACH"
RESEARCH FINDS THAT SLEEP HELPS LANGUAGE LEARNING
NEW STUDY FINDS THAT SCHOOL ATTENDANCE AWARDS EITHER DON'T HELP OR ACTUALLY DECREASE STUDENTS COMING TO SCHOOL
NEW STUDY FINDS A SPECIFIC FORM OF "COLLABORATION" GETS THE BEST RESULTS
INTRIGUING, THOUGH NOT CONCLUSIVE, STUDY SUGGESTS THAT KNOWLEDGE GAINED THROUGH ACTIVE LEARNING IS MORE TRANSFERABLE TO NEW CONTEXTS
IMPORTANT NEW STUDY SUGGESTS THAT WHEN IT COMES TO INTELLIGENCE, NURTURE BEATS NATURE
NEW STUDY ON POSTURE & LEARNING – HERE'S HOW I'M USING IT IN CLASS
NEW STUDY FINDS THAT USING CELLPHONES DURING LECTURES HURT EXAM SCORES, BUT THAT'S NOT THE MOST IMPORTANT RESULT
BIG NEW STUDY ON GENES & EDUCATION
NEW STUDY SHOWS LEARNING ABOUT GROWTH MINDSET AT START OF NINTH-GRADE INCREASES RESILIENCE
INTERESTING STUDY ON PERCENTAGE OF TIME STUDENTS ARE "OFF-TASK"
NOW THERE'S A SURPRISE – STUDY FINDS THAT PEOPLE LIKE TO RECEIVE THANK YOU LETTERS
STUDY: "REPEATED EXPOSURE TO FALSE STATEMENTS CAN LEAD PEOPLE TO BELIEVE THOSE FALSEHOODS"
NEW STUDY FINDS – WAIT FOR IT – MORE MONEY FOR EDUCATION HELPS STUDENTS & TEACHERS
SHOCKER – NOT: STUDY FINDS NOT SWEATING THE SMALL STUFF IS A GOOD CLASSROOM MANAGEMENT STRATEGY
THE ROLE OF EMPATHY IN CLASSROOM MANAGEMENT
THE BEST TOOLS FOR ACADEMIC RESEARCH
NEW STUDY FINDS PROSPECTIVE TEACHERS VIEW BLACK CHILDREN AS HOSTILE & ANGRY
STUDY FINDS THAT IF TEACHERS MAKE STUDENTS "FEEL LIKE THEY MATTER," THEN BEHAVIOR IS BETTER – WHO WOULD HAVE THOUGHT?
DEPRESSING STATISTIC OF THE DAY: SURVEY SAYS PEOPLE ARE READING LESS
THE IMPORTANCE OF RESPECT IN THE CLASSROOM
CAROL DWECK'S NEW RESPONSE TO CRITIQUES OF GROWTH MINDSET
BIG NEW STUDY ON READING INSTRUCTION
ANOTHER STUDY SHOWS THAT THE BRAIN CHANGES PHYSICALLY WHEN LEARNING SOMETHING NEW
THIS IS A FASCINATING & USEFUL STUDY: CHARTS ARE MORE CONVINCING THAN TEXT
QUOTE OF THE DAY: INTRINSIC MOTIVATION IS POWERFUL
NEW STUDY SUGGESTS THAT IT TAKES 25% OF PEOPLE TO TURN MINORITY OPINION INTO MAJORITY ONE
STUDY: PEOPLE ARE MORE ENGAGED & CREATIVE IF THEY TRUST THE PEOPLE THEY ARE WORKING WITH….