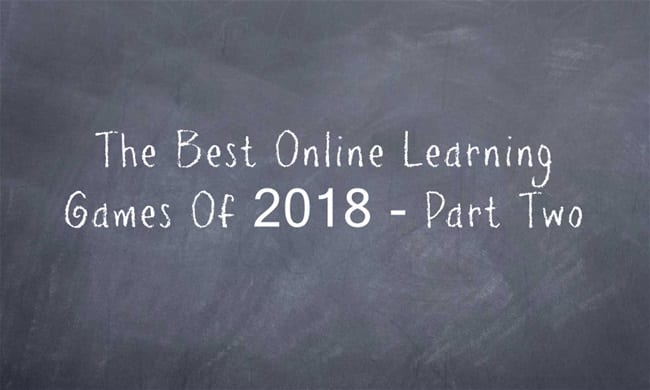 The parade of end-of-year "Best" lists continues.
You can see all previous editions of this series, as well as all games-related "Best" lists, here.
I'm adding this list to All My End-Of-Year "Best" Lists For 2018 In One Place!
Here's what I have:
This is important: THE DANGERS OF "CHOOSE YOUR OWN ADVENTURE" GENRE FOR REAL & PAINFUL STORIES
IT APPEARS THAT THE EXCEPTIONAL SCIENCE SITE "LEGENDS OF LEARNING" IS NOW REALLY FREE
iCivics unveiled a new information literacy game on October 3rd called NewsFeed Defenders.
Can You Spot the Deceptive Facebook Post? is an interactive quiz from The New York Times.
The News Hour is an online game from NATO (yes, NATO) "designed to help readers identify online misinformation." Unfortunately, you can only play it if you are logged-on to Facebook, which makes it problematic to use with students at school. You can read more about it at this Forbes article, NATO's Latest Weapon: A Facebook Game For Fake News Countering.
oodlu is a brand-new – and free to teachers and students – tool for creating and playing online learning games. Teachers can create many different formats of questions (see the first image below) and turn them into a wide variety of different types of games (see the second image below). And, they can have free virtual classrooms to monitor student progress.
In Zoomtastic, you're first shown a "close-in" shot of a section of a country, and then it gradually "zooms-out." You're given a few choices, and have to pick one. You can use various clues, including place names on the map. I'm adding it to The Best Online Geography Games.
BadaBoom is a Kahoot alternative.  I particularly like its feature of being able to provide more than one correct answer.  I'm adding it to The Best Websites For Creating Online Learning Games.
Computer Mice has a nice collection of audio-supported language games for Beginning English Language Learners or beginning English-proficient readers. I'm adding it to The Best Beginner, Intermediate & Advanced English Language Learner Sites.
Word Tetris is a new version of the old game that could be fun for Intermediate and above English Language Learners.
The New York Times has published Think Military Strikes Could Stop North Korea? Try It and See, which is probably the most frightening choose your own adventure "game" anyone will every "play."
It's all too real….
I'm adding it to:
The Best Places To Read & Write "Choose Your Own Adventure" Stories
A Beginning List Of The Best Resources For Teaching & Learning About The North Korea Missile Crisis
The Library of Congress has funded several impressive-looking online tools to help teaching and learning with primary sources, including these two:
Eagle Eye Citizen engages middle and high school students in solving and creating interactive challenges on American history, civics, and government with Library of Congress primary sources in order to develop students' civic understanding and historical thinking skills.
Teachers can create virtual classrooms to monitor student progress, and students can create their own interactives, too!
Developed by the Indiana University Center on Representative Government, Engaging Congress is a series of game-based learning activities that explores the basic tenets of representative government and the challenges that it faces in contemporary society. Primary source documents are used to examine the history and evolution of issues that confront Congress today.