As regular readers know, for the past twelve years I've been publishing about twenty-five different bi-annual lists highlighting the best educational resources around (along with tons of other "Best" lists). You can see them all here.
It takes a lot of time to compile those lists, and I've decided to make it easier on myself by now posting them three times each year.
I'm starting off by focusing on Web 2.0 tools. It's possible that a few of these sites began earlier than this year, but, if so, I'm including them in this list because they were "new to me" in 2019 (or in late 2018 after I published that year's list).
As usual, in order to make this list, a site had to be:
* accessible to English Language Learners and non-tech savvy users.
* free-of-charge.
* appropriate for classroom use.
* completely browser-based with no download required (however, I've begun to make exceptions for special mobile apps).
You can see previous editions of these lists, along with all my Web 2.0-related lists, here.
Also, as usual, I'm not ranking these "intermediate lists." I'll review them all at the end of the year and only choose "the cream of the crop" for that final "annual" list.
Here is what I have so far:
Contexted is a free note-taking tool that converts your notes into a Mind-Map. I'm adding it to The Best Resources On Effective Note-Taking Strategies – Help Me Find More.
I've often shared in the past about how I have English Language Learners go to sites that have short and often silly movie clips available for users to create funny closed-captions about what the characters might be saying. You can see links to all those free and easy tools at The Best Places To Create Funny Subtitles For Silent Movies. Reader Tommy shared a new one called Memr.tv. Like the others on that list, it has some strange clips, and it's easy to add closed-captions.  Check mine out here. It took all of two minutes to make….
I am less-than-impressed with many of the online tools available that are supposed to help students and everybody else improve their essays and other documents. There are a few that I think have potential, and you can find them at The Best Online Tools That Can Help Students Write An Essay. I'm now adding the free tool Textly to that list. You paste text into their box and, like other web tools out there, it provides categorized critical feedback. However, a fair number of tools seem to throw every correction and the kitchen sink at you, while Textly seems to be more narrow in its focus.  In this case, less is more, and make it less likely that students will feel overwhelmed and demoralized. In addition, it provides simple and accessible explanations for the reason behind the suggested correction.
Apparently, Google unveiled their Data GIF Maker in 2017, but I only learned about it recently when they added some new templates. It's super-easy to use – just choose a template, label and add your values, and it's done! The one I created right below this paragraph took me less than a minute (by the way, my frustration is not directed at John Hull, our fabulous tech person – it's directed towards antiquated equipment). I'm adding it to:
The Best Resources On GIFs — Please Contribute More
The Best Tools To Make Simple Graphs Online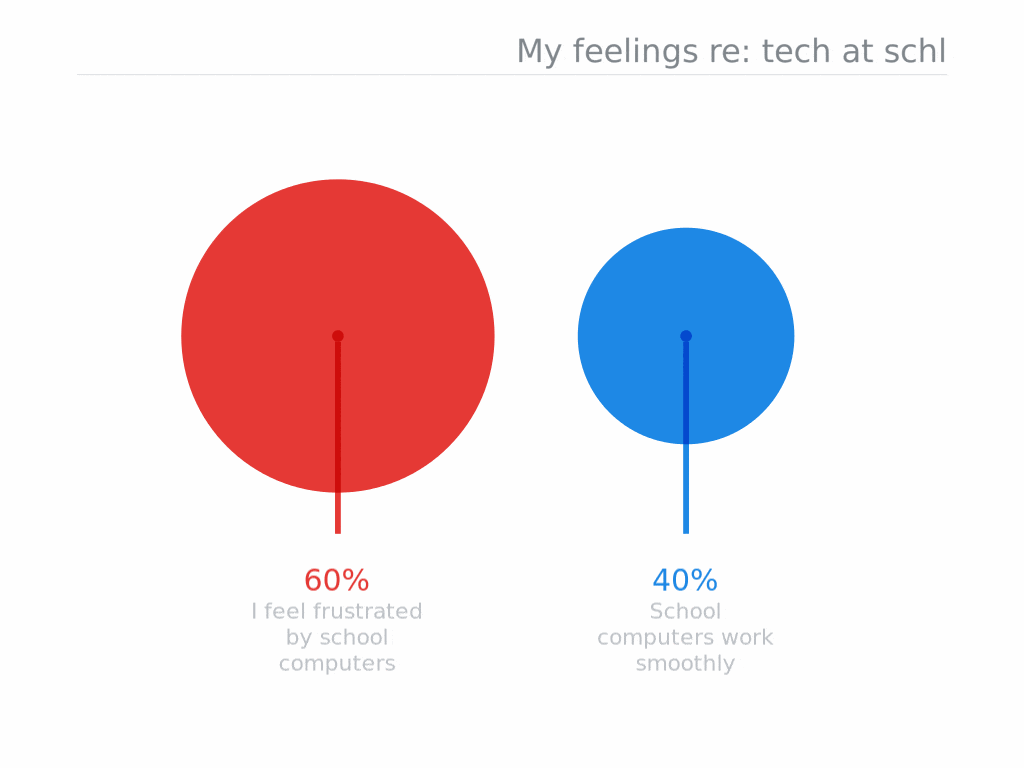 Ryeboard is an online whiteboard where you can draw, write and collaborate. I'm adding it to The Best Online Tools For Real-Time Collaboration.
Tick is a new app where you can create visual tutorials. The Visualist is another similar one.  Tildee would still be my go-to web app for creating these kinds of tutorials, but these others seem worth checking out (note that, unlike Tildee, which is web-based, these two are apps).
Proficonf is a new video conferencing tool. I'm adding it to The Best Online Tools For Real-Time Collaboration.
MashApp lets you start a story told with video and then lets others continue it.  I'm adding it to The Best Sites For Collaborative Storytelling.
Mixed.io is another tool for collaborating with online whiteboards.  I'm adding it to The Best Online Tools For Real-Time Collaboration.
You can make free charts at Charts Factory.  I'm adding it to Not "The Best," But "A List" Of Mindmapping, Flow Chart Tools, & Graphic Organizers.
Voice Headliner lets you choose the voice of a variety of famous people, type in what you want them to say, and then get an audio and/or video recording of them saying it. It could be useful for ELLs.
VidHug is an easy way to have a bunch of people collaborate for one of those recordings where you share your appreciation for someone.  It costs $15 but – I can tell you from experience that this sounds like a much less painful way to do one of those than using other tools.
Thanks to Jennifer Gonzalez's 6 Ed Tech Tools to Try in 2019, I learned about Yo Teach. It's a great tool for creating "back channel" classroom discussions or a place for conference attendees to ask questions of presenters, which is how I would use it.
Online Voice Recorder does just that for free. I learned about it from Richard Byrne. I'm adding it to The Best Sites To Practice Speaking English.
Clipomatic is an app that apparently automatically creates captions for videos. Captions obviously make videos much more accessible to ELLs
Popped lets you write a screenplay, story or choose your own adventure in a way that's similar to texting. It's a bit confusing to me, but I'll still add it to The Best Places To Read & Write "Choose Your Own Adventure" Stories.
Notepad lets you create webpages online with no registration required.  Online similar tools, you can also copy and paste images on the site.  I'm adding it to A Few Simple Ways To Introduce Reluctant Colleagues To Technology.
Shaking Stories looks like an interesting new story-writing app.
Seterra has long been a "go-to" Geography site, with zillions of engaging games and quizzes. They've recently added a new fabulous feature to their interactives – now, anyone – without registering – can turn any of their games/quizzes into custom ones and share its unique url address. All you have to do is click on the "Create Custom Quiz" link at the top of each of their interactives. What a great assignment for students to do! There are other tools that let you create custom Geography quizzes (you can find them at The Best Online Geography Games), but none are as easy to use as this new Seterra tool. I'm adding this info to:
The Best Geography Sites For Beginning & Intermediate English Language Learners
The Best Websites For Learning & Teaching Geography
Collabify is a free web tool that lets you video call, screenshare, text and talk with one person without free sign-up and up to four with free registration. I'm adding it to The Best Online Tools For Real-Time Collaboration.
Flip To Mind is a new tool for creating online flash cards and using them to study. I'm adding it to The Best Tools To Make Online Flashcards.
LiveFile lets you upload a document and have a group discuss it and "your audience can click links. They can select text and draw, and everything is shared instantly with every other participant."  It seems like it could be pretty useful. I'm adding it to The Best Online Tools For Real-Time Collaboration.
Quillionz uses Artificial Intelligence to automatically create test questions from a text.  You can learn more about it at CristinaSkyBox.  I was pleasantly surprised at its quality, and liked that it was easy to edit what it came up with.  You can print out the final test, though it would be even better if you were able to have students take it online.  I'm adding it to The Best Ways To Create Online Tests.
Charte makes it very easy to create…charts.  I'm adding it to  The Best Tools To Make Simple Graphs Online.
I don't think you're going to find an easier tool for creating simple charts and graphs than Chartify. I don't think it's the sort of site where you upload an excel spreadsheet of data. But if you – or your students – want to visually display a few simple statistics, it's super-easy. It's also free. I'm adding it to The Best Tools To Make Simple Graphs Online.
Ana Cristina Pratas has a nice blog called CristinaSkyBox, and she recently blogged about a new-to-me tool called Boardthing. It's free, let's you create notes on an online bulletin board, and you can also easily add images. It doesn't have all of Padlet's bells-and-whistles but, as I said, it is free. I'm adding it to The Best Online Virtual "Corkboards" (or "Bulletin Boards").
Shtick lets you create and share lists. It's pretty limited in its features, but it could be used if you want to create directions for an internet scavenger hunt. You might be interested in The Best Places To Create (And Find) Internet Scavenger Hunts & Webquests.
Discovering the Great Indoors is the headline of a NY Time column from a few months ago. It talked about a "citizens scientist" initiative for people to photograph insects in their home and upload it to a site called iNaturalist, where scientists then help identify the species and use the information for research. When I went to the site, I learned that this effort is just a tiny fraction of its features. Anyone can use their app to take pictures of just about anything in nature and contribute to an enormous real-world science project.