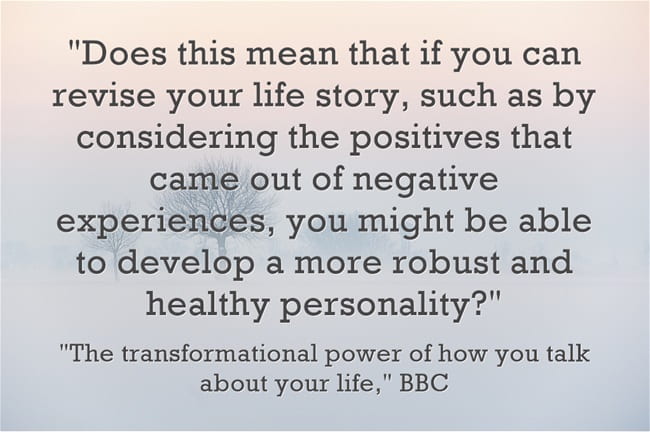 The transformational power of how you talk about your life is an intriguing article at the BBC that discusses research documenting the impact of telling your life story in a more positive way.
It's another remember of how to integrate Social Emotional Learning with other academic work, and is similar to the "Public Narratives" idea I've previously shared (see Helping Students Create "Public Narratives").
I've had students write about Growth Mindset stories (see Here's What My Students Think Of A Growth Mindset ; We Did A Great 'Growth Mindset' Lesson With Our ELLs This Week – Here's The Lesson Plan ; STUDENT-WRITTEN GROWTH MINDSET STORIES and HERE ARE EXAMPLES OF WHAT STUDENTS WROTE ABOUT A GROWTH MINDSET).
However, I haven't given this kind of guidance when they write Autobiographical Incident essays.
That will change.
I'm adding this info to The "Best" Sites For Helping Students Write Autobiographical Incident Essays.