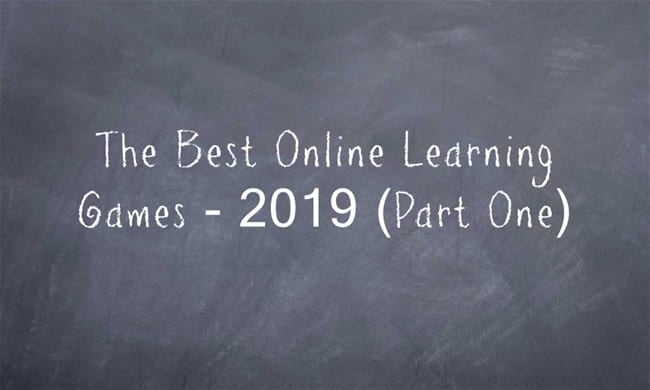 It continues to be time for mid-year "Best" lists.
The first was THE BEST WEB 2.0 APPLICATIONS FOR EDUCATION IN 2019 – PART ONE.
The second was The Best Social Studies Websites – 2019 (Part One).
You can see all my previous Online Learning Games "Best" lists (and there are a lot since I've doing this since 2007) here. Note that they're also continually revised and updated.
Here are my picks from the first part of 2019:
In March, Google unveiled a fun and education Carmen Sandiego game that you could play on Google Earth (see "Where on Google Earth is Carmen Sandiego?" Is A Neat New Geography Game). Last month, they shared a second one, The Tutankhamun's Mask Caper.
Total Darkness is the latest free online game from the Science Museum in London. It's like a "Choose Your Adventure" interactive. Here's how they describe it:
When the power goes out, it's time for action in our brand new game.
Venture into the dark, explore different locations and meet new characters – creating your own unique adventure as you play!
Use your science skills to get the power back on and see if you can discover the real reason behind the sudden darkness covering the whole town. This game puts you in control, it's your choices and decisions that will guide you through the story to discover the cause.
Will you solve the mystery before it's too late?
I'm adding it to The Best Places To Read & Write "Choose Your Own Adventure" Stories.
NPR ran a story about what it characterized as a successful informational literacy program in Ukraine called "Listen and Discern" (see Students In Ukraine Learn How To Spot Fake Stories, Propaganda And Hate Speech). I did some searching online, and found the program's main website. It's apparently being adapted for use in various countries around the world, including in the United States. The curriculum itself doesn't appear to be freely available, but there is a teacher's guide that I think shares some useful ideas, along with an online game for students.
Race To Ratify is a brand-new game from iCivics.
Here's how they describe it:
Race to Ratify drops you into 1787, where the ink is still drying on the new Constitution. Will it become the law of the land or will it fall into the dustbin of history? The fate of the young nation is in your hands! Dive deep into the heated national debate over the future of a radical new plan for American government. Travel across the 13 states to hear from a diverse and opinionated cast of characters and use what you have learned to influence others through the social media of the time… pamphlets.
Seterra has long been a "go-to" Geography site, with zillions of engaging games and quizzes. They've recently added a new fabulous feature to their interactives – now, anyone – without registering – can turn any of their games/quizzes into custom ones and share its unique url address. All you have to do is click on the "Create Custom Quiz" link at the top of each of their interactives. What a great assignment for students to do! There are other tools that let you create custom Geography quizzes (you can find them at The Best Online Geography Games), but none are as easy to use as this new Seterra tool.
I'm adding this info to:
The Best Geography Sites For Beginning & Intermediate English Language Learners
The Best Websites For Learning & Teaching Geography
Math Games is a free site for…math games that lets teachers create virtual classrooms and monitor student progress. I'm adding it to The Best MATH Sites That Students Can Use Independently And Let Teachers Check On Progress.
THE DANGERS – & POSITIVE POSSIBILITIES – OF HISTORY SIMULATIONS is a post about an important topic.