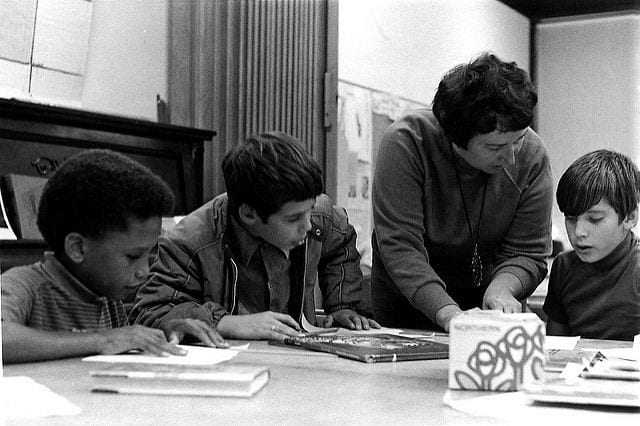 Each week, I publish a post or two containing three or four particularly useful resources on classroom instruction, and you can see them all here.
You might also be interested in THE BEST RESOURCES ON CLASS INSTRUCTION IN 2019 – PART ONE.
Here are this week's picks:
Supporting Students with Adverse Childhood Experiences is the theme of the summer issue of the American Educator. I'm adding it to The Best Ways For Responding To Student Trauma – Help Me Find More.
'Peer instruction' makes students more active learners is from The Hechinger Report. I'm adding it to both The Best Posts On Helping Students Teach Their Classmates — Help Me Find More and to The Best Posts On Curiosity.
Over 140 Picture Prompts to Inspire Student Writing is from The NY Times Learning Network. I'm adding it to Best Posts On Writing Instruction.
6 dos and don'ts for next-level slides, from a TED presentation expert is from TED Talks. I'm adding it to The Best Resources For Teaching Students The Differences Between A Good & Bad Slide.
Core Knowledge has made even more of their curriculum freely available for download.
A Simple Trick for Success with One-Pagers is from Cult of Pedagogy. I'm adding it to TWELVE WAYS ELLS – & ANYONE ELSE – CAN READ & DEMONSTRATE UNDERSTANDING OF A TEXTBOOK CHAPTER – ADD TO THE LIST!
Dear Teachers: Please Don't Make Your Lessons Relevant is by Peter Greene. The "Why" Before the "What" and the "How" is commentary on it from George Couros. I'm adding both to The Best Ideas For Helping Students Connect Lessons To Their Interests & The World.
Six Baby Steps Toward Fair and Valid Grading is by Cheryl Mizerny and appeared at Middleweb. I'm adding it to The Best Resources On Grading Practices.
Stay Sharp This Summer with Free PD Resources is by Curtis Chandler at Middleweb. I'm adding it to The Best Resources On Professional Development For Teachers — Help Me Find More.
Important advice to teachers from Shana White:
Trash the lesson if:
You don't know/can't explain the LO
It will harm students
It's a simulation or reenactment of any historically oppressive event
It debates humanity of a group
You think it's CRT, but don't know or can't explain how it is CRT pic.twitter.com/YY1NKPAETB

— Shana V. White, Ed.S (@ShanaVWhite) June 17, 2019
This next tweet looks interesting:
We're launching a new series called Missing Chapter about hidden histories you won't find in most textbooks.

Sign up for the Vox Video Lab to get early access to our first episode: https://t.co/nFUnSbWVDZpic.twitter.com/mFpzrjP3i2

— Vox (@voxdotcom) June 17, 2019
This outline could be useful:
The "backward design" process of UbD can be used for ANY topic, subject or level. The main sections of the UbD template: 1) "big ideas" students should understand; 2) associated essential questions; 3) performance tasks to assess understanding and transfer; 4) the learning plan. https://t.co/gCkNkPJ0nT

— Jay McTighe (@jaymctighe) June 17, 2019