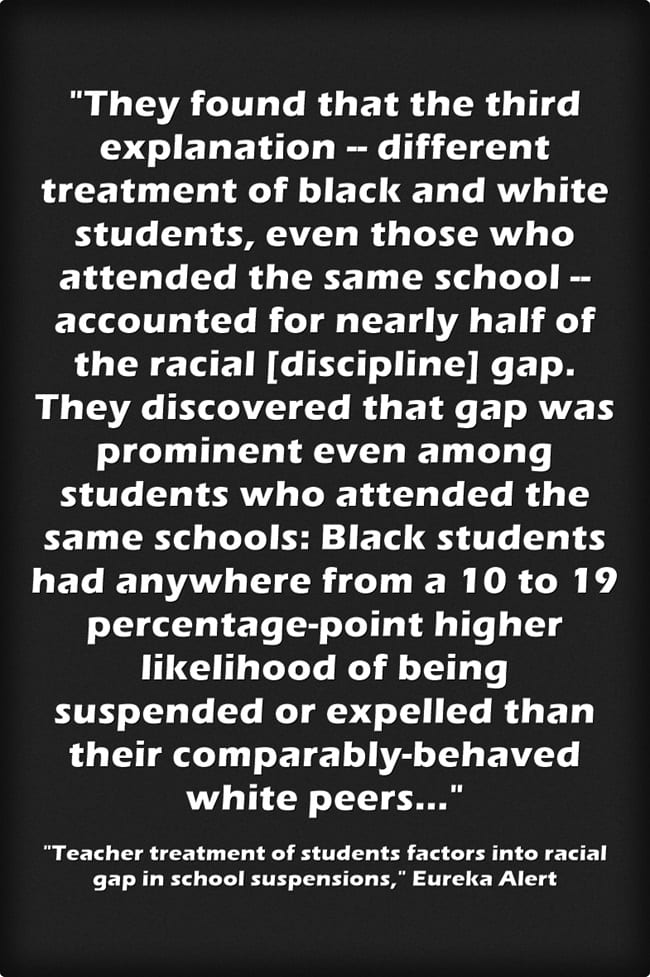 Teacher treatment of students factors into racial gap in school suspensions is a Eureka Alert article that summarizes an important new study.
It also says:
The analysis found that teachers' different treatment of black and white students accounted for 46% of the racial gap in suspensions and expulsions from school among 5- to 9-year-old children. It showed that about 21% of the gap could be explained by differences in the characteristics of schools that black and white children attend predominantly, while differences in student behavior accounted for 9% of the gap.
You might also might be interested in these previous related-posts:
Researchers Find That African-American Students Punished More Severely Than Whites For Same Behavior
We Should Be Obsessed With Racial Equity
The Best Resources Explaining The GAO Report That Finds Racial Disparities In School Discipline
Why, Really, Are So Many Black Kids Suspended? is from Ed Week.
I'm adding this post to New & Revised: Resources To Help Us Predominantly White Teachers To Reflect On How Race Influences Our Work.