Four hundred years ago, on August 20, 1619, a ship carrying more than 20 enslaved Africans arrived in Jamestown. Though America did not even exist yet, their arrival marked its foundation, the beginning of the system of slavery on which the country was built.
There will be a lot of new resources coming online over the next two weeks, and I'll be adding the best additions to this list.
You might also be interested in my "Best" lists related to race and racism, particularly A Beginning List Of The Best Resources For Teaching About Reparations.
Here is what I have so far:
US slavery: How is America marking the 400th anniversary? is from The BBC.
A History of Slavery in the United States is from National Geographic.
The 1619 anniversary of Africans in the United States is significant but not the whole story is from Quartz.
1619: 400 years ago, a ship arrived in Virginia, bearing human cargo is from USA Today.
Ghana marks 400 years since American slave trade is from Al Jazeera.
The Atlantic Slave Trade in Two Minutes
Trans Atlantic Slave Trade Visualization
Artifacts of the slave trade is from Reuters.
A terrible passage from Africa is from Reuters.
2019 marks 400 years since the 1st recorded arrival of African slaves to the U.S.

We explored the dark history of Ghana's coast castles, where Africans were held before being shipped off to a life of slavery pic.twitter.com/kLXqtXzy6F

— Bloomberg TicToc (@tictoc) August 7, 2019
The 1619 Project from The NY Times is edited by Nikole Hannah-Jones, and is an amazing interactive:
The 1619 Project is a major initiative from The New York Times observing the 400th anniversary of the beginning of American slavery. It aims to reframe the country's history, understanding 1619 as our true founding, and placing the consequences of slavery and the contributions of black Americans at the very center of the story we tell ourselves about who we are.
TWO NEW & INCREDIBLY USEFUL LESSON COLLECTIONS FOR TEACHING ABOUT AMERICAN SLAVERY
TWO VIDEO INTERVIEWS WITH NIKOLE HANNAH-JONES ABOUT THE NY TIMES' "1619 PROJECT"
You will find more infographics at Statista
Slavery's explosive growth, in charts: How '20 and odd' became millions is a new interactive from USA Today.
Listen to "1619," our podcast about how the legacy of slavery still shapes America. #1619Project https://t.co/WgVDjgo48H

— The New York Times (@nytimes) August 23, 2019
The missing pieces of America's education is from The Washington Post.
🚨Slaves vs Enslaved People.🚨Thank you @nhannahjones for this much needed explanation on the power of words. It's 2019, people can improve & FINALLY see how calling our ancestors "slaves" leads to dehumanizing & devaluing them. These were REAL people. #1619Project #JournoLife pic.twitter.com/iUdJmYj8QH

— Nicki Mayo (@nickimayonews) August 30, 2019
🚨Slaves vs Enslaved People.🚨Thank you @nhannahjones for this much needed explanation on the power of words. It's 2019, people can improve & FINALLY see how calling our ancestors "slaves" leads to dehumanizing & devaluing them. These were REAL people. #1619Project #JournoLife pic.twitter.com/iUdJmYj8QH

— Nicki Mayo (@nickimayonews) August 30, 2019
GET A FREE PDF OF THE NY TIMES' "1619 PROJECT"
Evaluating and Reshaping Timelines in The 1619 Project: New York Times for Kids Edition is from The Pulitzer Center.
How history textbooks reflect America's refusal to reckon with slavery is from Vox.
The Dawn of American Slavery is from The Washington Post.
'It Was Very Humiliating': Readers Share How They Were Taught About Slavery is from The NY Times.
"1619 Project" Poised to Reframe Teaching of Slavery. Here's How Educators Are Using the Information, Curriculum is from The School Library Journal.
1526 Project: A Look Back at Florida's Black History in Photos is from a local Miami paper which looked at the 1619 Project for inspiration. It has got me wondering if something like this could be done by classes around the country – looking at the earliest stages of enslavement in local communities and producing public projects about it and its legacy?
I am *so* excited to announce that the #1619project will be issued as a series of books, including four books for children. We have partnered with the best editor in the biz @cjaxone of @oneworldbooks to expand this work and reach even more people. https://t.co/f1LxnWNIAE

— Ida Bae Wells (@nhannahjones) November 20, 2019
NEW FOUR-PART VIDEO SERIES ON "TEACHING SLAVERY IN AMERICA"
The Fight Over the 1619 Project Is Not About the Facts is from The Atlantic.
Creator of "The 1619 Project" Nikole Hannah-Jones and "Station 19" star @BorisKodjoe put a spotlight on the consequences that still resonate 400 years after America's shameful legacy of slavery began. https://t.co/1091s9Fn2d pic.twitter.com/7MlOTzQOha

— The View (@TheView) December 19, 2019
California's Forgotten Slave History is from The L.A. Times.
Writing About Slavery? Teaching About Slavery? is from P. Gabrielle Foreman.
"GOLD CHAINS: THE HIDDEN HISTORY OF SLAVERY IN CALIFORNIA" IS AN AMAZING RESOURCE
Now Is the Time to Listen to the History of American Slavery Podcast is from Slate.
Slave Auction Sites is a NY Times interactive.
Today is the official launch of the #Sullivan1619Project. Inspired by @nhannahjones & #1619Project, @SullivanTigers created this project to show how the legacy of slavery still impacts their communities today.
@pulitzercenter @ChiPubSchools

Please share! https://t.co/t63E3CyniN

— Rebecca Coven (@rcovs1201) February 10, 2020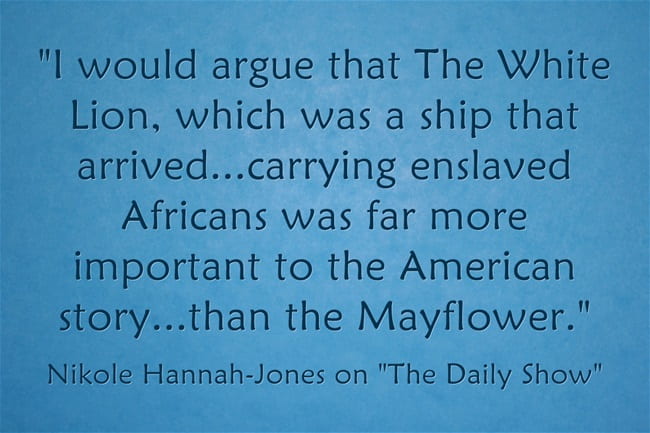 The Pulitzer Center released Lesson Plan: Exploring "The Idea of America" by Nikole Hannah-Jones.
THANKS, SEN. COTTON, YOUR CRITICISM OF THE 1619 PROJECT MEANS THAT STUDENTS EVERYWHERE WILL BE MUCH MORE INTERESTED IN IT
VIDEO: VERY GOOD INTERVIEW WITH NIKOLE HANNAH-JONES
IN A MOMENT, PRESIDENT TRUMP MAKES THOUSANDS OF STUDENTS EAGER TO LEARN ABOUT THE ROLE OF SLAVERY IN AMERICAN HISTORY
NEW SITE SHARES THE STORIES OF THOUSANDS WHO WERE ENSLAVED
Teaching Hard History: American Slavery | Classroom Videos is from Teaching Tolerance.
"Mapping Marronage is an interactive visualization of the trans-Atlantic networks of intellectual, creative and political exchange created by enslaved people in the 18th and 19th century. It traces the geographic reach, crossings and intersections of letters, testimonies and financial exchanges by enslaved people of African-descent."
Featuring a short film and 10 overviews of key concepts every student should learn about the history of American slavery, these classroom-friendly videos can help you introduce and dive deeper on these critical histories.https://t.co/gSRlAvBORp

— Learning for Justice (@learnforjustice) March 27, 2021
Here's what I tell teachers about how to teach young students about slavery is from The National Writing Project.
AMAZING EDUCATION SITE FOR THE 1619 PROJECT UNVEILED!
This Is How I Am Using The 1619 Project in My Class is from the Education Post.
Watching the @NYTimesLearning 1619 event? Bring @nhannahjones @reneewauthor & @4NIKKOLAS' BORN ON THE WATER into your class with the educator guide written by @arcticisleteach!

Download the FREE guide: https://t.co/xh1bpZ9I8H pic.twitter.com/RivE6oyul1

— Penguin Young Readers School & Library (@PenguinClass) December 13, 2021
What Happens to Middle School Kids When You Teach Them About Slavery? Here's a Vivid Example. is from Slate.
You will find more infographics at Statista