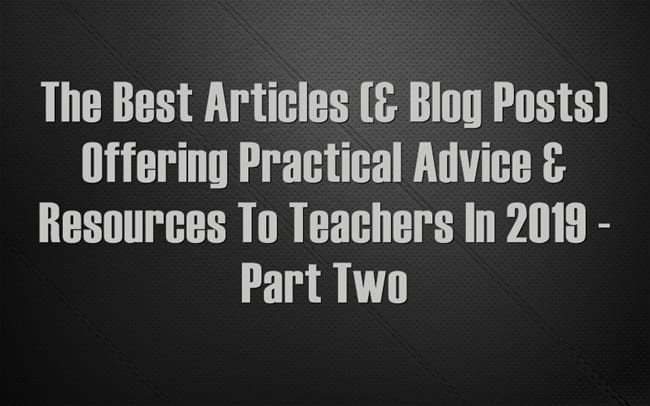 Time for another end-of-year "Best" list.
I'm adding list list to All My 2019 "Best" Lists In One Place!
You can find previous editions of this list, along with other "Best" lists related to instruction, here.
Here are my choices:
There are a lot of good guides out there for how to speak in public, and you can find many of them at The Best Sources Of Advice For Making Good Presentations. I'm not sure, though, if you're going to find a better one – for teachers or for students – than the recent Harvard Business Review article, How to Look and Sound Confident During a Presentation.  It's short, accessible, and packed with useful suggestions.
Katie Hull and I taped a four-part (short) video series on student motivation for Ed Week. As regular readers know, I've written three books on the topic and have a fourth one in the works, too. The videos will be out next month but, in the meantime, you might want to check out A Collection Of My Best Resources On Student Motivation.
People may remember the great This I Believe broadcasts on NPR a few years ago (that are still available on their site). Many of us have used them in class. Lots of educators probably know this already, but it was new to me – there is a huge separate This I Believe website with zillions of essays and related curriculum for all age groups! And if you can't get enough teaching ideas from there, check out the You'll Love the "This I Believe" Writing Project from Spark Creativity. I'm adding this info to Best Posts On Writing Instruction.
NPR has just announced that they are going to have a second year of their student podcast challenge (see The NPR Student Podcast Challenge Is Back!). It's actually a bit of a strange announcement – they say it will start in January, but they aren't ready to announce its rules or share supporting resources yet.  I don't really understand why they wouldn't have just waited until they had all their ducks in a row before making the announcement. Nevertheless, it will be a great opportunity for students, and I'm sure their resources will be helpful for anyone wanting to start a podcast – whether they compete or not.You can see lots of related materials at The Best Resources For Teacher & Student Podcasting.
Everything You Wanted to Know About Student Agency But Were Afraid to Ask … is the headline of the final post in a four-part series at my Education Week Teacher column.
The U.S. Census, which needs to do anything it can do to make it look better after the Trump Administration's attempt to politicize (see The Best Articles Explaining Why It Would Be Terrible To Add An Immigration Status Question To The Census), has unveiled an updated Statistics In Schools program. You can read more about the program at Education Dive. After giving the resources a very perfunctory review, I wouldn't put it on The Best Places To Find Free (And Good) Lesson Plans On The Internet list, but you might find some of it useful. I'd say if teachers want to do anything about the Census with their class, the best thing is to have student-led efforts to increase public participation. You can read about how we did that in the last go-around at The Best Resources To Learn About The U.S. Census.
We Shouldn't "Empower" Students – Instead We Should Create The Conditions Where They Can Take It
THE "ALL-TIME" BEST TEACHING & LEARNING RESOURCES AVAILABLE ON THIS BLOG
Here's The Article & Prompt That Students Used For An Essay On Cellphone Use – Plus Some Of Their Responses
Jenny Muñiz has written a good – and short – piece over at New America reviewing the benefits of culturally responsive teaching. 5 Ways Culturally Responsive Teaching Benefits Learners contains lots of links to research, and is the perfect piece to share with administrators and colleagues who have questions about it and are open to learning. I'm adding it to The Best Resources About "Culturally Responsive Teaching" & "Culturally Sustaining Pedagogy" – Please Share More!
HERE'S THE QUESTIONNAIRE MY STUDENTS COMPLETE ON THE FIRST DAY OF SCHOOL
NY TIMES LEARNING NETWORK UNVEILS YET ANOTHER GREAT FEATURE: "MENTOR TEXTS"
NY TIMES LEARNING NETWORK UNVEILS "A FREE SCHOOL-YEAR CURRICULUM IN 7 UNITS"
VIDEO: "6 TEACHER-APPROVED TIPS FOR FASTER, MORE EFFECTIVE FEEDBACK"
THE MATH, SCIENCE & SOCIAL STUDIES BOOKS WE'RE EDITING ARE NOW AVAILABLE FOR PRE-ORDER!
THE BEST FUN AND/OR INTERESTING RESOURCES ON VENN DIAGRAMS
N'Jameh Camara has written a great article in Teen Vogue headlined, Names That Are Unfamiliar to You Aren't "Hard," They're "Unpracticed." It's one that all teachers can benefit from reading… I'm adding it to The Best Resources On The Importance Of Correctly Pronouncing Student Names.