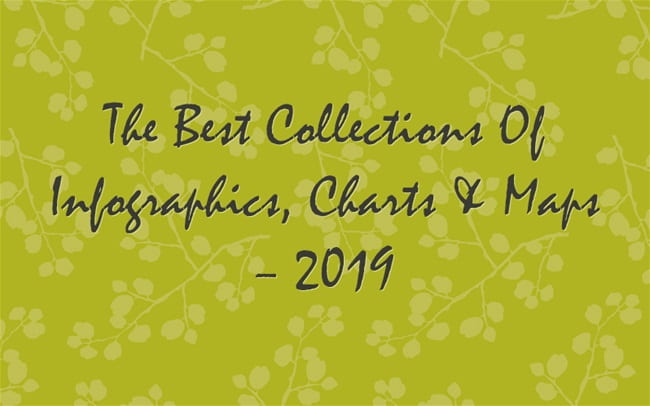 I'll obviously be adding many more resources to this list next week when a lot more collections are posted around the web, but figured I'd get a head start today.
You can see all previous annual editions of this list, along with many other infographic-related resources, here.
I'm adding list list to ALL MY 2019 "BEST" LISTS IN ONE PLACE!
Here's what I have so far:
Information is Beautiful is the premiere organization promoting data visualization internationally, and they just announced their awards for the best infographics created during this past year. You can see them all here.
Best Data Visualization Projects of 2019 is from Flowing Data.
My gift to you all is a roundup of the roundups 🎁 –

The best data viz of the year from @puddingviz @infobeautiful @flowingdata @VisualCap (more to come as I find them)https://t.co/kan8fw4XLlhttps://t.co/X4qMzKDkfXhttps://t.co/n6IJNKkDoHhttps://t.co/mmBMnEnP9S

— Vince Nero (@VincetheNero) December 20, 2019
The 56 Best — And Weirdest — Charts We Made In 2019 is from Five Thirty Eight.
NEW: As 2019 comes to a close, here are some of our favorite data visualizations of the year #dataviz https://t.co/ks8QVbqXxC

— Pew Research Center (@pewresearch) December 30, 2019
The Year in Charts is from The NY Times.
Our favorite visual stories from 2019 https://t.co/PCeqDuPZHZ

— The New York Times (@nytimes) December 31, 2019
Favourite maps from 2019 is from Cartography.
19 amazing maps from 2019 is from Points of Interest.
Favorite Videos And Interactives Of 2019 is from NPR.