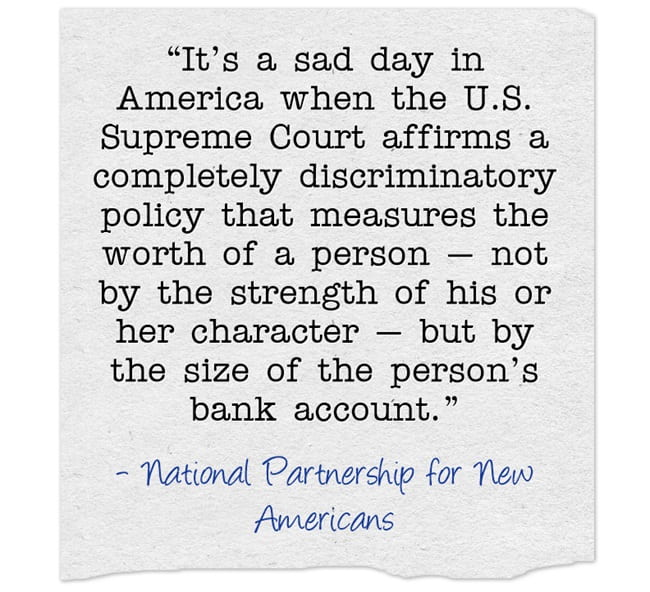 Over the past few months I've been sharing about the new rule the Trump Administration has been trying to enforce that would negatively affect the chances of immigrants gaining permanent residency status or visa extensions if they use public benefits that they are legally entitled to, such as food stamps, Medicaid, and Section 8 housing vouchers (see THE BEST RESOURCES FOR LEARNING HOW THE TRUMP ADMINISTRATION'S NEW PUBLIC CHARGE RULE WILL NEGATIVELY AFFECT OUR STUDENTS & THEIR PARENTS).
This can have a huge negative impact on our students and their families when they are faced with the choice of getting needed food, health or housing assistance OR getting permanent residency.
Today, the U.S. Supreme Court, in keeping with other recent rulings making life harder for our students and their families,  decided that the rules can go into effect.
Read about it at:
In 5-4 ruling, Supreme Court allows Trump plan to deny green cards to those who may need gov't aid from NBC News.
Supreme Court allows Trump administration to proceed with 'wealth test' rules for immigrants is from The Washington Post.
Here are a couple of important related tweets:
Sad news for school leaders trying to do right by immigrant children and families.
Immediate ramifications of this in districts could be:
1) Parents proactively pull kids off Medicaid
2) Parents dis-enroll in nutrition programs
3) Parents leave Section 8 housing https://t.co/HdYcSgZpIo

— Sasha Pudelski AASA (@SPudelski) January 27, 2020
@ChalkbeatCO found the public charge could lead to more children going hungry and losing housing and health care. https://t.co/xxojot49oj https://t.co/fC6CXVLWWu

— Yana Kunichoff (@Yanazure) January 27, 2020
The five members of the Supreme Court who supported the new rules could probably benefit from watching this video: