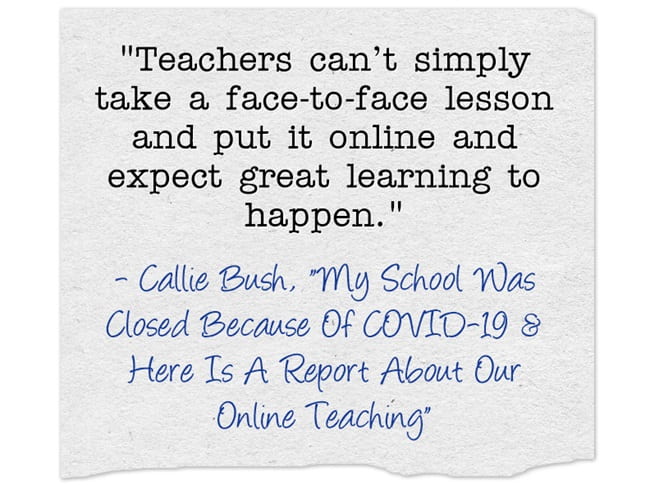 Editor's note: I've been publishing a series of posts to assist teachers who might need to teach online if their schools are closed because of the Coronavirus.  You can see them all at The Best Advice On Teaching K-12 Online (If We Have To Because Of The Coronavirus) – Please Make More Suggestions! I'm now inviting teachers to write guest posts sharing their online teaching experiences.  Please contact me if you'd like to write one!
This first guest post is by Callie Bush.
After 20+ years teaching science in Minnesota, Callie and her family took on the adventure of overseas life, and now live in Bahrain. She believes in the power of each person's story and strives to create space for individuals to share their uniqueness with the world. Callie still dreams of being an astronaut when she grows up.
When I visited a school in Hong Kong in December, I was excited to see their vision for students and learning in action. I never dreamed their path would soon change and that my own school would follow closely after. But, then COVID-19 happened.
Tuesday, February 25, ended much like any school day. We told our students, "See you tomorrow," as they left. We heard rumors of the first cases of COVID-19 in Bahrain. In January, when we first learned of school closures due to the virus, our staff discussed the possibility of our own school closure. We developed a written set of procedures and planned to revisit that when needed. Quite unexpectedly, the plan was needed immediately. The evening of the 25th, the Government's Executive Committee announced schools were to be closed for 2 weeks. Since then, the Crown Prince declared schools will remain closed until March 29th. We went from "business as usual" to "a whole new world" in a matter of hours. We were given the day Wednesday to strategize, plan, and prepare for our courses. We implemented our virtual learning program on Thursday, February 27, and I've learned much during this time of transition.
One of the first lessons I learned from our implementation is that having a written set of procedures in place for virtual learning is a good initial step in preparing for it. These provide some direction for staff, students, and families as the adventure begins.
Another important lesson is that a procedure explaining what virtual learning looks like does not replace the training needed for educators to be able to transition effectively to virtual learning. Online teaching is not the same as learning inside classrooms. To learn effectively online, the lessons have to be designed differently. Teachers can't simply take a face-to-face lesson and put it online and expect great learning to happen. Even though I have experience teaching online and using various online tools for learning, it was stressful to prepare lessons for virtual learning in just one day. It takes many days to build my lessons. The bottom line is teachers need training on how to create effective online lessons before virtual learning begins.
Obviously having reliable access to the internet and the right tools is essential. Imagine this scene: 4 people are spread throughout the main level of a home – 2 adults and 2 children. The adults are teachers trying to run online meetings with their students. The children are students trying to participate in meetings for their classes. The WIFI signal is not strong enough to use spaces in different floors. The bandwidth is maxed out, causing some videos to glitch. Without an unlimited WIFI plan, the GBs are being eaten up at an alarming rate. All 4 people are trying to talk loudly enough to be heard by their own device, but not so loud as to interfere with everyone else's meeting. Full disclosure… This was my family's experience on Day 1 of Virtual Learning. It is comical, isn't it? It is also frustrating. And, in communities without reliable WIFI access or the technology tools needed, these frustrations deny students learning opportunities. Schools must be proactive and ensure all students and teachers have what they need for successful virtual learning experiences.
One of the strengths of online learning is the difference in schedule. Expecting students to adhere to a schedule that replicates a usual school day may be counterproductive. One student explained, "I was really deep into writing my essay for another class, and I forgot it was time for our face-to-face class." It was disruptive to his workflow to have to sign in to a face-to-face session then. The student had a valid point. While I do think face-to-face sessions are important, strictly adhering to a set schedule of courses that mimics a regular school day can be problematic. One of the beauties of virtual schooling is the flexibility to work asynchronously. That should be kept in mind as schools develop their own virtual learning plans.
Flexibility in assignments and pacing is also something to consider. Work that gets completed in one class period in real time might take a student much longer online. Or, students might accelerate their pace of completion and be left longing for more. Virtual learning is a fantastic opportunity to dabble in self-paced learning. Providing a menu of options with flexibility in deadlines allows students to learn at appropriate times for them and results in higher engagement. This has been one of the most effective teaching methods I've used. When we had our face-to-face meeting, several students asked, "When can we log off and get started?" They were actually excited to start the learning tasks!
Related to scheduling and pacing, students (and educators) must be encouraged to step away from their screens. Wellness is imperative. Community building is just as important, if not more so, when we are home-bound or separated by space and time zones. Making efforts to connect in a variety of ways will help. Time spent on learning is important, yes. However, we all need to step away, let our brains process the work we've done, relax, connect with others, and enjoy life.
As virtual learning is deployed, keep in mind that our students are digital natives. We have classes full of experts on technology and learning tools. We should not hesitate to ask for their help. When elementary teachers at my school wanted to help their students learn to upload pictures into documents, my third-grade son created a video showing the steps. He did this in 5 minutes in a single take! It would have taken me far longer. Not because I don't know how to do it, but because I would have done several takes to get it "just right." My son just did it (and it's great, by the way – in my totally subjective 'Mom' opinion).
Even though we work with digital natives, that doesn't mean our students are well-versed in every aspect of technology and online learning. As we prepared for our first days of virtual learning, students in my Advisory asked, "What do we do for our study hall period?" I smiled when I read this and answered, "Study." It was a great reminder to clarify the expectations for our virtual learning environments and not assume students know all there is to know.
Finally, as the incident above and many others since reminded me, it is vital to maintain our senses of humor. Whether it is posting a joke of the day, asking a Tuesday Trivia question, or sharing a favorite meme, doing something to bring levity on a regular basis is important, both in virtual learning environments and our real-world classrooms.
Every time I've talked about virtual learning with my students, I've referred to it as an adventure. I love adventures! Adventures are exciting. And virtual learning certainly is that. And it's scary. And it's a lot of work. And it can be overwhelming.
"And then I remember that adventures are the best way to learn," (so goes a popular online quote)  and I focus on how to make this adventure the best it can be for my students and myself.