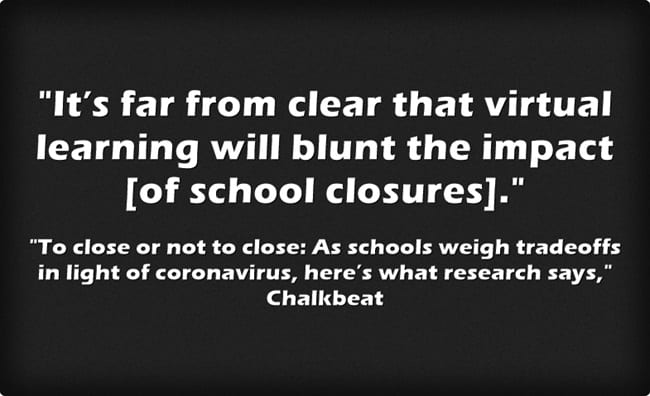 I've been sharing lots of resources about preparing online learning for if schools are closed because of the coronavirus (see The Best Advice On Teaching K-12 Online (If We Have To Because Of The Coronavirus) – Please Make More Suggestions!)
But, does it make sense to consider closing schools.
It seems to me that under certain circumstances it might make sense, but I really have no idea what I'm talking about.
Here are some recent articles that explore the issue:
To close or not to close: As schools weigh tradeoffs in light of coronavirus, here's what research says is from Chalkbeat.
Is it really a good idea to close schools to fight coronavirus? is from The Washington Post.
Coronavirus School Closings: Don't Wait Until It's Too Late is from The NY Times.
US schools are in a 'state of alert' amid coronavirus outbreak. Are they overreacting – or not doing enough? is from USA Today.
Should schools close for coronavirus? is from Live Science.
PSA: So, how many schools have closed b/c of coronavirus? @educationweek's got a map for that. https://t.co/Kh4vJGAzz3 @PoliticsK12

— Erik Robelen (@ewrobelen) March 9, 2020
Should Schools Close for COVID-19? is from Slate
We Don't Need to Close Schools to Fight the Coronavirus is from The NY Times.
When Should Schools Close For Coronavirus? is from NPR.
States are rushing to close schools. But what does the science on closures say? is from The Washington Post.
Is Closing the Schools a Good Idea? is from The NY Times.
School Closures Will Have Little Impact on COVID-19 Control, Review Finds is from Reuters.
In glimpse of life after lockdown, some countries begin to reopen schools is from The Washington Post.
Did Closing Schools Actually Help? is from The NY Times.
2 new studies offer compelling evidence that children can transmit the coronavirus. Neither proved it, but the evidence was strong enough to suggest that schools should be kept closed for now, epidemiologists who were not involved in the research said. https://t.co/VQY0aZ2ObA

— The New York Times (@nytimes) May 5, 2020
New research: "predicting daily cumulative COVID-19 deaths by state, earlier school closure is related to fewer deaths per capita and slower growth in deaths per capita." Via @rauscher_emily https://t.co/o9uisDbgBm

— Dana Goldstein (@DanaGoldstein) May 13, 2020