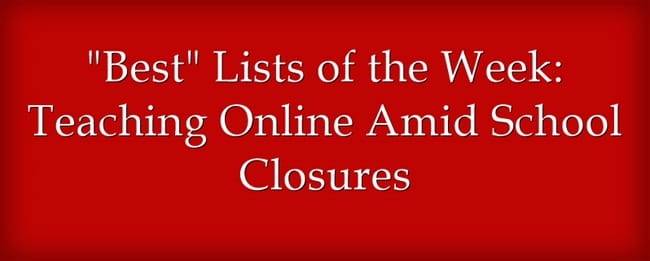 Here are all my "Best" lists related to the school closure crisis:
Here's Our Chapter On Distance Learning With ELLs & It's Free To Download (No Registration Required!)
Distance learning and English Language Learners
HERE ARE DETAILED – & TENTATIVE – DISTANCE LEARNING PLANS FOR ALL MY FALL CLASSES
A BEGINNING LIST OF THE BEST RESOURCES FOR LEARNING ABOUT THE CORONAVIRUS
THE "BEST OF THE BEST" RESOURCES TO SUPPORT TEACHERS DEALING WITH SCHOOL CLOSURES
THE BEST VIDEO TUTORIALS ON TEACHING REMOTELY – PLEASE SUGGEST MORE!
THE FOUR BEST TOOLS FOR TAKING EXISTING VIDEOS & MAKING THEM INTERACTIVE FOR ONLINE LEARNING
THE BEST RESEARCH RELATED TO CLOSING SCHOOLS BECAUSE OF THE CORONAVIRUS
THE BEST ADVICE ON TEACHING K-12 ONLINE (IF WE HAVE TO BECAUSE OF THE CORONAVIRUS) – PLEASE MAKE MORE SUGGESTIONS!
GREAT RESOURCES FOR CREATING & GOING ON VIRTUAL FIELD TRIPS
THE BEST POSTS PREDICTING WHAT SCHOOLS WILL LOOK LIKE IN THE FALL
THE BEST VIDEOS IN SPANISH TO HELP PARENTS & STUDENTS ACCESS TECH IN REMOTE LEARNING
ALL THE "BEST" LISTS RELATED TO SUPPORTING TEACHERS IN THE AGE OF THE CORONAVIRUS – IN ONE PLACE!
MAYBE – OR MAYBE NOT – THE BEST TOOLS FOR CREATING YOUR OWN TEACHING VIDEOS
The Best Summaries Of Research About Online Instruction
THE BEST IDEAS FOR ONLINE ACTIVITIES TO USE WHEN TEACHING ELLS REMOTELY – SHARE MORE!
The Best Tools For Making Screencasts
Q&A Collections: School Closures & the Coronavirus Crisis is the headline of one of my Education Week Teacher columns. Sixty posts – including commentaries, videos and infographics – are listed, with practical advice for teachers dealing with remote teaching now and in the future.
THE VERY BEST RESOURCES TO SUPPORT TEACHERS DEALING WITH SCHOOL CLOSURES IN 2020 – PART ONE
THE BEST ONLINE TOOLS FOR REMOTE TEACHING – SHARE YOUR OWN
THE BEST ONLINE TOOLS STUDENTS CAN USE COLLABORATIVELY TO CREATE PROJECTS – PLEASE, PLEASE, PLEASE ADD YOUR FAVORITES!
VIDEO OF STUDENT PANEL TALKING ABOUT THEIR DISTANCE LEARNING EXPERIENCES IN THE SPRING
My Best Posts About The The School Closure Crisis & Distance Learning
NINE LONG-TERM CHANGES I THINK THE DISTANCE LEARNING CRISIS WILL – & WILL NOT – BRING TO OUR SCHOOLS
THE BEST ONLINE LEARNING GAMES TO PLAY DURING DISTANCE LEARNING – SHARE YOUR ADDITIONS!
THE VERY BEST RESOURCES TO SUPPORT TEACHERS DEALING WITH SCHOOL CLOSURES IN 2020 – PART TWO
THE VERY BEST RESOURCES TO SUPPORT TEACHERS DEALING WITH SCHOOL CLOSURES IN 2020 – PART THREE
Six Strategies I Apply to Make My Distance Learning Classes Not Terrible
A BEGINNING LIST OF THE BEST RESOURCES TO SUPPORT CONCURRENT/HYBRID TEACHING
The Best Face Masks For Teachers In The Classroom (Or, At Least, The Most Comfortable Ones)