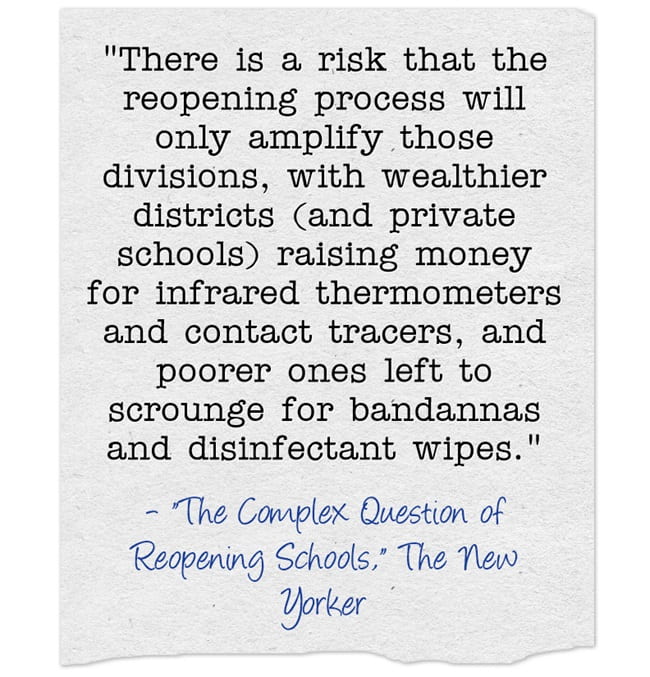 This week is a big one when it comes to the possible re-opening of schools in the fall.
On Wednesday, the Los Angeles County Office of Education will unveil its "framework" for school re-opening.
On June 1st, the Sacramento County Office of Education will release its reopening guidelines.
I'm assuming there will be a flurry of other agencies doing the same, even though the best piece I've read on the subject, Learning to Live in the Valley of Uncertainty from New York Magazine, talks about what other countries are doing and says:
Good data on the effects of particular policies can take about a month to arrive, given the natural month-long life cycle of the disease, which means the world will probably have a clear idea of the relative risks of reopening schools by the end of June at the latest — and perhaps, additionally, some actionable intelligence about what kinds of reopenings work best. In the meantime, it is almost certainly premature to be making concrete plans for the fall.
In the meantime, though, here are some good pieces discussing various options:
The Complex Question of Reopening Schools is from The New Yorker.
Reopening School: What it Might Look Like is from Jennifer Gonzalez.
When Schools Reopen, All Staff Should Wear Masks, New CDC Guidance Says is from Ed Week.
I'm adding this post to THE BEST POSTS PREDICTING WHAT SCHOOLS WILL LOOK LIKE IN THE FALL.