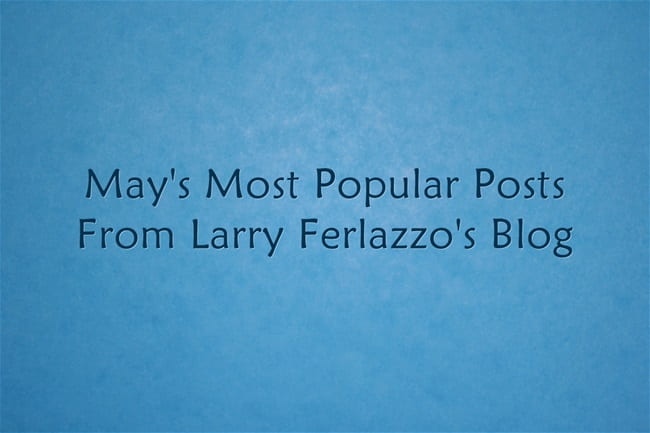 As regular readers know, at the end of each week I share the five most popular posts from the previous seven days.
I thought people might find it interesting to see a list of the ten most popular posts from the previous thirty days.
You might also be interested in It's The Thirteenth Anniversary Of This Blog – Here Are The Forty All-Time Most Popular Posts.
Not to mention THE MOST POPULAR POSTS FROM THIS BLOG IN THE FIRST SIX MONTHS OF 2019 and A LOOK BACK: 2019'S BEST POSTS FROM THIS BLOG – PART TWO.
Here are this month's most popular posts:
1.Are 800,000 Of Us Older Teachers Not Going To Be Able To Teach In A Physical Classroom Next Year?
2. Schools Are Going To Have A BIG Problem Getting Substitute Teachers Next Year
3. It's Going To Be A New Classroom World In The Fall – Here Is What I Think It Might Look Like
4. THE BEST POSTS PREDICTING WHAT SCHOOLS WILL LOOK LIKE IN THE FALL
5. The Best Websites For Creating Online Learning Games
6. ARE WE GOING ABOUT THIS WHOLE "DISTANCE LEARNING" THING ALL WRONG?
7. The Best Online Virtual "Corkboards" (or "Bulletin Boards")
8. Nine Long-Term Changes I Think The Distance Learning Crisis Will – & Will Not – Bring To Our Schools
9. ONE ADDITIONAL CONCERN I HAVE ABOUT THE UPCOMING SCHOOL YEAR
10. CDC OFFICIALLY RELEASES EXTENSIVE GUIDELINES FOR SCHOOL RE-OPENING