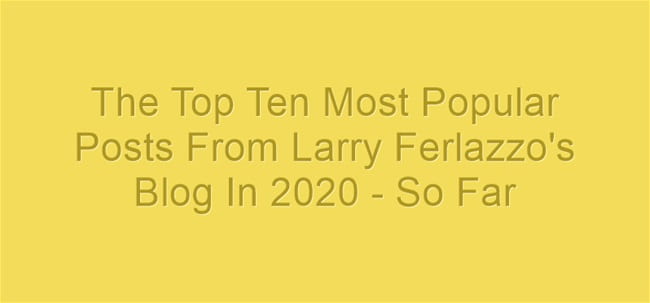 Here's another list for All 2020 Mid-Year "Best" Lists In One Place!
I only have a few more to go…
Here are the ten most popular posts appearing this blog over the last six months:
1. List Of Knowledge Questions My TOK Students Are Using This Year For Their Oral Presentations
2. The Best Websites For Creating Online Learning Games
3. The Best Online Virtual "Corkboards" (or "Bulletin Boards")
4.ARE 800,000 OF US OLDER TEACHERS NOT GOING TO BE ABLE TO TEACH IN A PHYSICAL CLASSROOM NEXT YEAR?
5.SCHOOLS ARE GOING TO HAVE A BIG PROBLEM GETTING SUBSTITUTE TEACHERS NEXT YEAR
6. IT'S GOING TO BE A NEW CLASSROOM WORLD IN THE FALL – HERE IS WHAT I THINK IT MIGHT LOOK LIKE
7.  The Best Resources For Helping Teachers Use Bloom's Taxonomy In The Classroom
8. The Best Places To Read & Write "Choose Your Own Adventure" Stories
10. The Best Sites For Learning About The World's Different Cultures