Editor's Note: This is a guest post from Laura Gibbs who, I believe, creates the best teacher resources out there if you want to teach about folktales.  I use her "tiny tales" when my Beginning and Intermediate English Language Learners write their own.  Laura was kind enough to agree to write about them.  I'm adding this post to A Beginning List Of The Best Folklore & Myth Sites. 
Laura Gibbs teaches online Humanities courses at the University of Oklahoma.
For twenty years, I've been teaching mythology and folklore courses. My students read traditional myths and legends, and then they write their own stories inspired by the reading. No quizzes, no essays: instead, we create stories-from-stories.
When people retell old stories in new ways, you never know what will happen; no two stories ever turn out the same. There are an infinite number of possibilities, and the more stories you and your students write, the more new ideas you'll come up with. 
During this pandemic summer of 2020, I've been creating some books that I hope will be useful to other teachers who might want to try a stories-from-stories approach. I've focused on 100-word stories (short and sweet!), and I've written three collections this summer, each with two hundred of these very short stories: Tiny Tales from Aesop, Tiny Tales from India, and Tiny Tales from Nasruddin, along with a Teaching Guide for these three books. All four books are free online: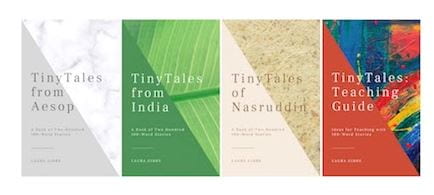 I've released the books as free educational resources (PDF, mobi, epub, and plain-text format) with a Creative Commons license so you can take the materials and reuse, repurpose, and remix them for your own classes. I'm planning more books to come too; next up will be Tiny Tales from the Sufis (scheduled for October), and then Tiny Tales of Anansi (scheduled for November). You can find the whole series at 100Words.LauraGibbs.net
The Teaching Guide is a good place to start because it contains selected stories from all three books, along with a storytelling idea for each story based on changes to the plot or characters, or a change in style. Those are just suggestions to get your imagination going, and there are always other possibilities… infinite possibilities! You and your students will be able to come up with all kinds of new stories and styles.
Here are just a few ideas about how you might reuse (repurpose, remix, etc.) the Tiny Tales materials for your own projects:
* Create your own class textbook. You can use the text-file versions of the Teaching Guide and/or the Tiny Tales books to create a textbook for your students. Just copy-and-paste the stories you want to use and then interweave your own notes and commentary, adjusting each story as needed to align with your students' skills and interests.
* Help your students create their own story anthologies. Each student can create their own personal story collection, rewriting their favorite stories in their own way, along with "author's notes" about the original story and how they've changed that story to make it their own. (My students create "Storybooks" as a semester-long class project, sharing their projects with each other and revising based on peer feedback.)
* Illustrate the stories. You and your students can create your own art or use Creative-Commons-licensed illustrations to produce illustrated versions of your stories. You can also make memes to accompany the stories, or turn them into cartoons.
* Perform the stories. You can adapt the stories into dramatic scripts for podcasts, puppet shows, etc., with students playing the roles of the different characters, adding the sound effects, music, and so on.
Finally, the most important advice of all: as you reuse, repurpose, and remix the stories… let your imagination run wild, and have fun!
I will also be grateful for any suggestions and requests as this "Tiny Tales" project continues to evolve. You can contact me by email (laurakgibbs@gmail.com) or find me at Twitter: @OnlineCrsLady