I've been writing about the upcoming Zoom feature to let participants select their own breakout rooms for awhile (see ZOOM ADDS FEATURES FOR EDUCATORS and ON SEPT. 21ST, ZOOM IMPLEMENTS A FEATURE TO ALLOW PEOPLE TO CHOOSE THEIR OWN BREAKOUT ROOMS).
They finally did it and, with some help from folks on Twitter, I've been able to figure it out.
First, and most disappointedly, it's only available if you use the Zoom app itself, not the website.
Not only is the ability to activate it only available on the Zoom app, but it's only available to participants if they, too, are using the app.
To tell you the truth, I'm not really sure if our students' Chromebooks have the Zoom app or if they use the website with the new authentication process we implemented last week because of Zoombombing. And, if they do, if it is automatically updated. I hope to find out those answers tomorrow.
First things first – you have to update your Zoom app.
Then, the host has to do a couple of things: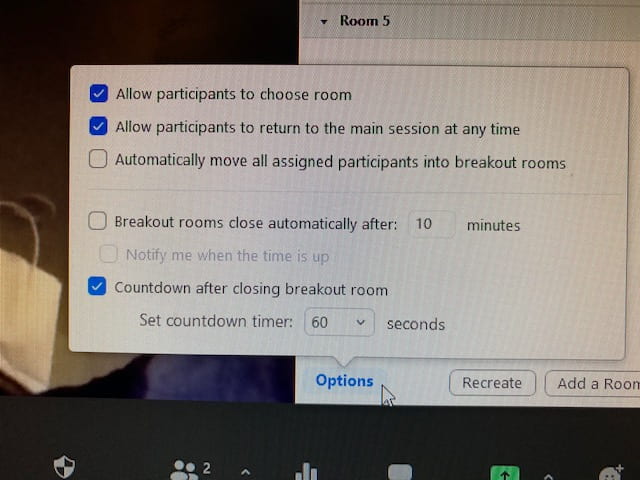 After that, participants will see the breakout room icon on their toolbar and can then choose their rooms:
To tell you the truth, though, having students rename themselves by adding numbers (77 John, 77 Wendy) has worked relatively well so far. Even if only a few students can self-select, though, it will make that process go a little smoother and more quickly.
The big benefit to my ELL classes would be making it easier for peer tutors and students to go back and forth when necessary without me as the host having to move them.