I"ve written A LOT about the value of having students anonymously evaluate classes (My Best Posts On Students Evaluating Classes (And Teachers)) and, more specifically, the importance of doing it a lot more often in virtual learning (see THIS EDUTOPIA VIDEO OFFERS A CRITICAL POINT ABOUT SOMETHING WE SHOULD BE DOING IN OUR ONLINE CLASSROOMS – & I SHOULD HAVE KNOWN IT!).
Here are two surveys I've begun to do regularly:
SEL & TECH
I do a weekly SEL & Tech Issue check-in every Monday with a Google Form that takes students about a minute to complete.
Of course, the challenge to asking students how they're doing is you have to respond, and I spend a fair amount of time every Monday after school doing just that.
Here are some key results from this week:
In this question, one was "not great at all" and five was "great":
Considering we're in the middle of a pandemic, everyone's lives have been turned upside-down, and communities of color, like our school's population, are being hit the hardest, these results are much more positive than I would have thought they would be, and they are reflective of the answers from the start of the year.
This next question also had one as "not great at all" and five "as great""
Again, considering we're doing full-time virtual learning, so many of our students have device and Internet issues, and most teachers haven't done this before, this appears to be a surprisingly positive evaluation. It's been fairly consistent over the past three weeks, though there is a very slight negative trend.
The next question is on technical issues: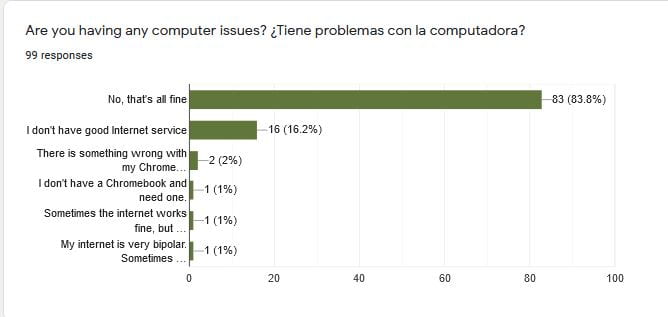 On one hand, over eighty percent of our students are doing fine device-and-Internet wise.  On the other hand, seventeen percent are not, and that number has remained constant.  If that number is consistent across all classes, that means over three hundred of our students are experiencing challenges accessing the education they are entitled to receive, and our district has to do better….
CLASS EVALUTIONS
It's getting late, so I'm just going to feature the latest results from students in my IB Theory of Knowledge classes.  I'll report on what my ELL English and History students say over the weekend.
One is "not great at all" and five is "great":
These numbers are not nearly as positive as I usually get in TOK classes during "normal" times, but I'll take them (and hope they improve).  I'm dealing with teaching TOK online for the first time AND, due to the arrogance of the International Baccalaureate program, am teaching a NEW curriculum, too boot.  They really couldn't delay its implementation for another year in light of the pandemic?
During normal times, I use small groups constantly in TOK.  I think I'm now becoming relatively skilled at using Zoom breakout rooms to do the same in a virtual environment.  Again, the numbers are not as high as I'd like them to be but, in addition to it being early in the year,  even though I'm become more skilled,  I am definitely not a breakout room expert.
I'm not doing a great job teaching and, in fact, today was the first time I felt like I had a genuinely good teaching day.  But, boy, am I trying hard.  And it's pretty clear that students see that everyday.
This next question relates to my very intentional effort at explicitly trying to create a culture of kindness and patience in the class – ranging from modeling and talking about it incessantly, do teaching a lesson about it, to praising it when I see it, and to making it a clear part of the job description of each class' leadership team:
I wish it was a little higher, but I'm generally pleased with this result.  They are a good group of young adults, anyway, so these numbers might have appeared even without any of my efforts, but I figured they didn't hurt….
I don't talk that much in my classes and, instead, as I mentioned earlier, have students do a lot of small group work.  However, I still use Google Slides each day, and I violate every design rule in the book so that students who do not attend class can understand what we did by looking at it that night.  They aren't going to take the time to watch a recorded Zoom class, and I don't have time to record a three-minute summary.  Here's what students think of them:
I guess I made the right call here on the slides.
Next, I asked about the organization of Google Classroom:
Personally, I'm not too thrilled with it, and I'm really a Google Classroom novice, but it seems to be working okay for students so far….
In this next question, number one was "I'm just another student" and five was "He seems to try to connect to me as an individual and help me."
I'm trying hard, and it seems to be paying off a little based on the results here.  But, to tell you the truth, this result and all the previous relatively positive results are the result of an enormous amount of time and effort, and I'm just not sure how sustainable it is….
This next question related to homework, and I don't think I did a good job of constructing it very well.  Number one meant "It's too much" and number five was "It's just the right amount."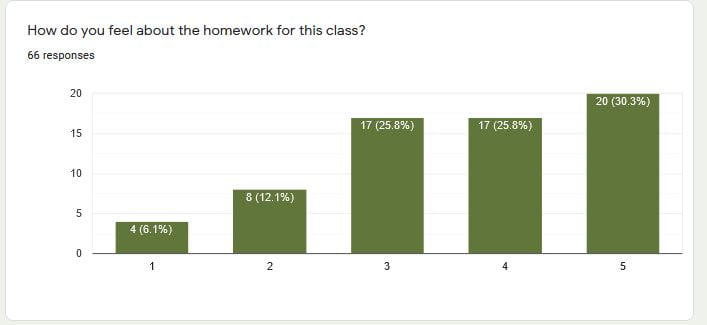 I'm trying to stick to the rule I've been advocating since early in the summer – no more than five hours of work, including live Zoom meeting time – for each class.  I also think that one of the reasons for the relatively positive survey results here is because, since two of my three TOK classes come at the end of the day, students can stay in their breakout rooms after school ends for as long as they want working on our group projects.  It's typical for forty percent of the class to be in there for between fifteen and forty minutes each day, and that makes things easier for them.  I just do other work on my computer while that's going on.
The final results I'll share come from a question seeking some self-reflection: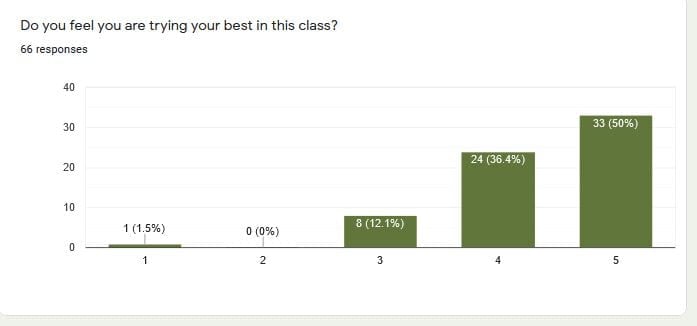 I think those results are pretty accurate.  Of course, the student population of my TOK classes is pretty unusual.  They're either International Baccalaureate Diploma students, my ELL students, or students from "mainstream" classes who aren't taking any other IB classes but whom I've specifically recruited.
The question with results on this one, though, is the same as the question I raised earlier – how sustainable is the level of effort going to be for students and teachers ( particularly me 🙂 ) alike?