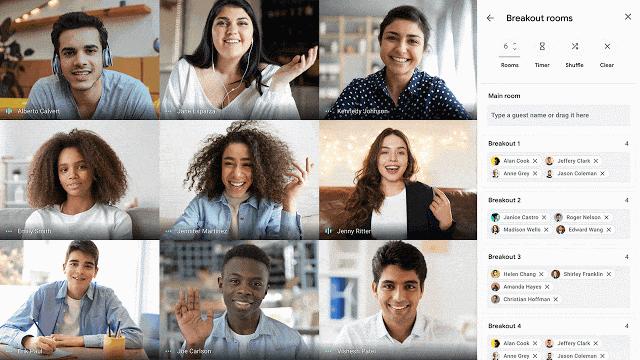 In a move that will be welcomed by many teachers, today Google unveiled the ability for people hosting video conferences with Google Meet to create breakout rooms.
Here's an excerpt from their announcement of the new feature which, for now, is only available to users of Google Enterprise for Education:

You can create up to 100 breakout rooms in a call. Call participants will then be randomly and equally distributed across the rooms. You can also manually move people into different rooms. Check out the Help Center for more details.
While only event creators can create breakout rooms, anyone with a Google account that is joining from the web or through the Meet app can be a participant.

We use Zoom, which has had this feature for quite awhile.
It sounds like one advantage Zoom still has over Meet is that with Zoom you can pre-make the members of the breakout rooms, and it doesn't sound like you can do that in Meet (I don't really use that feature because, even though attendance in my classes is pretty good, one never knows for sure who is going to be a no-show.  I also have multiple small group configurations).
In addition, Zoom has added the feature of being able to let participants choose their own breakout rooms, though that ability has its own issues (see Zoom Adds The Ability Of Participants To Self-Select Their Breakout Rooms, But There Is A Catch).