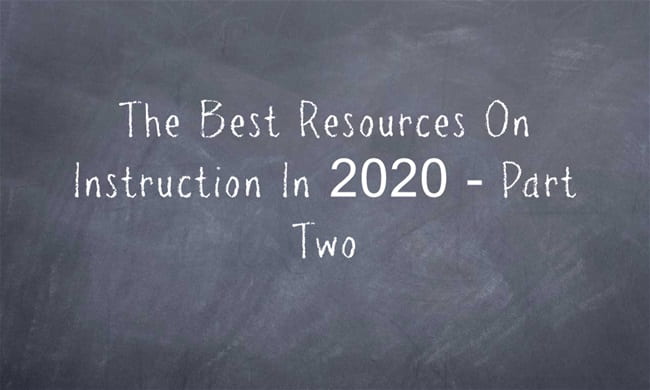 I'm continuing with my end-of-the-year "Best" list posts…
I'm adding this one to ALL END-OF-YEAR "BEST" LISTS FOR 2020 IN ONE PLACE!
Seven years ago I began publishing a regular Classroom Instruction Resources Of The Week post.  You can see all my "Best" lists on instructional strategies here.
Here are my choices from the past few months:
IB has created something called a Webliography, which are basically lessons and lesson resources for all subjects, including Theory of Knowledge.
Clearing Up a Couple Important Misunderstandings about Fluency is by Timothy Shanahan. I'm adding it to The Best Resources On Reading Fluency (Including How To Measure It).
Teaching Isn't About Managing Behavior is by Chris Emdin.
7 Classroom Management Mistakes—and the Research on How to Fix Them is from Edutopia. I'm adding it to Best Posts On Classroom Management.
This is a nice collection of graphic organizers.  I'm adding it to Not "The Best," But "A List" Of Mindmapping, Flow Chart Tools, & Graphic Organizers.
Our 2020-21 Writing Curriculum for Middle and High School is from The NY Times Learning Network. I'm adding it to Best Posts On Writing Instruction.
The FLORIDA CENTER FOR READING RESEARCH has a lot of useful phonics materials (click "Student Center Activities'). I'm adding it to The Best Articles & Sites For Teachers & Students To Learn About Phonics.
Literacy at Work: How to Write a Rap with Dr. Chris Emdin is from Houghton Mifflin. I'm adding it to The Best World Poetry Day Resources – Help Me Find More.
A recent ASCD Educational Leadership was on grading.  Here are several articles from that issue that I'm adding to The Best Resources On Grading Practices:
Turn & Talk / "Antiracist" Grading Starts with You is from Cornelius Minor.
Taking the Stress Out of Grading is by Joe Feldman.
Research Matters / Grading to Encourage Re-Learning is by Bryan Goodwin and Kris Rouleau.
Confronting Inequity / Well-Rounded Grading is by Matthew R. Kay.