As regular readers know, I usually have students in my class do anonymous class evaluations three or so times each year (I don't just wait until the end because then it's too late to make any adjustments, at least for that class).
You can find many related previous posts at Best Posts On Students Evaluating Classes (And Teachers), and you can see how my ELL History students evaluated me at a post published a couple of days ago (HOW MY ELL HISTORY STUDENTS HAVE EVALUATED OUR CLASS – AND ME!).
I haven't done them as often this year because I've been meeting regularly with Leadership Teams in all my classes and inviting – and receiving – a lot of candid feedback that has helped me make a number of changes as this year of full-time distance learning has progressed.  One of the best changes that has come out of those discussions is making sure that there is enough in-class time to complete assignments so that students don't have homework to do (except, of course, if they are absent from the class).
One student did give me an F, though she said it was for "Fantastic."  That's better than the year The Washington Post picked up on one of my blog posts and published an article with this headline: NEWS BREAK (not breaking news): Teacher asks students to grade him. One wrote: 'I give Mr. Ferlazzo an A at being annoying.'
Here are the results of last week's student evaluation (I think the answers to the last question are the most interesting):
Question One:
As with my ELL History class, the overall ratings are not as high as they have been in previous years.
However, considering it's been a pandemic year of full-time distance learning and considering that the International Baccalaureate program, in its usual state of arrogance, decided to go ahead and demand that Theory of Knowledge classes teach an entirely new curriculum this year (really, they couldn't have waited twelve months?), I'll take it.
Question Two: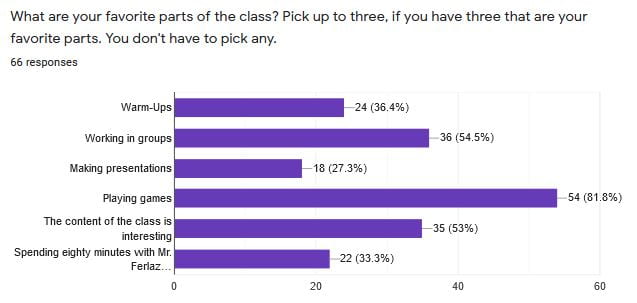 It's no surprise that "playing games" is the class favorite – we always end with a Quizizz, Kahoot, or Fluentkey game reinforcing what we learned in class that day.  For most teachers, one of the main benefits of those sites is that there are countless pre-made games about the content that has been taught (like in my US History class), and it's a huge time-saver.
Unfortunately, since TOK is a more specialized course, I have to to spend time creating games from scratch.  It's time-consuming, but definitely well worth it from a pedagogical perspective – as well as from a student engagement – perspective.
"Working in groups" comes next and, again, that's not a surprise.  Students work in groups for a large portion of each class and, most of the time, they choose the group's members.  Their small group task is almost always to present a slideshow to another group, and it's interesting to me that actually making those presentations is the least favorite activity.  Making presentations was identified as one of the most favorite activities in my ELL History class.  I'm going to ask the Leadership Teams in the TOK classes why that this is not the case here, and see if the reasons are some things I can influence or not.
Though I wish more than 53% of the class thought the content of the class was particularly interesting, I still think that's not too bad of a percentage.  I do work very hard at making the TOK curriculum interesting and, importantly, also accessible (I recruit many students who are English Language Learners and others who are not taking any other IB classes).  I think the percentage would have been higher if IB hadn't insisted on changing the curriculum this year (you may notice I have a little anger about that decision).
I put in "spending eighty minutes with Mr. Ferlazzo" as a halfway joke, and wasn't disappointed that over a third of the class think spending the time with me was one of their favorite parts of the class.  One of the reasons I'm running on fumes with three months left in the school year is that I have been giving my all in these online classes.  Yes, in the physical classroom much of the class runs on the teacher's energy, but the class also contributes.  In an online class, the class basically runs completely on the teacher's energy.
Question Three:
What are the two or three most important things you learned in this class? Please take a moment to look through Google Classroom to remind yourself of what we have done.
The answers here were also interesting.  Clearly, the exploration of Knowledge and Indigenous Societies struck a chord with many students.  Since many of my students are Indigenous (Hmong), I didn't find that very surprising.  Even though giving presentations weren't very popular, it also appears that at least a fair number of students appreciated developing better speaking skills through doing them.
Here are some sample responses:
The inside and outside perspective of history, knowledge is the combination of data and information and finally what fallacies are and how they are commonly used.
The two most important things i've learned in this class is, one, using the ABC in paragraphs has been improving my English writing better too. Two, is the great histories we are learning.
The two most important things I learned in this class is rituals and history inside out.
One of the most important things I've learned in this class is the possibility of misinterpretation of information and history. Another important thing that I've learned in this class is the different Indigenous cultures and their traditions.
how to manage time.
History isn't set in stone and there is a difference between past and history.
I think the Indigenous groups are one of the most important things we learned along with Cultural appreciation vs appropriation
time capsule, allegory of the cave, culture appropriation vs appreciation
I learned about the Historical Method and the Time capsule.
i learnt about the indigenous people and who inspire other students in the daily dedication
The lost cause, Indigenous Society & Perspectives and Allegory of the Cave
Cultural appropriation vs appreciation and the differences between knowledge and belief.
The Allegory of the Cave, Cultural Appropriation vs. Cultural Appreciation, and the Dunning Kruger effect
ive learned a lot from the projects we've done and i learned how to not be shy and communicate more with people
I learned about the cultural Appropriation, Rituals, And language.
Always dig deeper, and there are two sides to the story.
One thing that was important that I learned in this class is the historical method. Also the time capsule.
I've learned about historical method and inside outside of the history.
working with a group that is productive is fun. What few thing I learned about this class. You can know the name of something however not know anything about it. There is also no true definition of indigenous people because there are so many different thoughts about it. Another thing is there are different types of evidence
I've learned how to make good presentation and overall how to do good presentation.
presenting my work with my partner to other students
The most important things i learned from this class was about the appropriation of culture, and about the kind of knowledge
Learning about the historical method and learning about indigenous knowledge
One important thing I learned in this class was the "Cultural Appropriation Vs. Appreciation." The second important thing I learned in this class was the "Traditional/Indigenous Medicine."
I learned about the Indigenous people and how their traditions are dying. We also learn what is the difference between data, information, and knowledge.
how to ask for help when i need it. working in groups and coming up with ideas. i learned that im a flexible learner.
The two most important things I've learned in the class was the allegory of cave and the cultural traditions assignment. I learned about how people can be stuck in their one perspectives and how cultural traditions can influence the way you think.
The indigenous society and indigenous medicines
One of the important things I have learned in this class is knowing the difference between data, information and knowledge. Another important thing is learning about the perspectives of indigenous people and how culture can influence someone's perspective.
Allegory of the Cave, Sources of Morality, Fallacies
i have learned a lot in this class but something that i have learned is making presentations and i love doing them.
Question Four:
How do you think this class can be improved?
I was pleased to see that except for one or two comments suggesting that more time could be given to complete assignments, all the other sixty-four comments were variations of "This class is great as it is."
I do believe I'm a very good teacher, and I work really hard at it.  However, I want to re-emphasize what I said earlier – getting regular feedback from the class Leadership Teams really, really made this all work.
Question Five:
What grade would you give Mr. Ferlazzo as a teacher? What do you think he does well? What do you think he could improve?
I received 64 A's or A+'s , one B and C+.
I must be doing something right (even though one student wrote "sometimes the class is a bit of a mess.")
Here are a few comments:
In the middle A. Gives too much work but over all he's fun to mess around with
The grade I would give for Mr. Ferlazzo as a teacher is an A because he does a good job keeping our mood up and doing his best to support us and trying new things to see what's work and what's doesn't. I think what he could improve on is maybe the assignments instructions only because some student may and may not understand what the instruction trying to say but yeah, I think that's it.
I think Mr. Ferlazzo deserves an A for his effort and work to shifting his class to his students' needs and environment. He's really good at supporting his students and adapting his lessons to the students' environment. He's really considerate about his plans and tries his best to show that he's there to help and open for rantings. Something that Mr. Ferlazzo can improve on is the time management of his zoom meetings. Sometimes the class feels rushed and some students may not have grasp the concept being taught yet.
A, I really appreciate him because he actually tries to listen to his students, he has my respect for that
Maybe a A- because the class is moving and the students are doing work and the class is very fun and funny. I like it when Mr. Ferlazzo make fun of student interact with them and that is very funny( even though sometime I was one of those students, LOL). The class is fun but I'm not sure if I understand the subject sometime, I don't know if the presentation is good or what I should improve on.
A+! He does well in listening to his students and constantly improving his class to make it the least stressful class possible and he's always understanding of his students.
a he is always checking up on the students
10/10, he's awesome and does everything well, He just needs to give me the extra credit for telling him that he's not old.
I'll give Mr. Ferlazzo an F. I wouldn't say he's a pain but he's a pain in the head because I've never seen a teacher who gives so much work, so many projects, and so many presentations in just a week. If I could remember clearly in a week we do about two to three "presentations", maybe a project, and the work is everything. So to put it in a month about ten presentations, maybe two projects, and the work is everything. But to put it clearly Mr. Ferlazzo is a cool teacher and he's one of the teachers which I'm the chillest and the most comfortable with out of all my teachers.  He's a teacher which I can always rely on the most, talk to when I need help, have fun with and learn from. Mr. Ferlazzo makes me want to have fun in class when it's boring, makes me want to talk in class when I'm not really talkative in class, and enjoy class for that certain time when I'm with him. Although Mr. Ferlazzo gives all those work, all those assignments, I do have fun in his class, I enjoy going there and it exhausts me since he's my last teacher of the day. Even though I give Mr. Ferlazzo an F it is an F for fantastic.
A-, Could be an A+ if he were more organized because sometimes class is a bit of a mess
I would give Mr. Ferlazzo an A+ because as a teacher he is really understanding but not only that, he takes action in making changes for the students and I think that is very unique of him. Mr. Ferlazzo, also teaches the class very well. For example, if the students don't understand the lesson he finds a way to make the lesson understandable. In my opinion a person grows through experience and Mr. Ferlazzo doesn't need to improve in anything.
Question Six:
QUESTION FOR LEADERSHIP TEAM MEMBERS: How have you felt in general about being a member of the Class Leadership Team? How seriously did you feel that Mr. Ferlazzo looked to you as a partner in teaching the class? Did you learn anything about yourself?
Reading these responses will give an idea about why I'm so bullish on class leadership teams and why I'll certainly be continuing them when we return to pre-pandemic times:
I feel fine as a member of the Class Leadership Team. It's feels normal, but I get a chance to speak out for myself. I like that the teacher actually acknowledge the students to share their voice and concerns. Because I'm in the Leadership Team, I feel that the teachers are actually listening to what I have to say. I guess that Mr. Ferlazzo take all his students seriously as partners to help teach and move the class along.
I feel good. I feel like Mr. Ferlazzo really takes us serious and considers our feelings/opinions.
I have felt great being a member and that Mr. Ferlazzo suggested to me before, I like being able to challenge myself
It feels nice being relied on and being listened to as a student as well as being able to help and teach my peers. I learned that I like helping others learn and that it satisfies me when I'm able to teach them something and they understand it.
I'm always ready to help if it's needed and in some ways it helps me to learn about myself too.
Yes. I learned that I improved myself a lot especially on communicating with groups
Having this team works to be honest. Its giving other people more leadership roles and for some people they do very good at it without ever knowing that they were good at it. Which is cool.

I feel like I'm not that good as a leadership team because I don't think my English is good enough and there are students that are already know English so I don't really feel comfortable on teaching them. But I'm trying my best to get my classmate to participate together.
I like being in the leadership team. I learned that I can be a good leader.
Yes i think i'm learning a lot of new words in English since i'm trying to explain to my classmate what she should do or when my other classmate explain me too it helps me a lot.
I feel good because i know im helping other people so that makes me feel happy
I actually feel listened to whenever we give suggestions, I'm not too sure about the other members but I feel like we are equals to the teacher.
I actually like being apart of the leadership team. It keeps me busy and available to help students. I learned that its fun to help others. I like being a leader, and being Mr. Ferlazzo's favorite student.
I feel great about being a member of the class leadership team. I learned that while being a leadership, I helped some students with explanations and some students come and ask for help.
i feel ok. i feel like a teacher trust me and knowing im gonna make a right choice and know what to do. i learn that something you cant do it by yourself so there other student that can help you too
I feel neutral about being in the leadership team. Mr.Ferlazzo depends on us alot to organize and lead our groups especially when we share out warm-ups. I learn that I'm very nervous but I still push through.
Not much has changed for me personally since I became a member. I feel like Mr. Ferlazzo does look to us as a partner, not necessarily in teaching the class, but at leading small groups when he's not there. I did learn that I like to lead groups and I have some leadership qualities.
Being a member of the leadership team has made me feel awesome because I get to be there for my peers and I get to grow as an individual. Since I get to lead, I learned that I like to take lead and help others get started. I also learned that seeing and hearing others opinions really effects me in a good way because I feel like my perspective is expanding in a way that I can visualize even more. I don't know how to answer the second question, although I know Mr. Ferlazzo is happy that I contribute.
I feel good and he listens to our feedback.
So, it appears to be working.  Three more months to go……