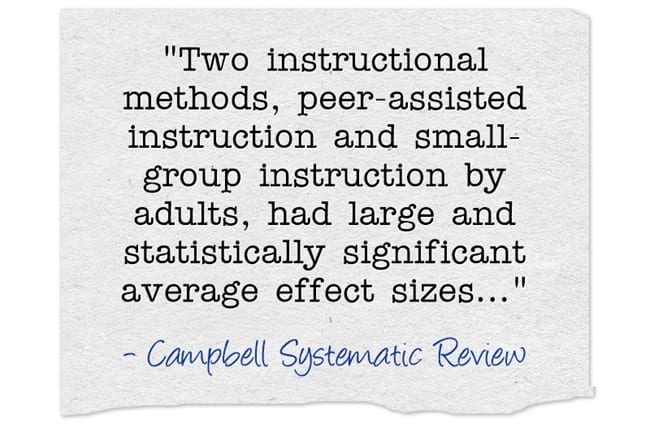 Targeted school‐based interventions for improving reading and mathematics for students with or at risk of academic difficulties in Grades K‐6: A systematic review has just been published and, as the text box illustrates, found two methods of instruction to effective in improving (based on test scores) student academic achievement.
It's not behind a paywall.
They considered peer instruction to be older students tutoring younger ones, and it appears they included other methods of peer instruction, too, but it's not clear (at least to me) what those were.  You might be interested in The Best Ideas On Peer Review Of Student Writing ; The Best Posts On Helping Students Teach Their Classmates — Help Me Find More and GUEST POST: "MY YEAR AS AN ELL PEER TUTOR."
For adult instruction of small groups, they used an upper limit of five students in the group.  You might be interested in STUDY FINDS EVEN "LIGHTLY TRAINED" TUTORS CAN HAVE MAJOR IMPACT ON STUDENT LEARNING and INTRIGUING STUDY ON SUPPORTING STRUGGLING STUDENTS IN AFTER-SCHOOL PROGRAMS.
The interventions they did not find particularly successful were (I've added links to previous posts on the topic):
Coaching of personnel (The Best Resources On Professional Development For Teachers — Help Me Find More)
Computer‐assisted instruction (CAI) (The Best Research Available On The Use Of Technology In Schools)
Incentives (NEW BIG STUDY FINDS SEVERAL MATH & READING INTERVENTIONS HELPFUL TO SECONDARY STUDENTS, BUT OFFERING INCENTIVES IS USELESS)
Progress monitoring (STUDIES FIND THAT TEACHERS ANALYZING DATA IS NO HELP TO STUDENTS IF IT DOESN'T RESULT IN DIFFERENT INSTRUCTIONAL PRACTICES)
Medium Group instruction
You can find all my posts on education research at "Best" Lists Of The Week: Education Research.