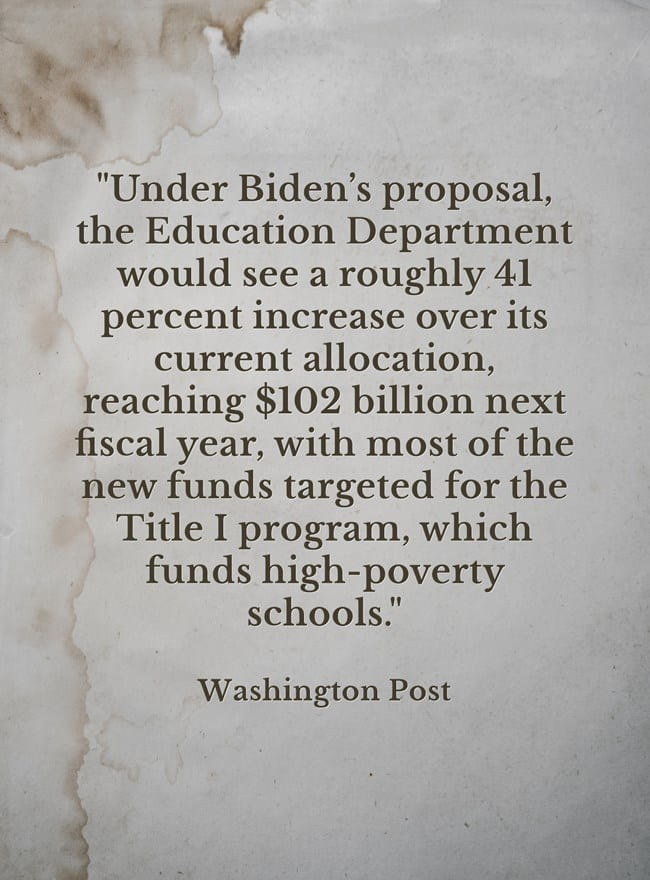 Biden seeks huge funding increases for education, health care and environmental protection in first budget request to Congress is a Washington Post article detailing the Biden Administration's first budget proposal, which has some very good news.
Chalkbeat shares more details:
The proposal would take the Title I program from its current $16.5 billion to $36.5 billion, an increase the administration said would be the biggest in the program's history.
Of course, what an Administration initially proposes in its budget is often not what ends up in after months of Congressional negotiations.  But with the Democrats in control of Congress, there's a pretty good chance that this number won't end up getting reduced too dramatically.
This proposal, I think, ups the ante for districts to make sure they spend federal stimulus monies effectively – which means in serious consultation with teachers, students and their families.
Districts with unskilled leadership start making unwise decisions will create fodder for opponents of the Title 1 increase to argue against it.
Unfortunately, I think the pandemic has unmasked a lot unskilled district leadership out there.  I hope they learn from their many past mistakes – quickly.