Check out the four-part series on this topic at my Education Week column.
Though critiques of The 1619 Project have been going on for awhile (see AUGUST 23RD IS "INTERNATIONAL DAY FOR THE REMEMBRANCE OF THE SLAVE TRADE AND ITS ABOLITION" – HERE ARE RELATED RESOURCES), the frenzy about Critical Race Theory and how it's being used to stop educators from teaching about systemic racism is a line of attack from conservatives that I certainly did not see coming.
And it's extremely dangerous.
I've shared some resources about it earlier, but it's obviously important enough for a "Best" list.
Here are my recommendations of where to learn more:
What Is Critical Race Theory, and Why Is It Under Attack? is from Ed Week.
Why Conservatives Want To Cancel The 1619 Project is from The Atlantic.
What is critical race theory, and why do Republicans want to ban it in schools? is from The Washington Post.
Teachers Say Laws Banning Critical Race Theory Are Putting A Chill On Their Lessons is from NPR.
Critical race theory is a lens. Here are 11 ways looking through it might refine your understanding of history is from CNN.
How 'critical race theory' came to dominate education debates in Texas is from The Dallas News.
EXPLAINED: The Truth About Critical Race Theory and How It Shows Up in Your Child's Classroom is from The Education Post.
We Found the Textbooks of Senators Who Oppose The 1619 Project and Suddenly Everything Makes Sense is from The Root.
Mitch McConnell rebuked by alma mater over 1619 Project comments is from Salon.
This is absolutely correct. Journalists have been using CRT and 1619 Project interchangeably. I think CRT is valid and important but we need to stop letting bad-faith actors write the narratives for reporting. It's called reporting for a reason. https://t.co/KkdHz80fuQ

— Ida Bae Wells (@nhannahjones) May 7, 2021
"I don't know how you teach about 1865 without acknowledging that 1619 was an important year."@nhannahjones on Mitch McConnell saying 1619 is not an important day in history. #TheReidOut pic.twitter.com/BdPSDcqvsp

— The ReidOut (@thereidout) May 4, 2021
The problem with the way too many people on here who think/ write about race is that it's not based on any significant study of racial history, sociology or economics, but merely comes from the authority of how they've experienced race. It's a confidence based on ignorance.

— Ida Bae Wells (@nhannahjones) April 28, 2021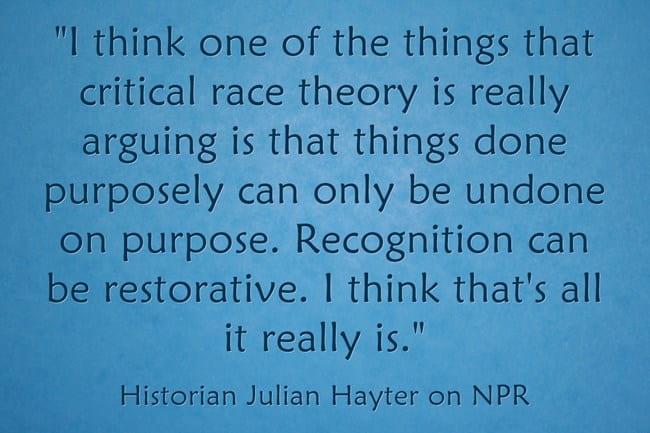 Understanding The Pushback Against Critical Race Theory In Schools is from NPR.
Texas bill to ban teaching of critical race theory puts teachers on front lines of culture war over how history is taught is from The Washington Post.
Disputing Racism's Reach, Republicans Rattle American Schools is from The NY Times.
The Miseducation of White Children is from The Nation.
How I think James Baldwin would respond to the scare over critical race theory:

"It is not the black child's language that is in question…It is his experience…A child cannot be taught by anyone whose demand, essentially, is that the child repudiate his experience…"

— JOSHUA (@JournoJoshua) June 5, 2021
See, I feel like this debate really isn't about defining "critical race theory." (Yes, a real definition exists. But it isn't all that relevant to what's happening in this current moment.) This is about the right using that term to refer to any centering of race in public schools https://t.co/7TGXeIsrGd

— Dana Goldstein (@DanaGoldstein) June 1, 2021
There are more laws against schools teaching Critical Race Theory than schools that teach Critical Race Theory.

— Michael Harriot (@michaelharriot) June 11, 2021
And hint: CRT is not radical if you actually know what it is. The ideal that race is embedded in the law and our nation's institutions is simply a historical fact.

— Ida Bae Wells (@nhannahjones) June 9, 2021
Just as "fake news" really means "reporting I don't like" and "cancel culture" means "accountability I don't like," "CRT" means "any conversation about race I don't like."

— Lydia Polgreen (@lpolgreen) June 9, 2021
I recommend the whole piece. https://t.co/rE2e70O8g6

— Hakeem Jefferson (@hakeemjefferson) June 8, 2021
The Constitution of the Republic of Texas enshrined slavery, banned the manumission of enslaved people, and barred black people and native americans from citizenship. You could not make try harder to make the 1619 Project's argument for them https://t.co/rhbWMTN62n

— Adam Serwer 🍝 (@AdamSerwer) June 7, 2021
This is an amazing resource. Efforts to restrict teaching about racism and bias have multiplied across the U.S.https://t.co/2Z0hx1vf8l

— Koby Levin (@levin_koby) June 9, 2021
Indoctrination task forces now demanding teachers turn over lesson plans involving ELL, justice curriculum and 1619 Project. This is not a sign of a healthy, free society. https://t.co/KBCp5zdnSn

— Ida Bae Wells (@nhannahjones) June 11, 2021
This white panic about "teaching Critical Race Theory in schools" (when it's not taught in anything lower than a collegiate seminar) would be funny if it wasn't for the inevitability that everything from Toni Morrison to George Washington Carver is going to be branded as CRT.

— Dave Zirin (@EdgeofSports) June 11, 2021
This "rule" makes slavery, Native dispossession, Reconstruction, lynching, Jim Crow, and any number of other basic "factual" elements of American history either inexplicable or impossible to take seriously. And that's the point. It's got nothing to do with CRT. https://t.co/ZZuvyyIova pic.twitter.com/2TrDyxfYud

— Joshua D. Rothman (@rothmanistan) June 11, 2021
Teachers across the country protest laws restricting lessons on racism is from The Washington Post.
Why Everyone Is Wrong About Critical Race Theory In Schools: A Very Special Clapback Mailbag is from The Root.
Critical Race Theory Is a Convenient Target for Conservatives is from Slate.
What Florida's "Critical Race Theory" Ban Tells Us About Anti-Antiracism is from Slate.
Three (Ignorant) Arguments Used to Ban Critical Race Theory is from The Education Post.
Conservatives Are Hellbent On Attacking Critical Race Theory. They're Whitewashing Structural Racism. is from Mother Jones.
It's like a bad movie script. "Arizona teachers could face a $5,000 penalty if they allow classroom discussions on controversial topics such as racism or fail to give equal weight to divisive topics, under provisions of a last-minute amendment." https://t.co/LgfrsHhZTv

— Ida Bae Wells (@nhannahjones) June 14, 2021
A group wants Washoe County teachers to wear body cameras to ensure parents that no "critical race theory" is being taught in classrooms.https://t.co/v4HEp3NBBG

— Sam Metz (@metzsam) June 10, 2021
Republicans, spurred by an unlikely figure, see political promise in targeting critical race theory is from The Washington Post.
Texas' ban on critical race theory in schools proves the GOP still doesn't understand MLK's message is from NBC News.
Critical race theory battle invades school boards — with help from conservative groups is from NBC News.
Fox failed to fully disclose the professional conservative ties of 11 guests featured in segments about critical race theory, among them: Republican strategists and lobbyists, staff of conservative think tanks, and media personalities.https://t.co/EJs3PuO1YE

— Kyle Griffin (@kylegriffin1) June 18, 2021
Yes. Yes. Yes. I keep saying this. https://t.co/fXAgcrtUoD

— Ida Bae Wells (@nhannahjones) June 17, 2021
.@nhannahjones on attacks against Critical Race Theory, the explosion of #votersuppression laws, and the backlash against The 1619 Project. #TheReidOut #reiders pic.twitter.com/6vzKHSU5n1

— The ReidOut (@thereidout) June 14, 2021
This NPR interview with Gloria Ladson-Billings is really good.
What the hysteria over critical race theory is really all about is from Vox.
This is just so excellent. Stop what you're doing and watch. https://t.co/0kDAltAsaN

— Sherrilyn Ifill (@Sifill_LDF) June 23, 2021
"No one has to be ashamed for things they haven't personally done. But you have to acknowledge the way that legacy has shaped your life and your country. And in confronting that legacy, we can be liberated from it." — Nikole Hannah-Jones. #ALAAC21 #ALLibraries

— Jennifer Powell (@Ace_Librarian7) June 24, 2021
My understanding of the anti-CRT arguments is that teachers can and should teach this history. But. It was bad actors, not about systems. And it was then, has no bearing on now. That's the "right" way to teach history. https://t.co/I6dFLSsWyd

— Jennifer Binis (@JennBinis) June 24, 2021
Four Things Schools Won't Be Able to Do Under 'Critical Race Theory' Laws is from Ed Week.
The War on History Is a War on Democracy is from The NY Times. Here's a quote from it: "History is not therapy, and discomfort is part of growing up."
What Is (and Isn't) Critical Race Theory? A Closer Look at the Discipline Texas' Governor Wants to 'Abolish' is from The 74.
Bills Banning Critical Race Theory Advance in States Despite Its Absence in Many Classrooms is from US News.
Critical Race Theory Bans Are a Political Ploy, Students and Teachers Say is from Teen Vogue.
.@marclamonthill explains critical race theory. He says, "What they've managed to do is create a boogie man. A moral panic around this word, so any talk about race, any talk about justice is called critical race theory so that you don't want it." More: https://t.co/d5NRtT79V0 pic.twitter.com/pJ6kMOHl4m

— BNC (@BNCNews) July 1, 2021
Nearly 40 yrs ago, James Baldwin identified what's at heart of contemporary CRT scare:
"The real terror that engulfs the white world now is a visceral terror…. It's the terror of being described by those they have been describing for so long."
-Interview w/ Julius Lester, 1984

— Robert P. Jones (@robertpjones) June 29, 2021
*Actual* Critical Race Theory: Racism is so normal, the dominant society will interpret an attack on racism as an attack on society itself.

Society, itself: https://t.co/XGEgHAX4SY

— Michael Harriot (@michaelharriot) June 26, 2021
This humorous video from The Daily Show only has one minor classroom inappropriate word at the end:
Teaching critical race theory isn't happening in classrooms, teachers say in survey is from NBC News.
Teacher unions push back on debate over critical race theory is from Politico.
Teachers' Unions Vow to Defend Members in Critical Race Theory Fight is from Ed Week.
This is the end game. That's why these anti-CRT laws are memory laws. https://t.co/zneZCOXJja

— Ida Bae Wells (@nhannahjones) July 8, 2021
Critical race theory battles are driving frustrated, exhausted educators out of their jobs is from NBC News.
Many Americans embrace falsehoods about critical race theory is from Reuters.
How Will Bans on 'Divisive' Classroom Topics Be Enforced? Here's What 10 States Plan to Do is from Ed Week.
As states place new limits on class discussions of race, research suggests they benefit students is from Chalkbeat.
Bernice King slams GOP: "Beyond insulting" to misuse MLK's teachings to oppose critical race theory https://t.co/8wBoJTHoHb pic.twitter.com/qqglqdzWZ4

— The Hill (@thehill) July 15, 2021
So what is Critical Race Theory, really? And why is it so important?

Kimberlé Crenshaw (@sandylocks) sets the record straight on CRT and the right's disinformation campaign in our latest video. Watch and share: pic.twitter.com/j2Hf4Oz0wb

— African American Policy Forum (@AAPolicyForum) July 14, 2021
"Whites, it must frankly be said, are not putting in a similar mass effort to reeducate themselves out of their racial ignorance. It is an aspect of a sense of superiority that the white people of America believe they have so little to learn."

– Martin Luther King Jr, 1967 https://t.co/kvNpxyBQe1

— Alexandria Ocasio-Cortez (@AOC) July 13, 2021
I talked to Christopher Rufo's targets: educators. https://t.co/4wAmPhHPPw

— Sarah Jones (@onesarahjones) July 11, 2021
More today via @memangrum https://t.co/SHxbNfg26T pic.twitter.com/3ybW7mz48j

— Matt Barnum (@matt_barnum) July 8, 2021
The Moral Panic Over Critical Race Theory Is Coming for a North Carolina Teacher of the Year is from Mother Jones.