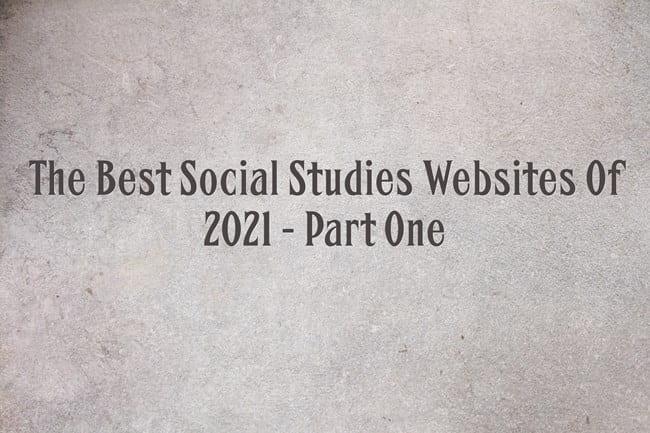 I'm continuing with my mid-year "Best" list posts…
I'm adding this post to All 2021 Mid-Year "Best" Lists In One Place!
You can see all previous Social Studies lists here.
Here picks for this year – so far:
THE BEST TOOLS FOR TAKING STUDENTS "AROUND THE WORLD"
RESOURCES FOR LEARNING ABOUT ATTACKS ON "CRITICAL RACE THEORY," THE 1619 PROJECT & ATTEMPTS TO STOP EDUCATORS FROM TEACHING ABOUT SYSTEMIC RACISM
THE BEST PLACES TO GET ACCESSIBLE HISTORY TEXTS FOR ELLS
CLASSROOM LESSON IDEAS TO DISCUSS THE CHAUVIN VERDICT – PLEASE SUGGEST MORE
ICIVICS UNVEILS NEW – AND BIG – PRIMARY SOURCES SITE
THE OER PROJECT OFFERS THE SAME SOCIAL STUDIES TEXTS IN DIFFERENT LEXILE LEVELS – FOR FREE!
GOOGLE UNVEILS NEW SITE TO CELEBRATE ASIAN AMERICAN & PACIFIC ISLANDER CULTURE
THREE GREAT NEW VIDEOS FROM "FACING HISTORY" ABOUT WHY WE NEED TO LEARN ABOUT HISTORY
"HARMONY SQUARE" IS AN ONLINE GAME DESIGNED TO TEACH TEENS ABOUT DISINFORMATION
TERRIBLE STATISTIC OF THE DAY: 3,800 "HATE INCIDENTS" AGAINST ASIANS DURING PANDEMIC
"THE NEWS EVALUATOR" IS A NEW INTERACTIVE DESIGNED TO HELP TEACH INFORMATION LITERACY
FINALLY, GOOGLE CREATES A CENTRAL TEACHERS' HUB FOR ITS AMAZING "ARTS & CULTURE" SITE
THE BEST TEACHING & LEARNING RESOURCES ABOUT AMANDA GORMAN'S POETRY
WAYS TO TEACH ABOUT TODAY'S INSURRECTION – SHARE YOUR OWN
THIS WOULD BE AN INTERESTING SOCIAL STUDIES ASSIGNMENT: CHOOSE THE BEST & WORST YEARS IN HISTORY
TIME MAGAZINE BEGINS VIDEO SERIES ON "THE HISTORY YOU DIDN'T LEARN"
A BEGINNING LIST OF RESOURCES FOR TEACHING ABOUT RACIST MASCOTS
I THINK THIS QUOTE DESCRIBES THE ESSENCE OF EFFECTIVE COMMUNITY ORGANIZING AND EFFECTIVE TEACHING
PBS NEWSHOUR UNVEILS EXCEPTIONAL & INTERACTIVE PRIMARY SOURCES SITE
NEW SITE SHARES THE STORIES OF THOUSANDS WHO WERE ENSLAVED
THIS FREE HISTORY RESOURCE IS GREAT FOR ELL NEWCOMERS!
IDEAS & RESOURCES ABOUT WHAT & HOW TO TEACH THE DAY AFTER THE ELECTION – PLEASE SHARE YOUR OWN ADVICE & PLANS