As regular readers know, I have students complete anonymous class evaluations at various times of the year.  One of the ways I try to communicate to them how serious I take them is by committing to sharing the results with school administrators and posting them here on my blog – warts and all.
I never know where that can lead – like the year The Washington Post picked up my post and republished it with the headline Analysis | NEWS BREAK (not breaking news): Teacher asks students to grade him. One wrote: 'I give Mr. Ferlazzo an A at being annoying.'
I have students do them two-or-three times during the year and, this year and in future years, I also have conversations with class Leadership Teams where we jointly reflect on how things are going.
This post will highlight the results from my IB Theory of Knowledge classes, and future posts will share the results from my other classes.
I do the evaluations a bit differently each time.  You can see results done by my TOK students earlier this year at HOW MY THEORY OF KNOWLEDGE STUDENTS EVALUATED OUR CLASS – AND ME!
This time, I used simple questions – the same ones for each of my classes.  Unfortunately, I didn't get around to doing it until after seniors checked-out a week-and-a-half early, so it has about twenty fewer responses than it would have if they had been included.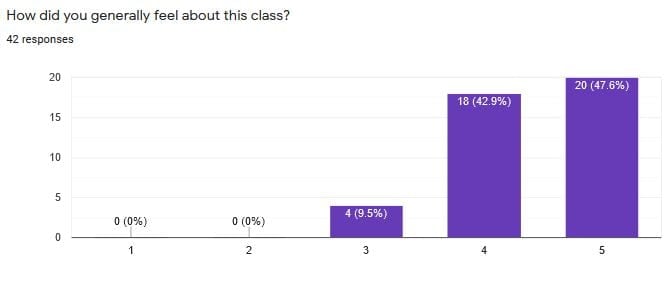 ANALYSIS: The numbers are a bit lower than I usually get but, hey, it's a pandemic and most of it was done on Zoom.  I'll take it.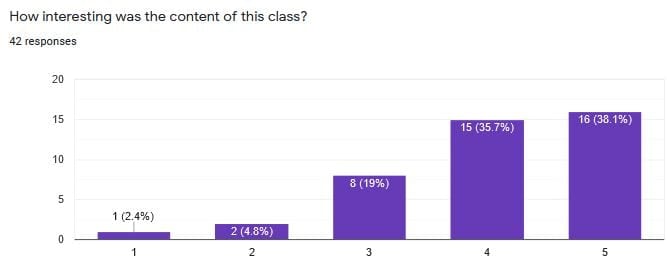 ANALYSIS: This was a little disappointing, but probably shouldn't be surprising.  In its arrogance, the International Baccalaureate program completely changed the course's curriculum the same year we had a worldwide pandemic.
Really, they couldn't have delayed the change for a year?
So, I learned from experience what lessons worked and which ones didn't.  It generally went well, but I think next year will go a whole lot better.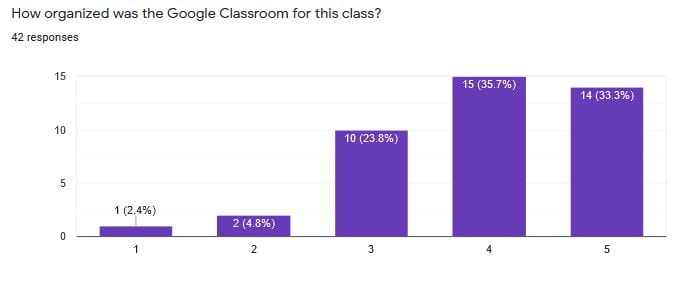 ANALYSIS: There's no question I could have upped my Google Classroom game.  This was the first year I had really used it, and it showed.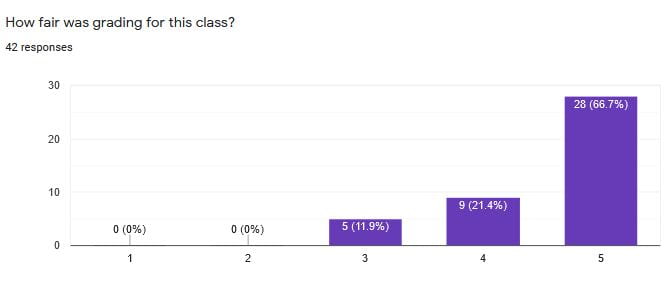 ANALYSIS: I'm generally a pretty flexible grader during "normal" times, and so didn't have to make many pandemic-related changes.  It appears to have worked out well.
ANALYSIS: I'm a big surprised at this one.  For the last two thirds of the school year, I didn't assign any work that couldn't be done in class time.  My suspicion is that, though there was plenty of class available to do the work, some students didn't actually use it to do the tasks.  And, since for most of the year all students were on Zoom, and for a tiny portion of the year ninety-percent of them were on Zoom, I couldn't monitor to see if they were actually doing it.  So it probably felt like more than it was since they had to do it outside of class time.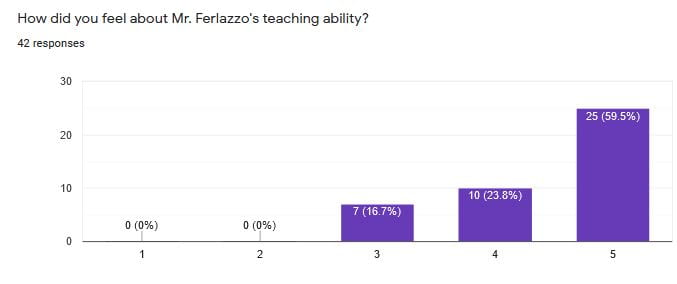 ANALYSIS: I think I'm generally a good teacher in "normal" times.  I tried hard to not make my Zoom classes terrible this year.
ANALYSIS: I put a lot of effort into checking-in with students – during class and outside of class.  It's one of the reasons I'm feeling exhausted.  But it was worth it.
The history of how the numbers of math was invented.
Perspective
The most interesting thing that I learned was either on the topic of Indigenous people and the topic of technology.
The most interesting thing I learned in this class is the Allegory of the cave.
Pretty much everything was very interesting.
The most interesting thing I've learned in this class is the Art unit of this class. It was my favorite part of class and I really enjoyed doing the assignments.
knowledge about knowledge
The Allegory of the Cave
The most interesting I learned in this class is the rituals.
The most interesting thing I learned was about the different perspectives regarding knowledge.
The most interesting thing I learned was the Dunning–Kruger effect where people overestimate their own abilities because I never realized it but I have seen people and even myself do it
I learned that not everything people claim is considered knowledge only because many people believe it.
The most interesting thing I learned was Allegory of the cave.
dont know
The Dunning Kruger Effect
A Lot of thing
learning about scope was cool. To be honest I think its one of the only things i remember well from all my classes this whole year.
The overall concept of "Theory of knowledge"
Allegory of the Cave
How to create some nice slideshows
we learned a lot but i liked learning about the indigenous people
Art
Probably the Dunning Kruger effect
I still think the most interesting thing I learned was the Allegory of the Cave.
Honestly nothing interested me
The cave man
I'd have to say almost everything was interesting.
The indigenous
everthing
indigenous people
The most interesting thing I learned in this class is learning about knowledge.
The most interesting thing I learned in this class were the human sciences and how they affect the way we perceive things such as a tree or a baby.
I remember the most interesting thing in this class was about the kinds of knowledge
For me it was learning the differences between cultural appropriation and appreciation
Indigenous society
The most interesting thing I learned in this class was some of the assignments we did.
I liked learning about knowledge and technology
the most interesting thing was about the native americans
The social experiments like the professor who assigned his students to be guards and prisoners were interesting.
The Exhibitions
Mr. ferlazzo care a lot about his students and always wants the best for them.
ANALYSIS: It wasn't surprising to me that the Allegory of the Cave unit we did was popular – it always is, and is one of the activities I was able to carry over to the new TOK curriculum.  I also wasn't surprised that the unit on Indigenous Societies was a winner since we have many members of indigenous societies in class.   I was surprised that the Dunning Kruger Effect seemed to strike a fair number of them.

Games!!
It was interesting
The best thing about this class was the games we played, to me the games were a reminder to destress.
Having Mr. Ferlazzo as the teacher 🙂
The games for sure
The best thing about this class playing mini games and winning gift cards and having time in breakout rooms to talk with classmates. I also liked the Leadership Team because it was smart to have a student to give feedback to the teacher.
it thought me a lot of things.
Getting to work with my friends on finishing assignments
The best thing about this class was YOU, Mr. Ferlazzo. Your personality always cheers up students when they are down. Surely, everybody is grateful for being in your class this year, and I am grateful for a teacher like you who believed in me.
The best part about this class was playing games and working in groups.
The games 
I would say the Exhibition project.
The best thing about the class is how communicated it is.
idk
The jokes and the games.
We Always Happy with mr. Ferlazzo
The class was fun. My interest were just somewhere else.
Our class and Mr. Ferlazzo
Mr. Ferlazzo's jokes and humor
We got the chance to participate with the class often
the mini games we played
Making students talks when present and i feel confident now.
The teacher
The best thing about this class was that apart from doing work, we had fun in class as well.
Having Mr. Ferlazzo as a teacher
All the fun thing we did example fluentkey video
I don't even know to be honest.
having a understanding teacher
everything
games
The best thing about this class is the teacher and the students.
The best thing about this class was that everything we learned was interesting and not boring which made it easier for me to focus.
Have time to work in groups
Mr. Ferlazzo always tried to make it fun by adding games at the end 🙂
I don't know, everything
The best thing about this class was the different types of games we played in class.
The best thing is playing the games, they're fun to play
the best thing about this class was that it was interesting
I like the games and videos.
Working in groups
Mr ferlazzo always trying to help.
ANALYSIS: I worked hard at trying to create a sense of community, and it seemed to pay-off.  And students obviously enjoyed playing games, which we did using Kahoot, Quizizz and/or FluentKey.  It was easy to "gamify" class content.
Some content that is teach may be boring and posting assignments too much at the same time makes students taken aback which causes them not to do any work.
The organization
There weren't any worst things about this class.
There's no worst thing about this class and it is fine the way it is.
I wouldn't say the worst but the google classroom just needs a bit more organization.
I think something that could improve was the assignments that were assignments. I think you should be interactive with your students when teaching lessons. Sometimes I would do the assignments and not understand anything or get bored.
Mr.Ferlazzo…………. nah I'm just kidding 😀
There was nothing worst about this class but I think what could be improved is the instructions.
Nothing, everything was good.
In the google classroom, I think the warm-ups section should be the first thing on top because we use it all the time and so we don't have to scroll down a lot since the warm-up has a time limit
I don't see any negative things about this class, it was a good experience and an entertaining class.
I did not see anything that could be improved in this class.
idk
I don't know
Every thing we great
This class was fun and if I went to school I am 100 percent sure it would have loved coming to the class. So just keep going
I don't think anything was bad. I think this class was just right.
It would always take me a long time to find the zoom code.
Too many slide shows. Maybe other things would do.
i actually liked this class
none is worst.
The amount of time we had to work on things
There were a lot of presentations, but I still prefer that over regular work so I was okay with it. I have no suggestions on changes at the moment.
I thought Mr. Ferlazzo made us do way too much slideshows and presentations I think he could slow it down by 1 presentation. Try not doing so much many presentations
Work after work example when we finish with the TOK Exhibition, we should do something fun not more work. It can be improve by when we done with the TOK Exhibition we should take a rest or play something fun because we got final for other class too not only this class. So we need one class to have a little break from it.
There was nothing bad I think.
nothing really just a lot of work but the teacher is very understanding and makes acception .
idk it was all good
n/a
There's nothing and there were nothing bad about this class. Everything was good and organized.
The worst thing about this class was we would go through everything very quickly which made it a bit hard to actually remember the things we learned. I think this could be improved by spending a bit longer on some subjects so that the information can really stick.
One bad thing was when sometimes we did not have enough time to complete our assignments.
I think it was more personal to me but I hated presenting it just wasn't for me
nothing
The worst thing about this class was the presentations and how much work was assigned each day. It could be improved by having less presentations and assignments.
I don't know any bad thing about this class
the worst thing about this class was that it was too much assignments sometimes in one day
I don't like how we have to learn parts from students and not the teachers since they don't know it well themselves. This can be improved by after learning about it from students, we can learn it better from the teachers.
in my opinion it was a little bit boring. Add a little more excitement and not always working in groups become some don't talk and some don't work good with others.
ANALYSIS: There is no question that we rushed through some content.  Thank you, IB, for not demonstrating any flexibility this year.
Feel free to share comments if you have a different take on the result.
I'm adding this post to Best Posts On Students Evaluating Classes (And Teachers).