I thought that new – and veteran – readers might find it interesting if I began sharing my best posts from the past. You can see the entire collection of best posts from the past thirteen years here.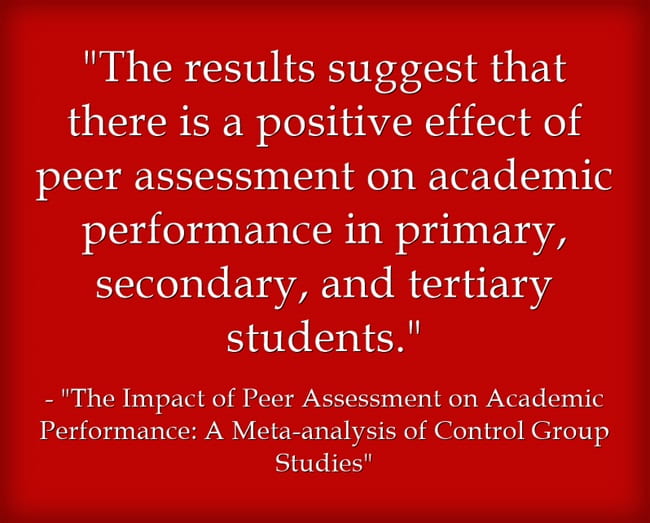 The Impact of Peer Assessment on Academic Performance: A Meta-analysis of Control Group Studies is a new meta-analysis on peer assessment, and it's not behind a paywall.  I've shared it before, but didn't have a chance to really carefully review it until now.
It's pretty long, and contains more than you'd ever really want to know about peer assessment.
Its bottom line, though, is that pretty much any kind of peer assessment seems to result in increased academic achievement.  Most of the studies they reviewed were related to writing, but not all, and they found these results across the board.
I also found it intriguing that they also found that just the act of being a peer assessor can be beneficial (and some studies found that could even be more beneficial that being the assessee):
Assessing may confer several distinct advantages such as drawing comparisons with peers' work and increased familiarity with evaluative criteria. 
I'm adding this info to The Best Ideas On Peer Review Of Student Writing.