As regular readers know, I always invite students to anonymously evaluate our classes – and me – and am a much better teacher because of the practice (see Best Posts On Students Evaluating Classes (And Teachers)).  I share the results publicly, which contributes towards students taking them seriously and, which, a few years ago, led to a Washington Post headline: Teacher asks students to grade him. One wrote: 'I give Mr. Ferlazzo an A at being annoying.' 
I'll be sharing the first quarter results from all my classes, but am starting with my two periods of IB Theory of Knowledge classes.  Last week, I shared my own self-assessment.
QUESTION ONE:
Results:
Analysis:
My two TOK classes are in the afternoon, and I'm working very hard at prepping for them and at maintaining a high-energy level, even though I'm generally exhausted by the end of the day.  I'm satisfied with these results.
QUESTION TWO:
Results: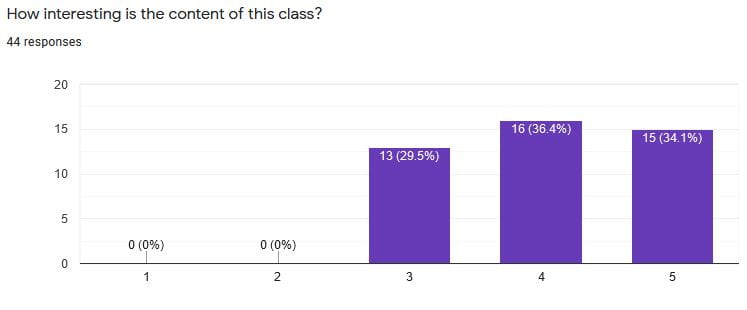 Analysis:
These responses are a little disappointing.  We have just finished the theme, "Knowledge and the Knower."  I suspect the next two themes, "Knowledge and Technology" and "Knowledge & Indigenous Societies" will generate more interest – students are obviously interested in tech, and large numbers of my students are members of indigenous cultures.
QUESTION THREE:

Results:
Analysis:
I have to ask students for suggestions on how I can organize it better – I really don't know what improvements I can make to it.
QUESTION FOUR:
Results:
Analysis:
It's always seemed to me that there is far too much anxiety about grading – both on many students' and teachers' parts.  I've never had much of a problem with it, and have always included students in helping do their own self-assessments (which, I suspect, is one of the main reasons it's never been much of a problem).
QUESTION FIVE:
Results:
Analysis:
I'm a bit surprised at these results, but maybe I shouldn't be. Though there is hardly any homework, it's probably safe to say that students are thinking-and-working practically all the time when they are in class, and have to do performance assessments (primarily through presentations) very regularly.
QUESTION SIX:
Results:
Analysis:
I know I'm a good teacher, and usually get very positive feedback from students. However, I'm particularly pleased to see these results because I have been exhausted this year, and it looks like I've done a good job of hiding that feeling and/or not letting it interfere with how I'm teaching.  The real question, however, will be how long I can sustain this level of teaching over the remaining seven months of the school year.
QUESTION SEVEN:
Results:
Analysis:
I was heartened to see these results.  I always work very hard at this, but have been working even harder during this pandemic year.  The weekly Google Form check-ins I have students do every Monday have been invaluable to my being able to learn what is happening with students, and to be able to intervene in a timely manner.  I don't say this about many things, but I really can't understand why every secondary teacher wouldn't regularly do these kinds of electronic check-ins.
QUESTION EIGHT:
Results:
Most students commented on me as the teacher, my sense of humor, and the interesting assignments. Next came group work and the ability to work outside.
Analysis:
I'm trying hard, and it appears to be paying off.
QUESTION NINE:
Results:
The main response was that there was nothing bad about the class.  There were a few comments about the pacing being too fast.
Analysis:
Again, my work seems to be paying-off.  The comments on the pacing probably have some truth to them, and I have been trying to slow down a bit.
QUESTION TEN:
Results:
As usual, learning about Plato's Allegory of the Cave, and then students needing to create videos of modern versions, was the most popular.
Analysis:
It's always number one – even at the end of the school year.
Overall, I don't think I really learned anything I didn't suspect.  However, especially this year, this kind of feedback serves as a bit of a "pick-me-up" – and I could use it…