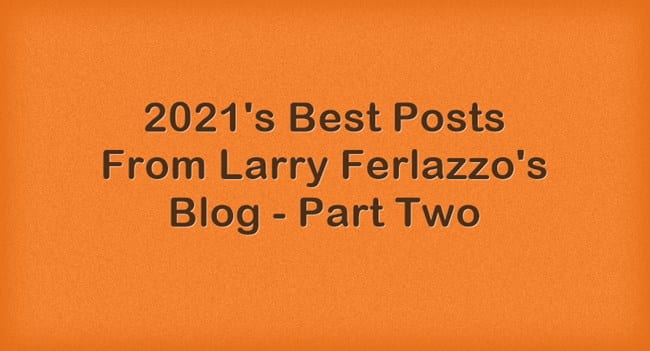 Twice each year, I post my favorite posts that appeared in during the previous six months. This post is for my favorites from the second half of 2021. You can see my favorites from the first half of the year at 2021'S BEST POSTS FROM THIS BLOG – SO FAR!
You can see my choices for each of the past thirteen years here.
And you can also see a list of my My All-Time Favorite Posts!
Here are my choices:
NON-BEST LISTS:
NEW ACTIVITY I'M USING WITH ELLS: "CRITICAL THINKING DIALOGUES"
"TEN WAYS I'LL BE TEACHING DIFFERENTLY NEXT YEAR"
A VALEDICTORY SPEECH FOR THE TIMES AT OUR SCHOOL'S GRADUATION THIS WEEKEND
WASH. POST PUBLISHES MY COMMENTARY ON "ACCELERATED LEARNING" & "LEARNING LOSS"
TRACKING HOW MY STUDENTS HAVE BEEN FEELING THROUGHOUT THIS SCHOOL YEAR
"THE SIX MOST EFFECTIVE INSTRUCTIONAL STRATEGIES FOR ELLS—ACCORDING TO TEACHERS"
VIDEO: I WAS INTERVIEWED TODAY ON CNN ABOUT SCHOOL REOPENINGS
How Have I Not Heard Of "Ingles.com" Or "SpanishDict" Before Now?
Here's The Cover Of Our New Book!
We Should Encourage Parent Engagement, But Not Parent Bullying
Here's A Short Slidedeck I Made For Our School On The Difference Between "Cooperative" & "Collaborative" Jigsaws
Wash. Post Publishes My New Piece On "10 things school districts should do right now"
ARE SCHOOLS OVERLOOKING AN OBVIOUS STRATEGY THEY CAN IMPLEMENT IMMEDIATELY TO ACCELERATE LEARNING? PEER TUTORS!
"6 Small Instructional Changes Teachers Can Make for Big Results"
EIGHT TIPS FOR TEACHERS WHO WANT TO WRITE A BOOK
"BEST" LISTS:
THE BEST 39 WEB 2.0 APPLICATIONS FOR EDUCATION IN 2021
THE BEST RESOURCES ABOUT ACCELERATED LEARNING
THE BEST RESOURCES TO HELP PREPARE TUTORS & VOLUNTEERS IN ELL CLASSES – AND, BOY, DO I NEED SUGGESTIONS!
RESOURCES FOR LEARNING ABOUT ATTACKS ON "CRITICAL RACE THEORY," THE 1619 PROJECT & ATTEMPTS TO STOP EDUCATORS FROM TEACHING ABOUT SYSTEMIC RACISM
THE BEST RESOURCES (& TEMPLATES) FOR "ONE-PAGERS" THAT STUDENTS CAN USE TO SHOW THEIR LEARNING
THE BEST RESOURCES SHARING RECOMMENDATIONS ABOUT "TEACHER TALK"